California GOP senator wants public apology after Vietnam speech 'silenced'
By Joseph Weber, ,
Published March 06, 2017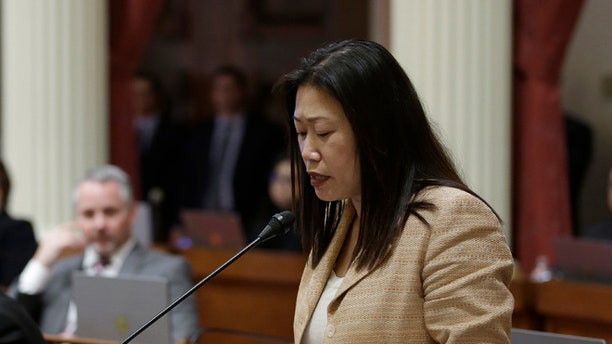 A California Republican state senator removed from the chamber floor during a recent speech critical of anti-Vietnam War activist Tom Hayden is calling for a public apology from the leader of the Democrat-controlled Senate.
"My voice is my constituents' voices. And when I cannot speak, they are the ones who are silenced," state Sen. Janet Nguyen told Fox News on Monday. "They deserve the apology."
Her late-February floor remarks were delivered two days after the Senate held a celebratory memorial for Hayden, a student radical in the 1960s who helped organize protests against the war. He later was elected to the state legislature and married actress Jane Fonda, becoming an elder statesman of the country's left. Hayden died in October.
Democrats said Nguyen was told to stop speaking and escorted from the Senate floor by several officers because she violated chamber rules. They said she could have spoken had she made the appropriate motion later in the session.
However, the Feb. 23 incident has become a rallying cry for fellow Republican lawmakers and their supporters, many of whom said it was an example of liberals shutting down speakers with whom they disagree. The controversy was similar -- with the party roles reversed -- to the furor in Washington over Democratic Sen. Elizabeth Warren being shut down on the floor of the U.S. Senate last month.
On Saturday, hundreds of people, including Vietnam veterans and Vietnamese-Americans from Nguyen's Orange County district, held a rally demanding a public apology to them and the lawmaker -- though she apparently has received a private apology from Senate President Pro Tem Kevin de Leon.
"We're getting support from around the world," Nguyen said. "People are saying that I have a right to speak even though they don't agree with me."
She also argued that she was merely presenting "a different historical perspective" to Hayden's "active support of North Vietnam's communist regime during the Vietnam War."
Nguyen lived in South Vietnam as a child and fled with her family after its U.S.-backed government fell. Her Senate district includes the largest concentration of Vietnamese people outside of Vietnam. She lost an uncle in the Vietnam War.
Many fled South Vietnam and blame the U.S. anti-war movement for undermining American forces and contributing to the victory by the communist North.
De Leon, a Los Angeles Democrat, has said he takes "full responsibility" for the Nguyen incident and that the legislature should "always err on the side of more free speech and not less."
De Leon spokesman Anthony Reyes says the senator has apologized personally to Nguyen. The chamber's Rules Committee also is investigating the matter.
Nguyen's staff says de Leon has never apologized.
The committee on Monday referred questions to Reyes, who declined further comment but pledged to provide updates on the committee's progress.
Nguyen initially said she was swayed by the support she received from fellow senators, saying it reaffirms her faith in "America's deep belief in the democratic process of freedom of speech."
However, she later said Democrats have failed to acknowledge wrongdoing.
"You still see this all of the time in Vietnam," she said. "But you never expect to see it under a dome in the United States."
Nguyen also said that hundreds of backers have arrived this week at the state capitol, in Sacramento, to show their support and that she was inspired as a child by Ronald Reagan to become a Republican.
"I was one of the boat people, and Ronald Reagan was the one who opened the doors to the refugees," she said.
The Associated Press contributed to this report.
https://www.foxnews.com/politics/california-gop-senator-wants-public-apology-after-vietnam-speech-silenced