Bolton, in Israel, suggests Brennan may have misused classified info, warns of meddling by four countries
By Gregg Re, ,
Published August 19, 2018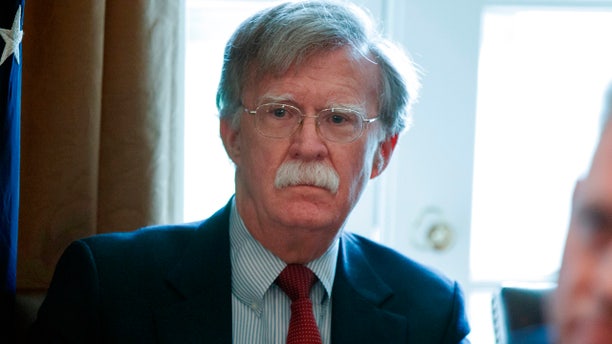 National Security Adviser John Bolton on Sunday suggested that former CIA Director John Brennan might have misused classified information, and that the "unprecedented leaks" from the administration may prompt broader changes in how security clearances are handled.
Bolton was in Israel for the first time as a Trump administration official to discuss national security issues with Prime Minister Benjamin Netanyahu and other top officials.
"Whether [Brennan] actually used classified information, I think people will be able to determine, but I think that's a serious problem," Bolton said. "There is a line, and I think it's clear some people can cross it.
BRENNAN FLOATS SUING TRUMP ADMINISTRATION; OTHER EX-CIA OFFICIALS WEIGH IN DURING PARADE OF SUNDAY INTERVIEWS
"My opinion is that he was politicizing intelligence," Bolton added, saying Brennan had failed to keep intact the "wall of separation between intelligence and policy."
Host Martha Raddatz ultimately challenged Bolton: "You're not sure whether John Brennan used classified information? You have no specific examples."
Bolton replied, "I think a number of people have commented that [Brennan] couldn't be in the position he's in of criticizing President Trump and his so-called collusion with Russia unless he did use classified information. But I don't know the specifics."
President Trump revoked Brennan's security clearance on Wednesday, saying he had politicized his security clearance and misled Congress about CIA spying in the Senate.
A larger review of who can retain security clearances after leaving the federal government may be warranted, Bolton added.
TRUMP HITS BRENNAN AS POLITICAL 'HACK' WHO CANNOT BE TRUSTED
"I think it's certainly appropriate in a time of unprecedented leaks of classified info," Bolton said. "I don't see that there would be anything wrong if it were determined to go that way to review the policies about former officials having clearances. Sometimes it can be useful."
Brennan had publicly accused President Trump of "treason" after his summit with Russian President Vladimir Putin this summer in Helsinki, Finland, and he has repeatedly lambasted Trump with Twitter posts that critics have charged improperly hint at classified insider information about the ongoing Russia probe.
On Sunday, Brennan claimed on NBC's "Meet the Press" that "I don't believe I'm being political at all."
He also suggested he might take legal action against the president.
"If my clearances and my reputation as I'm being pulled through the mud now -- if that's the price we're going to pay to prevent Donald Trump from doing this against other people, to me it's a small price to pay," Brennan said. "I'm going to do whatever I can personally to try to prevent these abuses in the future, and if it means going to court, I will do that."
Speaking on CNN's "State of the Union," former Director of National Intelligence James Clapper, a critic of Trump's decision to revoke Brennan's clearance, acknowledged that Brennan's unfettered comments had become an "issue."
"John and his rhetoric have become an issue in and of itself," Clapper said Sunday. "John is sort of like a freight train, and he's going to say what's on his mind."
On CBS' "Face the Nation," however, former CIA Director Leon Panetta claimed Trump may not have had the legal authority to terminate Brennan's clearance unilaterally.
"I think there are questions raised as to whether or not this president has followed the executive order, and whether or not he's provided due process to those that are going to have their security clearances revoked," Panetta said, referring to Executive Order 12968. The order establishes procedures for revoking security clearances.

Asked in the wide-ranging ABC interview about the threat of cyber-warfare ahead of the November elections, Bolton said the administration is monitoring threats from a variety of countries other than Russia.
"I can say definitively that it's a sufficient national security concern about Chinese, Iranian, and North Korean meddling," Bolton told Raddatz. "I'm not going to get into what I've seen or haven't seen, but I'm telling you, looking at 2018 election, we are concerned about four countries."
But Bolton said he plans to press his counterpart in Russia on the country's alleged election meddling in a meeting on Thursday.
"We'll keep raising it, and see what their response is," Bolton said. "But it's not a question of just speaking with Russians. At the president's direction, we had a briefing with myself and four heads of deptartments, to lay out in nonclassified environment, what we're doing. That includes both defensive and offensive cyber operations to protect integrity of election process."
Bolton said his meetings would also touch on Afghanistan, North Korea, Syria, and the Iran nuclear deal, which President Trump pulled out of earlier this year, leading to unrest and further economic decline there.
Bolton also told Raddatz that Secretary of State Mike Pompeo will be returning to Pyongyang "soon" for a fourth visit to engage in direct talks with North Korean leader Kim Jung-un. The White House's timeline for denuclearization is one year, Bolton said.
And the national security adviser said it would "ultimately be the president's decision" whether to replace U.S. troops in Afghanistan with private military contractors.
https://www.foxnews.com/politics/bolton-in-israel-suggests-brennan-may-have-misused-classified-info-warns-of-meddling-by-four-countries