Biden stumbles, falls while boarding Air Force One
'It's very windy,' the White House said last time President Biden fell on the steps
President Biden appeared to trip and fall Wednesday while he was climbing the steps to board Air Force One in Warsaw, Poland, according to video of the incident.
The video shows Biden falling near the top of the staircase on the airport tarmac before catching himself, turning to wave and entering the aircraft. It remains unclear what might have caused Biden to trip on the steps.
The incident occurred shortly after the president wrapped up his trip to Eastern Europe to visit Ukraine and Poland. Biden is slated to return to Washington, D.C., on Wednesday evening aboard the plane.
WHITE HOUSE BLAMES WIND FOR BIDEN STUMBLES BOARDING AIR FORCE ONE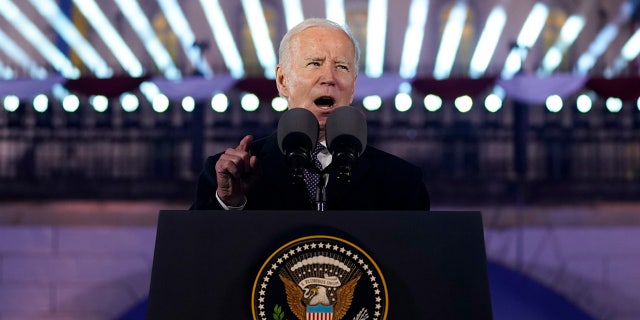 The White House didn't immediately respond to a request for comment.
Biden's apparent fall on the steps leading to Air Force One comes nearly two years after he similarly fell on the same steps at Joint Base Andrews.
Following the March 2019 fall in which Biden was filmed tripping on multiple steps, the White House said he was "doing 100% fine" and blamed the stumble on the gusty conditions.
PETE BUTTIGIEG ODDLY ASKS TO TAKE REPORTER'S PICTURE AFTER DODGING HER QUESTIONS ABOUT OHIO DERAILMENT
"It's pretty windy outside, it's very windy. I almost fell coming up the steps myself. He is doing 100% fine," White House press secretary Karine Jean-Pierre told reporters at the time.
"Nothing more than a misstep on the stairs," White House communications director Kate Bedingfield.
On Monday, Biden traveled to Kyiv, Ukraine, and met with Ukrainian President Volodymyr Zelenskyy in a surprise visit. The president reaffirmed his steadfast support for the war-torn nation during the short trip.
CLICK HERE TO GET THE FOX NEWS APP
Biden then visited Poland, where he met with Polish President Andrzej Duda and, again, expressed support for the region.
"One year ago, the world was bracing for the fall of Kyiv," Biden remarked during a speech in Warsaw. "Well, I have just come from a visit to Kyiv, and I can report: Kyiv stands strong! Kyiv stands proud. It stands tall. And most important, it stands free."