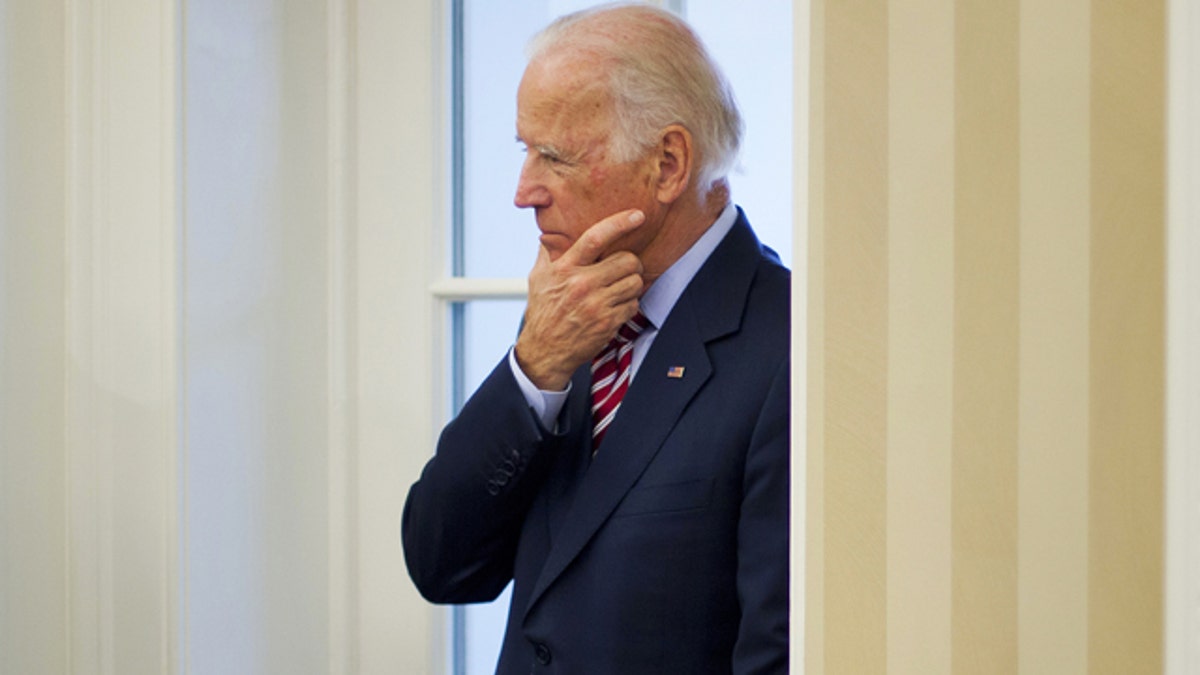 WASHINGTON – The United States plans to meet with Israel to discuss how the U.S. can ensure Israel's military advantage over its enemies, Vice President Joe Biden said Wednesday. U.S. officials said such a meeting with Prime Minister Benjamin Netanyahu was already in the works.
Biden raised the prospect of increased U.S. support for Israel as he sought to allay concerns among American Jews over the nuclear deal with Iran. Although Biden hosts Jewish leaders for a reception each year ahead of the Jewish High Holy Days, this year's confab took on heightened significance, with many of the attendees among the most ardent opponents of the nuclear deal.
Ad-libbing in front of a few dozen guests at his official residence, Biden said the U.S. was "fully, thoroughly prepared" to sit down with Israel's intelligence and defense community to ask a simple question: "What do you need?" Then in his characteristically freewheeling style, he turned to an aide and asked: "Have we announced the meeting with the Israelis?"
It was unclear which U.S. or Israeli officials would be attending the meeting, and when. But a senior Obama administration official said the U.S is discussing possible dates with Israel for a meeting with Netanyahu, with a sit-down expected "in the coming months." The official wasn't authorized to comment by name and requested anonymity.
Obama and Netanyahu have not met face to face since the nuclear deal Obama and other world leaders struck with Iran sent a deep chill through U.S.-Israeli relations. In previous years, Obama and Netanyahu have held meetings in September around the time of the U.N. General Assembly, but neither the U.S. nor Israel have confirmed that such a meeting will take place again this year.
Describing the U.S. commitment to Israel's protection as infallible, Biden said the U.S. had committed to provide more than $7.18 billion in security aid over the next year. He floated the possibility of signing a new 10-year agreement about U.S.-Israeli security cooperation. But Netanyahu's government has been reacted tepidly to that proposal, out of concern that signing such a deal would suggest Israeli acquiescence to the nuclear accord.
Biden's comments to a room packed with prominent Jewish leaders came as the Obama administration works to smooth over recent tensions with Israel that reached an apex earlier this year when Netanyahu gave a controversial speech to Congress railing against the emerging nuclear deal - without consulting the White House. Secretary of State John Kerry, Treasury Secretary Jack Lew and other high-level officials made sure to attend the reception, as the White House sought to show how seriously it is taking Israeli and Jewish concerns.
Obama has spoken harshly in the past of Republicans opposing the deal, even accusing them of making common cause with Iranian hardliners. But Biden took a noticeably softer approach, saying he understood Netanyahu's perspective and would "fully, thoroughly respect" lawmakers whose conscience forces them to vote against the deal.
Israel considers a nuclear-armed Iran to be an existential threat, and Netanyahu has insisted the deal makes Israel less safe. A chief concern is that lifting sanctions on Iran as a concession will free up funds that Iran will use to fuel extremist groups that attack Israel. Yet despite opposition from a majority of lawmakers, Obama's allies have secured enough votes to thwart legislation seeking to scuttle the deal.
"I know that disappoints some of you," Biden said, "but it's a done deal."