Biden vacates DC as Afghanistan, immigration crises accelerate
Deteriorating situation in Afghanistan leads the list of policy nightmares confronting a relaxing president
NEWYou can now listen to Fox News articles!
President Biden is heading to Camp David Friday afternoon from his residence in Wilmington, Delaware, continuing a trip outside the nation's capital amid spiraling crises, including a deteriorating situation in Afghanistan that's been compared to the fall of Saigon.
American troops are en route to the country Friday in an attempt to help Americans there escape, even as the Department of State downplays the situation, particularly regarding the U.S. Embassy in Kabul.
"We are reducing our civilian footprint to a core diplomatic presence. And what that means is that we are going to continue to have a diplomatic presence on the ground in Afghanistan. Our embassy remains open," State Department spokesman Ned Price said on "Andrew Mitchell Reports" on MSNBC Friday.
But the situation appears to be far worse than the State Department is letting on, with provincial capitals falling to the Taliban one after another. When asked how soon Kabul could fall, a U.S. defense official told Fox News, "It could be tomorrow," then added, "or it could be a month."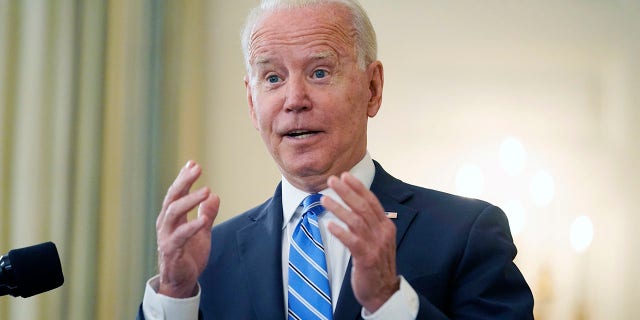 LIVE UPDATES: TALIBAN GAIN MORE GROUND IN AFGHANISTAN AS THEY CLOSE IN ON KABUL
"This is all melting down in a short period of time," one U.S. military officer said of the situation in Afghanistan.
A former U.S. military official with years of combat time in Afghanistan was more blunt in his assessment.
"I would pull every American out of Afghanistan and then level the U.S. embassy," the former official said.
NPR reported Friday that U.S. Embassy staff in Kabul are getting ready to destroy important information and are packing up.
The Pentagon announced Thursday that the military is sending two Marine and one Army infantry battalion to Hamid Karzai International Airport in Kabul in an effort to provide security for embassy personnel and other Americans trying to evacuate the country. That is about 3,000 troops.
The alert brigade from Fort Bragg – 4,000 strong – is leaving North Carolina to deploy to Kuwait in the coming days to be used as a reserve force if needed in Afghanistan should conditions deteriorate
The first of three battalions was on its way to Afghanistan as of Friday.
According to the White House pool, Biden was briefed on the Afghanistan situation Friday.
But Afghanistan isn't the only crisis the U.S. faces during the president's summer break. It was also revealed Thursday that more than 212,000 people were encountered crossing the border in July. That number is a 13% increase over June and represented a two-decade high, dampening White House hopes that the summer heat would cause migrants to rethink the dangerous trek.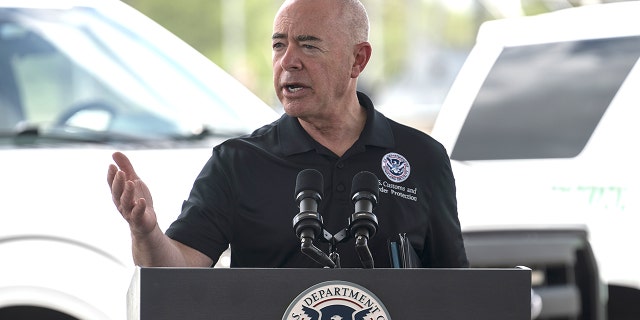 US MILITARY TO HELP EVACUATE AMERICANS FROM EMBASSY IN KABUL: OFFICIALS
"A couple of days ago I was down in Mexico, and I said look, you know, if, if our borders are the first line of defense, we're going to lose and this is unsustainable," Homeland Security Secretary Alejandro Mayorkas said Thursday, according to the audio obtained by Fox News' Bill Melugin through a Border Patrol source. "We can't continue like this, our people in the field cant continue and our system isn't built for it."
The situation at the border has only been worsened by the highly contagious delta variant, with reports of thousands of COVID-19 positive migrants packing detention facilities before they are released into the country.
The delta variant has resulted in a renewed surge in COVID-19 cases across the country, particularly in southern states such Arkansas and Mississippi that have recorded new highs in hospitalizations.
Additionally, Biden is away from Washington just as intraparty squabbles appear to be putting two of his most important economic agenda items in danger.
House progressives earlier this week promised not to vote for the bipartisan infrastructure bill until the Senate produces a budget reconciliation bill. But House moderate Democrats Friday said that they won't vote vote for the budget resolution – which needs to pass before the Senate can consider a reconciliation bill – until the infrastructure bill is law.
CLICK HERE TO GET THE FOX NEWS APP
White House press secretary Jen Psaki said Friday the administration is not taking sides in that argument. And Biden, according to the White House pool, also consulted with his legislative affairs team regarding his economic agenda in the House.
Meanwhile, a key inflation measure surprised economists by hitting yet another record high, with producer price inflation rising 7.8% over the 12 month period ending in July. That number was the highest recorded in the over ten-year history of the metric, raising fears inflation could stick around longer than some predict.
In total, the president plans to spend about two weeks away from Washington.
Fox News' Lucas Tomlinson and Pat Ward contributed to this report.