Benghazi suspect convicted on four lesser counts, does not face death penalty
By Samuel Chamberlain, ,
Published November 28, 2017
A federal jury found Ahmed Abu Khattala guilty Tuesday on just four of 18 charges related to the deadly 2012 attack on the U.S. consulate in Benghazi, Libya, precluding him from facing the death penalty.
Khattala, 46, was convicted of two counts of conspiracy to provide material support to terrorists, one count of maliciously destroying U.S. property and placing lives in danger, and one count of using and carrying a semiautomatic weapon during the attack. He faces a mandatory minimum of 10 years in prison for the firearms offense and could still receive a life sentence.
In a statement, Acting Assistant Attorney General for National Security Dana Boente said Khattala's arrest and conviction "were critical steps in our efforts to identify and hold accountable those who were responsible for the terrorist attacks on our facilities in Benghazi, Libya.
"Our work is not done," Boente added. "We will not rest in our pursuit of the others who attacked our facilities and killed the four courageous Americans who perished that day."
The verdict brought an end to one of the most significant terrorism prosecutions in recent years in a U.S. civilian court, even though the Trump administration had argued such suspects are better sent to the military prison at Guantanamo Bay, Cuba.
CIA Director Mike Pompeo called the verdict "a small measure of justice" for the attacks, which became a political lightning rod as Republicans accused President Barack Obama's administration of intentionally misleading the public and stonewalling congressional investigators. An investigation into the attack led to the disclosure of then-Secretary of State Hillary Clinton's private email server.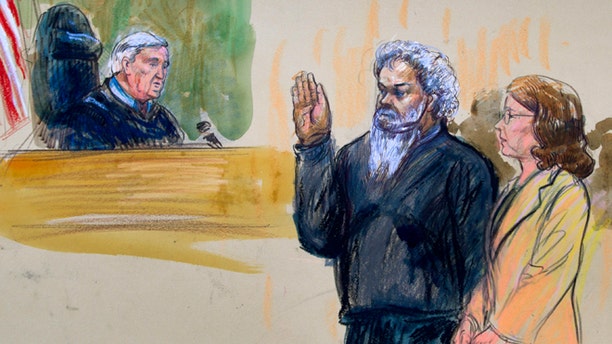 "It took intelligence to find him, soldiers to assist in capturing him, law enforcement to interview him, and a legal team to put him away," Pompeo said in a statement. "Khatallah's [sic] sentencing is to follow; but no term in prison will bring our people back."
The initial attack killed at the U.S. mission killed Chris Stevens, the American ambassador to Libya, and Sean Patrick Smith, a State Department information management officer. Nearly eight hours later at a CIA complex nearby, two more Americans, contract security officers Tyrone Woods and Glen Doherty, died in a mortar attack.
"I am not surprised. I am not happy," Sean Smith's mother, Pat, said in a statement responding to the verdict. "My son died a horrible death ... I think the people who bear responsibility -- Secretary of State Hillary Clinton -- aren't even touched."
Charles Woods, the father of Tyrone Woods, called the verdict "outrageous" and "a miscarriage of justice."
"I am very bothered by the fact the U.S. government gave constitutional rights and due process rights to a foreign national who allegedly killed Americans outside the U.S," Woods said. "This is what bothered me from the very beginning."
Rather than being sent to Guantanamo, Khattala was brought to the U.S. in 2014 and questioned over 13 days aboard a Navy transport ship. He was interrogated for days to obtain national security intelligence before being advised of his rights. A new team of FBI investigators then pressed him some more, this time to produce evidence prosecutors could present at trial.
Defense attorneys argued the interrogation tactic was illegal, but Khattala did identify other members of the Islamic extremist militia group blamed for the Benghazi attack. Among the men he pegged was Mustafa al-Imam, who was captured last month and faces trial in the same federal courthouse in Washington.
Prosecutors had claimed that Khattala had planned the ambush for at least a year and served as the "on-scene commander" for a band of armed men who stormed the complex with the aim of killing American personnel and plundering maps, documents and other property from the post.
"He viewed the United States, which promoted freedom, as the cause of all the world's problems," Assistant U.S. Attorney Michael C. DiLorenzo told the jury in closing arguments earlier this month. "He was there to kill Americans, and that is exactly what he and his men did."
Defense attorney Michelle Peterson described Khattala as a "Libyan patriot" who fought on America's side in the war against the late Libyan dictator Muammar Qaddafi. She described Khattala as a deeply religious man who believes in conservative sharia law as outlined in the Koran, which "is not the same thing as terrorism," she said.
Peterson also cast doubt on the government's witnesses, in particular an informant who was paid $7 million to befriend Khattala, help the government gather information on him and arrange his capture. The informant helped link Khattala to the attackers, and prosecutors said they were seen on grainy surveillance video milling about the complex with guns.
Fox News' Jake Gibson and Catherine Herridge contributed to this report. The Associated Press also contributed to this report.
https://www.foxnews.com/politics/benghazi-suspect-convicted-on-four-lesser-counts-does-not-face-death-penalty