As Obama Turns to Deficit Reduction, Supporters Ask Where Are the Jobs?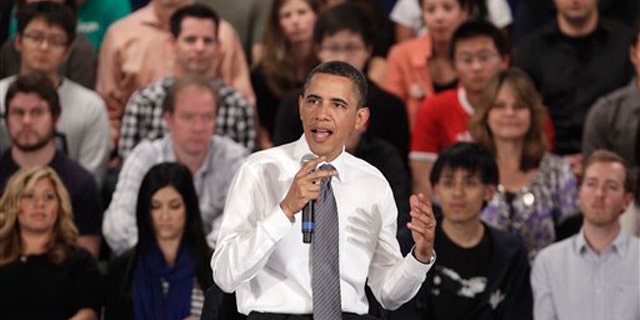 With the conversation in Washington shifting focus to paying down what the nation owes and having the government live within its means, the president's supporters say they don't want him to forget about job creation and the housing recovery.
At a town hall meeting Wednesday at Facebook headquarters in Palo Alto, Calif., an audience member asked the president how he planned to "balance these two going forward, or even potentially shift the conversation back."
Obama said that without getting the deficit down, spending on "investments" to help job creation is unlikely.
"If we don't have a serious plan to tackle the debt and the deficit, that could actually end up being a bigger drag on the economy than anything else," he said.
Obama's plan would cut spending by $4 trillion over 12 years and raise taxes on job-creators. House Republicans have passed a plan that would cut nearly $6 trillion from the deficit, in part by overhauling Medicare and Medicaid.
The economy has bounced back since Obama first took office. But the jobless rate is still high at 8.8 percent and millions of jobs that vanished during the recession haven't returned. The sluggish housing market has left many homeowners owing more on their loans than their homes are worth. Prospective homeowners are struggling to find the money to buy.
So can the president reduce the nation's $14.3 trillion debt while creating jobs to drive the unemployment rate back to pre-recession levels?
It's possible, says Alan Viard, an economist at the American Enterprise Institute. The president would have to provide short-term stimulus while locking in agreements on long-term deficit reduction. But the policies to reduce the deficit must be credible, he added.
"You don't have to start implementing deficit reduction right away, but you get some of the benefits of the fiscal restraint because people know – believe – you will be doing that," he told FoxNews.com. "If the fiscal measures are delayed too long, credibility is called into question."
That's exactly what Standard & Poor's Rating Services did this week when it lowered its outlook for U.S. debt from "stable" to "negative." Though it kept U.S. credit ratings steady, the agency warned that political deadlock could compel it to downgrade Washington's rating in just a couple of years.
Viard said the credit warning doesn't "impede job creation. It calls into question what happens with the deficit."
Even in the absence of a bipartisan agreement, Viard said the deficit won't remain at its current extreme level, but it won't get close to fiscal balance either.
"On the deficit front, we have to have a bipartisan agreement," he said. "As a starting point, I like Ryan's plan better than Obama's plan." The Ryan plan is a reference to the GOP-led House approved plan that Rep. Paul Ryan authored.
Alan Houseman, executive director of the Center for Law and Social Policy (CLASP), an advocate for low-income families, criticized the GOP plan for cutting domestic programs that helps the county's most vulnerable.
"Many workers, especially those with the least skills and education, have lost jobs that will not return even when the economy begins creating more jobs," he wrote in an article posted on his group's website entitled "Deficit Reduction, Job Creation, Family Economy Security Shouldn't Be Mutually Exclusive.
"We need a plan for inclusive economic recovery as we figure out how to create jobs and reduce the deficit," he wrote. "Full employment and poverty reduction are the best deficit reduction strategies."
Viard said there's not much else the president can do to create jobs beyond the payroll tax holiday and emergency unemployment benefits that were central to a tax deal he struck with Republicans late last year that also extended the Bush tax cuts for two years.
"I think we are taking aggressive steps on job creation, which I think are helping jobs to come back," he said. "I'm not sure how much we can do. Meanwhile, I see this huge fiscal imbalance and nothing being done."
The Associated Press contributed to this report.