As early voting set to begin in Arizona, Senate race in virtual dead heat
PHOENIX – In Arizona's highly contested Senate race, it could all come down to independent voters to decide who will be the next senator.
"Independent voters may have a very large say on who serves in Arizona for the U.S. Senate in the next race," said Joseph Garcia, Arizona State University Morrison Institute Public Policy professor.
That's because the two candidates, Rep. Martha McSally, R-Ariz., and Rep. Kyrsten Sinema, D-Ariz., are virtually neck-and-neck in polls. In a Fox News poll among likely voters, Sinema is leading 47 percent to McSally's 45 percent.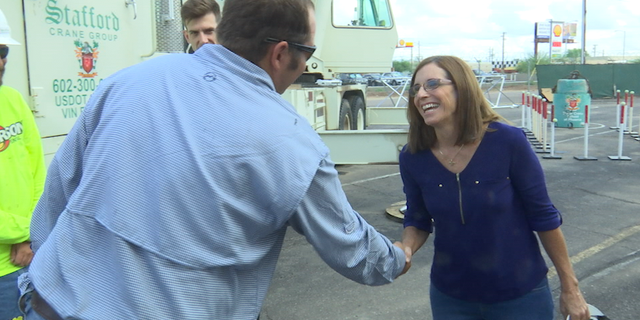 "This [race] is open because Sen. Jeff Flake decided to not seek re-election, which opened it up. But there's no guarantee that that will be a Republican, by any means," Garcia said. "You know, the Democratic candidate has a very strong campaign. So…this race is up for grabs."
Early voting begins next week so both campaigns are in their final stretch to try and win those independent and undecided votes, with the Sinema team looking to shift the balance in the Senate and the McSally team fighting to keep the seat Republican.
"About 70 percent will vote early so we're down to the final stretch," McSally said. "This is a dead heat and it's consequential because the balance of the Senate majority goes through Arizona. The left knows that, which is why they're pouring millions of dollars into my opponent trying to prop her up and turn her into something that she is not. "
Arizona Republican Party chairman, Jonathan Lines, said the party is "enthusiastic" about where McSally stands right now.
"I often get calls from other chairmen nationwide—they know how important it is—Arizona is ground zero," Lines said. "We will keep this seat…we're going to retain the Senate seat…Martha McSally is doing remarkably well."
But Sinema said she feels good about her campaign.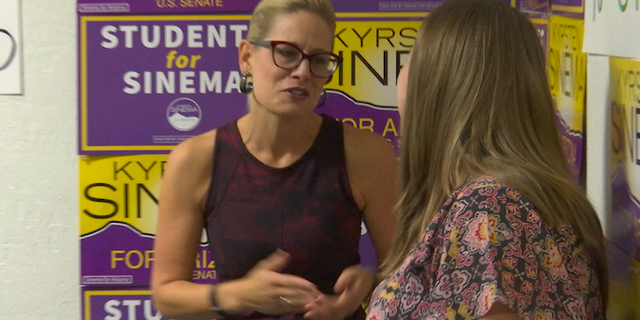 "I travel the state and listen to Arizona and I hear a hunger for someone who's focused on just getting common sense results," Sinema said. "Arizonans are looking for someone who's independent, who's going to stand up for them, and not just do what party bosses say. As the third most independent member of Congress, I fit that bill…my opponent has chosen to run a campaign that's just based on attacks."
Democrats believe they have a huge chance at flipping the seat.
"You're seeing Republicans on the defensive in Arizona," said David Bergstein, Democratic Senatorial Campaign Committee (DSCC) national press secretary. "It's a state that they are now struggling to hold. Because the demographics in the electorate and the views of the voters have shifted against them…every race is obviously fought and decided on the ground but this is a critical campaign…it's a highly competitive campaign."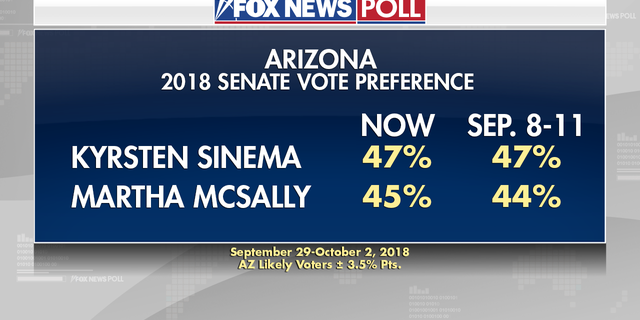 A big factor in this race is how voters feel about Trump, said Garcia. The latest Fox News poll shows President Trump has a 51 percent approval rating among likely Arizona voters.
"Let's face it, this year the election is Donald Trump," Garcia said. "Those who support him, those who do not. And it depends on who gets to the polls. If it's going to be Trump supporters, it should be McSally. If it's some people who are not happy with the direction the country is going on Donald Trump's support and policies, they probably will go with Sinema. So, you know Donald Trump very much is on the ballot although his name does not appear. But he's very much on the ballot with each of these candidates."
McSally served 26 years in the U.S. Air Force, retiring as a full colonel and was the first female fighter pilot to fly in combat and first to command a fighter squadron in combat in U.S. history.
"I'm going to continue to fight to make sure we keep us safe, support our military, support our veterans, keep taxes low, roll back regulations, and move us towards a more free society where people can have the choice to be anything they want to be," McSally said. "That's what we're all about and that's what I'm going keep leading on when I get to the Senate…I am asking to deploy to the Senate so I can continue to take the same oath of office to continue to fight for our freedoms and way of life."
Meanwhile, Sinema became a social worker after college to help struggling families and has been emphasizing her upbringing. She faced poverty growing up but eventually ended up getting a full-ride college scholarship.
"Right now, what I hear from everyday Arizonans is that they're looking for a senator who understands the challenges that they're going through," Sinema said. "They want someone who understands how hard it is to get access to healthcare, who's going to protect their benefits for social security and Medicare, who cares about education for their kids, and who's going to stand up for veterans and military families. That's the work that we're doing, we've been laser-focused from day one to take care of everyday Arizonans."
About 80 percent of Arizona voters choose to receive their ballot in the mail, according to Arizona Clean Elections, which means many Arizonans may vote early.