Arizona Suspect Likely Facing Death Penalty for Fatally Shooting Federal Judge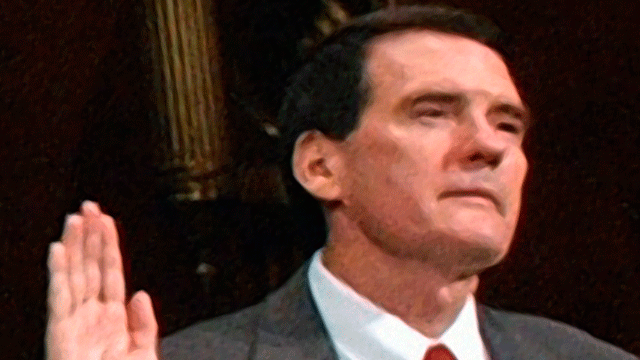 U.S. District Judge John M. Roll was killed in the shooting rampage in Arizona that took the lives of five others and injured as many as 12 more, including Rep. Gabrielle Jeffords. And while Roll's death initially was overshadowed by news of Giffords' injuries, the federal judge's murder could bring the harshest sentence if and when charges are filed against suspect Jared Loughner.
Roll was killed while just passing through an outdoor town-hall style event called "Congress on your Corner" held by Giffords in a Safeway parking lot in Tucson.
"My understanding is he just went to the Safeway to do some shopping ... and he just stopped to chat and say hi, " C.J. Karamargin, Giffords communications director, told Fox News.
Police say suspect Jared Lee Loughner, who is in FBI custody, killed six people, including Roll, a 9-year-old child and Giffords' aide Gabe Zimmerman, and wounded 13 others, including Giffords, who was shot in the head as she met with her constituents at the start of the meeting.
Pima County, Ariz., Sheriff Clarence Dupnik said authorities believe Giffords was targeted by the shooter. But Fox News legal analyst Andrew Napolitano said the killer is likely facing the death penalty even if he didn't target Roll or others in particular during the shooting.
Napolitano said it would be a federal crime of capital murder eligible for the death sentence if the killer's motive was to prevent Roll from carrying out his judicial role.
"If on the other hand he was just killed because he happened to get in the way, then it's not a federal crime, then Arizona law would take place. He still may be exposed to the death penalty but it would be under Arizona jurisdiction and not federal."
Napolitano said a federal prosecution is likely to occur first.
"The federal government almost always takes precedence when there is a joint jurisdiction," he said, explaining that there is joint jurisdiction in the investigation because two of the targets -- Giffords and Roll -- were federal officers. Homicide is typically a state crime.
Roll was appointed to the federal bench by President George H.W. Bush where he built a record that analysts say was "middle of the road."
Napolitano said that Roll wasn't a controversial jurist, didn't issue bizarre rulings that were outside the mainstream and wasn't known for interfering with the works of the state government.
"He was just a methodical, hard-working, well-respected, well-liked conservative jurist whose death is a shock to all of us in the legal community," he said.
Former Rep. John Shadegg, R-Ariz., told Fox News that Roll was "energetic, enthusiastic, he was very thoughtful, he would always thank me for anything I was able to do for the judges." He had been working to get a federal courthouse built or located in Yuma, Ariz., to deal with the vast number of immigration cases that arise from that sector of the border.
"He made no big waves," Shadegg said. "There has been no weird rulings from him. Just a serious, conservative judge who served the people for the entirety of his adult life in one way or another."
Roll's murder drew a rare public statement from Supreme Court Chief Justice John Roberts.
"We in the judiciary have suffered the terrible loss of one of our own," he said. "Chief Judge John Roll was a wise jurist who selflessly served Arizona and the nation with great distinction, as attorney and judge, for more than 35 years."
"I express my deepest condolences to his wife Maureen and his children, as well as the other victims and their families," Roberts continued. "Chief Judge Roll's death is a somber reminder of the importance of the rule of law and the sacrifices of those who work to secure it."
President Obama mentioned Roll during a brief statement in which he said he "offered the full resources of the federal government" to Arizona Gov. Jan Brewer.
"Obviously our hearts go out to the family members of those who have been slain," he said. "We are going to get to the bottom of this, and we're going to get through this."
A statement issued on the U.S. District Court in Arizona said Roll was appointed to the federal bench in 1991, and served as chief judge of the district since 2006.
"The devoted husband, father of three, grandfather of five, and friend to all who knew him, will be greatly missed by his family and community. He was a warm, compassionate judge and inspirational leader in what is one of the busiest districts in the country. His death will leave a significant void in the District of Arizona and the entire federal judiciary, and we are all deeply saddened," the statement reads.
According to the Arizona Republic, Roll and his wife were given a protection detail from the U.S. Marshal's Service for about a month in 2009 after he presided over a $32 million civil-rights lawsuit filed by illegal immigrants against an Arizona rancher.
Roll and his family received hundreds of threatening phone calls after the judge ruled the case could go forward. But Roll didn't like the detail.
"It was unnerving and invasive," he told the newspaper. "By nature it has to be."
After four key men had been identified as threat makers, the newspaper reported, Roll followed the advice of the Marshals Service not to press charges.