Arizona in Boycott Battle With Immigration Law Opponents
By ,
Published December 11, 2016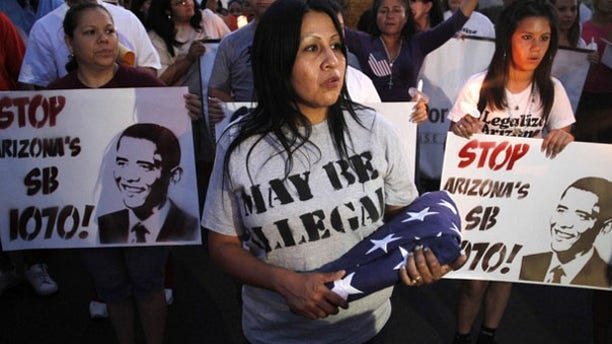 Supporters of Arizona's controversial immigration law are trying to turn the tables on people calling for boycotts of their state, threatening to target opponents of the law with boycotts of their own.
A group called BUYcottArizona has launched a website calling on supporters not only to ignore the anti-Arizona rhetoric, but to make those cities leading the charge pay for their political opposition. The group names close to a dozen cities -- in addition to individual organizations -- that have backed boycotts on employee travel or future contracts with Arizona businesses, and it is calling on people to "boycott the boycotters."
The backlash against the backlash may be getting some support. According to the San Diego Union-Tribune, would-be tourists have started notifying the San Diego Convention and Visitors Bureau and some hotels that they are canceling their vacation plans to the Pacific Coast city -- after San Diego's city council decided to launch a boycott against Arizona.
According to the newspaper, the convention bureau has received about 25-30 e-mails from Arizona residents, with some saying they are canceling their reservations and taking their money elsewhere.
Arizona residents have also been sounding off in the editorial pages and over the airwaves about the way they've been vilified by other jurisdictions -- particularly in next-door California, where officials in Los Angeles, San Diego, Oakland, West Hollywood and San Francisco have all supported boycotts.
Listeners of KTAR in Phoenix called in to warn California to "think twice" about boycotting their state. As California officials threaten to deprive Arizona of their state's financial support, Arizona has some leverage of its own.
The Golden State gets almost a third of its electricity from Arizona -- most of it coming from a nuclear power plant outside Phoenix, as well as coal-fired power plants in northern Arizona and two giant hydroelectric power generators along the Colorado River.
California also contracts to house 4,000 inmates in Arizona prisons, not to mention a $22 million contract at city-owned Los Angeles International Airport for Phoenix-based U.S. Airways and millions more in trucking contracts at the port of Los Angeles.
Many of the boycotts in other cities are not canceling existing contracts, but say they won't enter into new arrangements.
Lawyers say boycotting cities can't just cancel existing contracts for political reasons without paying huge damages in court. The cross-country disputes in some cases amount more to political grandstanding than a financial disincentive strong enough to cause Arizona to repeal its law.
Still, the choking off of tourism dollars -- both from and to Arizona -- could have an impact. The Arizona state tourism bureau has said the losses from boycotts have reached nearly $10 million as a result of 23 canceled meetings.
In California, some officials are likewise worried about the counter-boycott on San Diego.
"We're in a very tough environment already because of everything else going on, and we don't need another negative impact to our industry," Convention and Visitors Bureau President Joe Terzi told the Union-Tribune. "This affects all the hardworking men and women who count on tourism for their livelihoods, so we're saying, don't do something that hurts their livelihoods."
"I've been approached by a number of hotels who are very concerned because they've received cancelations from Arizona guests," Namara Mercer, executive director of the county Hotel-Motel Association, told the newspaper.
California officials are standing by their opposition to the Arizona law, which makes illegal immigration a state crime and empowers police to demand identification from people they suspect of being illegal immigrants. The law goes into effect in July.
Los Angeles City Councilman Ed Reyes said he understands the "inconvenience" caused by the boycotts, but he said that "does not compare to the violation of civil rights" caused by the Arizona law.
Bruce St. James, radio talk show host at KTAR, said the law looks a lot different to those who actually live in Arizona.
"I think it's easy to throw stones when you're sitting so far away," he said. "When you're in the middle of it, I think if you believe any of the polls ... close to 70 percent of the people who have to live here think this is a step in the right direction."
Fox News' William LaJeunesse contributed to this report.
https://www.foxnews.com/politics/arizona-in-boycott-battle-with-immigration-law-opponents