Why must 49 million American students still be denied school choice?
By Robert Enlow, ,
Published May 11, 2015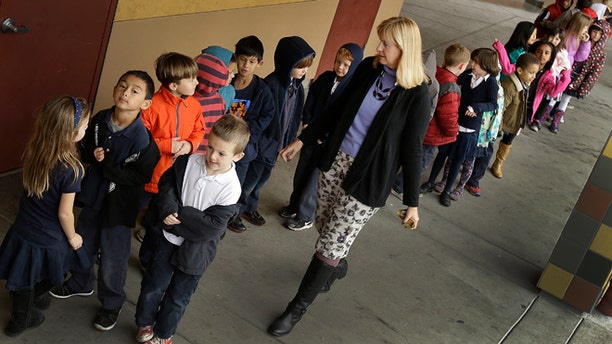 Heidi and Frank Green used to worry about their daughters while they were at school.  The Clarksville, Indiana couple was concerned about bullying, cursing, large class sizes, a revolving teaching staff, and a general lack of attention for students.
Thankfully, the Greens say their lives have changed for the better as daughters Gillian and Emma are now eager to attend school. Today they are getting quality instruction at their new Catholic school thanks to a voucher program adopted in Indiana two years ago.
"School choice should be everywhere," said Mrs. Green. "Parents should be able to decide what's best for their kids.
Gillian and Emma are among the 255,000 students nationwide who attend a private school of their family's choice using vouchers or tax-credit scholarships. Another 2.3 million students utilize public charter schools as their preferred option.
[pullquote]
But there are still almost 49 million public school students throughout the country who do not have such freedom. They must attend their neighborhood public school regardless of its safety, quality, class sizes, teaching staff, or other issues outside their parents' control.  But such restriction doesn't have to be the case.
Sunday kicked off the third annual National School Choice Week, which runs through Saturday. There will be 3,000 events across 50 states including rallies and forums where parents will ask lawmakers for more choices for their kids.
National School Choice Week highlights the private, charter, online and home school education options available to families and those stuck with a school assigned to them by their address. Parents can choose public or private colleges for their children using many federal and state aid programs. They should be able to do the same with K-12 schools.
After major school choice victories last fall in which Washington voters agreed to allow charter schools to open in the state and Georgia voters agreed to an easier path to create more charters, a host of other states will consider additional school choice measures in 2013. Among the highlights:
• Tennessee's governor will include a school voucher program in his legislative package.
• The Texas legislature will consider a program in which taxpayers would receive tax credits for donations they make to nonprofits that provide private school scholarships for low-income students.
• Mississippi's governor proposed a private school choice program for students in underperforming public schools.
• North Carolina's lawmakers will review proposals for opportunity scholarships and quite possibly education savings accounts, a new type of private school choice available only in Arizona.
• Alaska lawmakers will vote on a school voucher plan for all students statewide regardless of their family income.
• Indiana's new governor has proposed expanding its voucher program to increase scholarship amounts and student eligibility.
• Maine lawmakers will hear a proposal from their governor to give children school vouchers.
Nobel laureate economist Milton Friedman, the father of the school choice concept, believed that offering parents education options other than their neighborhood school would not only be good for children but would improve education. Studies show school choice is helping children in their new schools and those who don't participate – something vitally important when so many children don't get a quality education.
The Center for Labor Market Studies at Northeastern University found that high school dropouts are more dependent on government assistance such as food stamps, housing assistance, and Medicaid. They are also more likely to be in jail or prison, another cost to federal, state, and local taxpayers. And unemployment rates are highest among dropouts, according to the study.
If our society is to address its burgeoning debt problem and give young people a chance to become successful, offering parents an opportunity to access high-quality schools is a path to prosperity for themselves, their children, and society.
In several states, policymakers are ensuring more students have access to the schools, public or private, that work best for them. National School Choice Week is the time to shine a spotlight on those leaders and anyone else working to make sure every family is free to choose in education.
https://www.foxnews.com/opinion/why-must-49-million-american-students-still-be-denied-school-choice