This is Sir Elton John's moment
By Deroy Murdock
Published November 29, 2018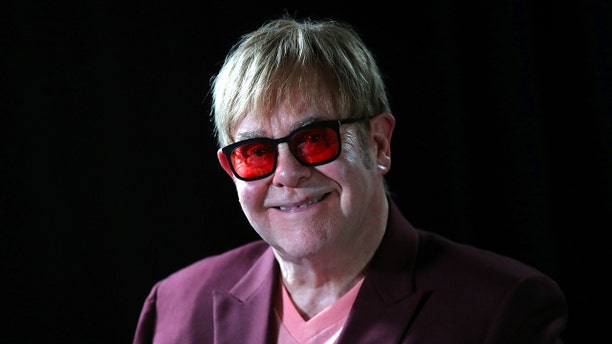 Everywhere I look, I see Elton John.
For an Elton fan like me, this is great news. And what's not to love about Sir Elton Hercules John, 71, the rock star whose career hums along, never having slowed down very much?
I recently visited the Manhattan salesroom of Bonhams, a London-based auction house. Amid a fascinating collection of rock and roll memorabilia that went under the gavel last week, Lot No. 1 was reserved for a private sale. The framed, handwritten lyrics to "Your Song" soon will grace a lucky buyer's home, office, or museum display case.
As the exhibit catalog explains, this small piece of paper, bearing light blue ink, is "the original, first, and only draft of the lyrics to 'Your Song.'" As a writer, it is breathtaking to behold the sole rendition of Bernie Taupin's words, to which Sir Elton added his tune. Taupin conceived this romantic ballad's text at one pass, with minimal edits, such as "I'd buy a big house where we would both both would live." Taupin achieved this one morning while sitting atop a London music-publishing company's headquarters where Elton was an office boy. Thus the line, "I sat on the roof and kicked off the moss."
Throughout their decades-long and highly fruitful musical partnership, Taupin creates his lyrics, after which John conjures his melodies. In this case, "'Your Song' went off in 10 minutes," Sir Elton told Penny Valentine Sounds. "I go round to Bernie and say, 'Listen, I've done it,' and he can't believe it."
After one-sixth of an hour, Sir Elton's rhythm and musical notes were married to Taupin's single-page meditation on love and generosity. The result was, as the catalog explains, "Elton John's first mega-hit." After its October 1970 U.S. release, "Your Song" went platinum, making it arguably the starting point of rock's finest decade.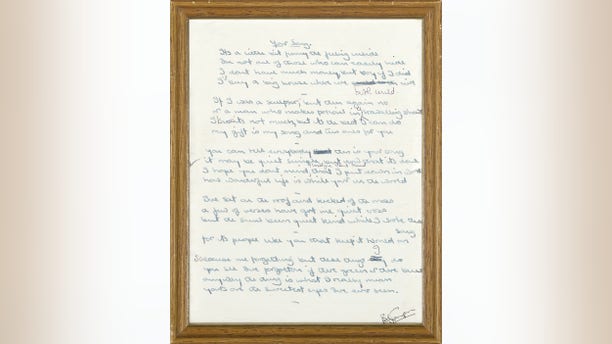 Most artists would be thrilled to produce a work as mature, wise, and beautiful as "Your Song" in their 30s or 40s, perhaps on their sixth or seventh album. Instead, this was the opening track on "Elton John." Sir Elton's eponymous album was his second ever (after the U.K.-issued "Empty Sky"), his first American release, and the base of a discography that has made him Earth's fourth-best-selling musician, with 183 million certified recordings in circulation. For these two to have launched their livelihoods at this level – with Elton at age 23 and Bernie just 20 – is akin to a pair of young men taking their first flight lessons in F/A-18 fighter jets and, that day, qualifying for the Blue Angels.
A bit larger than the 9-inch by 7-inch "Your Song" manuscript are the HDTV screens on which British viewers are watching a new Yuletide ad for John Lewis & Partners department stores. "The Boy & the Piano" features present-day Sir Elton, sitting at a piano playing, appropriately enough, "Your Song." The gorgeous, visually lush commercial uses youthful, Eltonesque actors, period costumes, and modern production magic to carry viewers back, Benjamin-Button-like, through John's six-decade contribution to rock and pop music. We eventually see Elton as a little boy and discover the Christmas gift that transformed him into a global treasure. If your eyes are dry after this mini-masterpiece, run to an ophthalmologist.
Meanwhile, movie screens now showcase the trailer for Paramount Pictures' biopic "Rocketman." As Sir Elton, the lovely and talented Taron Egerton seems poised to add significant range to the varied roles he already has played – from Olympic ski jumper Eddie "the Eagle" Edwards to tailor/spy Gary "Eggsy" Unwin in the "Kingsman" films. Jamie Bell ("Billy Elliott," "Film Stars Don't Die in Liverpool") co-stars as Bernie Taupin.
The coming attraction starts with the single F Major 7th chord that instantly and reassuringly opens another huge Taupin/John hit: "Bennie and the Jets." Weird and wonderful images soon follow: Young Elton plays Dodger Stadium in a glittery baseball uniform. Clad in a fabulous silk bathrobe, he tumbles off a diving board into a swimming pool. He levitates at his keyboard during his breakthrough engagement at Los Angeles' Troubadour nightclub in 1970. "Based on a true fantasy," as the preview states, this very promising film opens May 31.
Finally, after concluding 450 rousing performances across two multi-year residencies at Caesar's Palace in Las Vegas, Sir Elton launched his Farewell Yellow Brick Road tour. This includes "more than 300 shows across five continents, hitting North America, Europe and the Middle East, Asia, South America, and Australasia before reaching its conclusion in 2021," his website explains. "These dates mark Elton's last-ever tour, the end of half a century on the road for one of pop culture's most enduring performers. The new stage production will take his fans on a musical and highly visual journey spanning a 50-year career of hits like no one has ever seen before."
As early as this week's sold-out shows in Atlanta, Eltonheads will have ample opportunity to enjoy this legend's bravura live artistry before he pushes in his piano bench for the final time. Even without tickets, his followers can marvel at the man's accomplishments: an Academy Award, a Tony, five Grammys, a knighthood from Queen Elizabeth II, 29 consecutive Top 40 hits, 31 platinum albums, and 38 gold records. Since 1970, 80 nations have hosted his roughly 4,000 concerts. "Candle in the Wind 1997" sold 33 million copies. It's still the best-selling single in human history.
No doubt, this is Sir Elton's moment. I think it's gonna be a long, long time.
https://www.foxnews.com/opinion/this-is-sir-elton-johns-moment