Gianno Caldwell: Here's why prison reform (and the First Step Act) is a major opportunity for our country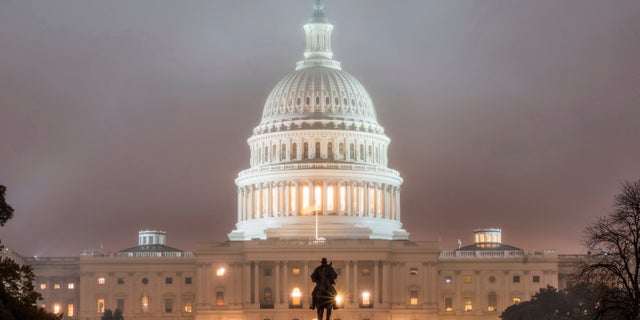 I traveled to the Capitol in Washington this week to lobby for Senate passage of one of the most important pieces of legislation introduced in my lifetime – the long-overdue federal prison reform measure called the First Step Act, which would be a major step forward to make our criminal justice system more just.
I wasn't alone. Charlie Kirk, Candace Owens and many of my fellow black conservatives joined us for what was a true demonstration of democracy in action. And we black conservatives in attendance weren't simply lobbying for a good bill – this was personal.
The First Step Act is a measure introduced by Senate Judiciary Committee Chairman Chuck Grassley, R-Iowa, and Minority Whip Richard Durbin, D-Ill., among others. It would reduce mandatory sentences for some drug-related felonies, make more low-level offenders eligible for early release, and provide more funding for programs to help released prisoners become law-abiding citizens and avoid committing new crimes.
This is a major opportunity for our country and especially for the black community.
According to the U.S. Justice Department, in 2016 there were a little over 1.5 million inmates in state and federal prisons. African-Americans accounted for about 487,300 of the inmates, compared to 440,200 whites and 339,600 Hispanics. That works out to about 32 percent of prisoners being black, in a nation where about 13 percent of the overall U.S. population is black.
Looking at a broader measure, in 2014 African-Americans constituted 2.3 million – or 34 percent – of the 6.8 million people in the U.S. in federal and state prisons, local jails, and out on probation or parole.
This disproportionate rate of African-Americans in the correctional system in our country – which houses more prisoners than any other nation in the world – is a sad personal reality for me, because I have a close family member who's been in jail for almost a year now.
So these aren't just statistics to me, they are my family members, friends and the people I grew up with in Chicago. And I am not alone, as many others in the black community can say the same. This is one of the major issues creating hardships for African-Americans in the U.S. today.
Republicans have a real opportunity to do the right thing and gain support among black voters by taking the lead in reversing the draconian effects of President Clinton's 1994 crime bill. This law created mandatory minimum prison sentences, took away the discretion of judges in sentencing and resulted in many people – particularly African-Americans – being imprisoned longer than necessary or justified.
By my count, most Republicans in the Senate support the First Step Act and it enjoys broad support among Democrats. But unfortunately, Senate Majority Leader Mitch McConnell, R-Ky., who controls what legislation comes to a vote, has not committed to letting senators vote on the bill this year. According to news reports, McConnell doesn't want to bring the bill to a vote if it will divide Republicans, who are split on whether the First Step Act is a good or bad measure.
For example Sen. Tom Cotton, R-Ark., has led the fight against the First Step Act, spreading misinformation about the legislation. Sen. Mike Lee, R-Utah, has corrected misconceptions about the bill and is a leader fighting for its passage.
In lobbying for the First Step Act, the group I was with ran into Sen. Ted Cruz, R-Texas, who told us the legislation could release dangerous criminals – despite the fact that the bill has safeguards to prevent that and requires prison wardens to approve the early release of prisoners. Nevertheless, Cruz said he opposes the bill.
The First Step Act is supported by President Trump, the American Civil Liberties Union, the Koch network, the Fraternal Order of Police and evangelical Christian groups. This is a once-in-a-lifetime opportunity for conservatives to right the wrongs of President Clinton's crime legislation and show the black community we are committed to genuine justice for all, and care about one of the most systematic and destructive issues impacting African-Americans today.