Campaign to eradicate polio requires courage in the face of extremist ideology and violence
By Heidi J. Larson, ,
Published January 22, 2016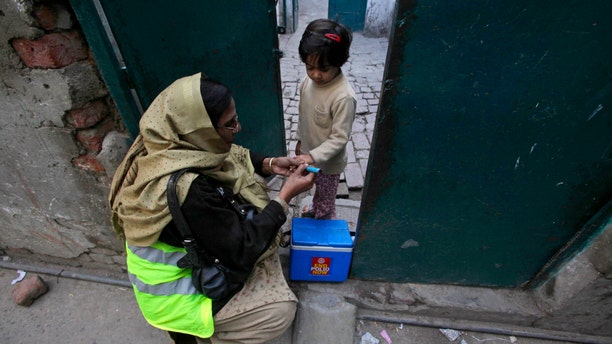 On January 13th, 15 people were killed and more than 20 injured in a suicide-bomb attack outside a polio vaccination center in Quetta, Pakistan. Most of those killed were police gathered to protect polio workers getting ready to do their vaccination rounds.
The attack increased the rough tally of killings tied to polio vaccination efforts since 2012 to 100, if not more, in Pakistan alone.
Afghanistan has been the scene of similar attacks. Two weeks before the Quetta horrors, a female polio worker was shot and killed in the city of Kandahar.
The last mile of polio eradication is a story of extremism and geo-politics. The global initiative to wipe out the last bastions of the disease is one of the prime targets of the anti-Western, anti-other ideology that finds its expression in terrorism. Yet it is a health effort that has made remarkable progress, against all odds, in some of the world's most dangerous countries.
It is also a tale of who is travelling where, leaving evidence of their trail by the virus they carry.
The same day as the Quetta attack, India marked five years without a reported case of polio. Just over a decade ago, the country was considered to be one of the most challenging places in the world to battle the crippling virus.
Despite significant logistical challenges and pockets of distrust, India did not face the insecurity and killings of polio workers that have become a regular threat in Pakistan and Afghanistan, the last remaining polio-endemic countries.
But even where extremist passions run high, the anti-polio effort has advanced. Last year, Nigeria was removed from the polio-endemic country list – no case had been reported for more than a year. The success came a decade after an eleven-month polio vaccination boycott in northern Nigeria in 2003-2004, and more recently attacks on polio workers by Boko Haram insurgents.
In 2015, the entire Africa continent also marked a year without a case of polio, the last being reported in Somalia.
But where extremism and chaos dominates, the disease can still make a comeback. In 2013, the Nigeria polio strain was carried to Somalia, where al-Shabab leaders had forbidden polio vaccination. After being polio-free for six previous years, Somalia faced an outbreak affecting nearly 200 people, and then spreading over its borders to Kenya, Ethiopia and South Sudan.
In the same year, Syria had its first polio outbreak since 1999.  This eruption was sparked by a strain of the virus, identified as having been brought in from Pakistan — carried by travellers, most likely insurgents -- moving between Pakistan and Syria.
In Syria, health services, including immunization, have been shattered by civil war, leaving many unprotected by vaccination. At least 35 children have been paralyzed.
The polio assaults in Pakistan have been driven by multiple claims, including complaints about U.S. drones, suspicions and anger about the fake house-to-house vaccination campaign used by the CIA in Pakistan to confirm the location of Usama Bin Laden, and overall suspicion and rejection of a global health effort perceived to be inspired and directed by the West.
Should we believe them? In vaccine safety science, when there is an "adverse event" which is suspected to be related to the vaccination, one of the factors investigated is the "background rates." In other words, how do the rates of these symptoms compare among similar populations without vaccination?
In the case of attacks on polio vaccinators, we need to look at the societal and political context and "background rates" of similar incidents.
Attacks on polio workers are a few among many different attacks in Pakistan, mostly unrelated directly to vaccination. The "background rates" of targeted killings are high across a variety of situations.
Just two weeks before the Quetta bombing, for example, a suicide bomb at the National Database and Registration Authority, in northwest Pakistan, killed 26 people and injured at 50 others.
This week, the Taliban took credit for an attack on a university near Peshawar that killed at least 20 more. There have been multiple attacks on Shia mosques, buses carrying Shia pilgrims, churches and schools.
In one of the worst incidents, Tehrik-i-Taliban terrorists attacked an Army School in Peshawar, in December 2014, killing 132 school children and nine school staff.
In October 2012, the now celebrated young Pakistani woman named Malala was shot and almost lost her life in Pakistan. She was not shot because she was in the polio eradication campaign. She was shot because she was a young girl determined to go to school.
Attacks on humanitarian aid workers in general have more than doubled in the past decade. The Aid Worker Security Database (AWSD) reports that the number of such victims of killing more than doubled between 2004 (56 victims) and 2014 (121).
In the case of attacks on polio workers, investigating background security issues is increasingly important. But should the knowledge of risks stop the polio effort? Never.
A major legacy of the polio eradication initiative may be its experience at pursuing a vital humanitarian objective in the face of extremist ideology and violence, experience that has become increasingly central to the global polio "endgame" and may be useful for many other life-saving endeavours.
https://www.foxnews.com/opinion/campaign-to-eradicate-polio-requires-courage-in-the-face-of-extremist-ideology-and-violence