Florida AG backs DeSantis' refusal to extradite Trump to NYC, says DA Bragg 'playing Twister' with the law
Ashley Moody tells 'Fox & Friends' this is a 'sad day' in American history
Florida Attorney General Ashley Moody (R) joined "Fox & Friends" Friday to call out Manhattan DA Alvin Bragg for playing partisan politics by indicting former President Trump. Moody applauded Gov. Ron DeSantis for declaring that the state will not assist in extraditing Trump to New York.
TRUMP INDICTMENT: LIVE UPDATES
ASHLEY MOODY: I found myself very sad. I think understanding that this D.A., he's a rogue, radical prosecutor, There's plenty of evidence that in other cases he refuses to enforce some laws, and it really appears he is trying to play Twister with our with the law to win a partisan game. And that is for somebody like me who has served as a judge, as a federal prosecutor, as a lawyer. I'm a third-generation judge. To watch a prosecutor with such an awesome responsibility, manipulate a law, a misdemeanor, into a felony so that he has a case and maybe can get past the statute of limitations. It's insulting to other prosecutors. It's demeaning of the rule of law. People forget Governor DeSantis previously served as a prosecutor. He understands that awesome responsibility that is trusted to lead a law enforcement executive like that. I think everyone felt last night what the whole country is feeling. This is a sad day in the story of the United States.
CLICK HERE TO GET THE FOX NEWS APP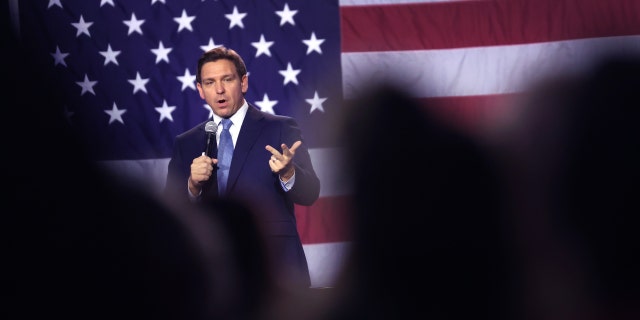 Manhattan District Attorney Alvin Bragg requested that former President Trump surrender to his office Friday following his unprecedented indictment Thursday evening, but a source familiar told Fox News Digital that Trump will surrender himself next week due to U.S. Secret Service involvement.
The source told Fox News Digital that Bragg had requested Trump's surrender to the Manhattan District Attorney's Office by Friday — the day after the indictment — but that timeline was extended due to arrangements needed to be made by Secret Service.
The source told Fox News Digital Trump will "most likely" surrender on Tuesday.
Fox News' Brooke Singman contributed to this report.