Navy vet's widow speaks about Hawaiian honeymoon hiking tragedy
The widow of Navy veteran Stephen Kramar, who authorities believe fell to his death while hiking on their Hawaiian honeymoon, has spoken publicly for the first time since her husband's tragic death just nine days after their Sept. 8 wedding.
"This life is temporary. We really don't know when our time is up. We don't know if it's going to be nine days after you're married or 20 years after you're married, or 50. No one knows," a teary-eyed Jeffanie Kramar told WJLA in an Oct. 3 interview.
As she grieves the loss of her spouse Stephen, who died on Sept. 17, Jeffanie says that the kindness of strangers and strong faith of her husband are guiding her through this incredibly difficult time.
MINNESOTA FIREFIGHTER LEAVES HIS OWN WEDDING TO BATTLE BLAZE
"Just the love that people keep showing me. From strangers knocking on my door and asking can I hug you, can I just pray for you, here's a meal for you," the Maryland woman said. "And the overwhelming amount of love people showed on social media, everyone who tried to send volunteers or said let me come to Hawaii to look for him with you."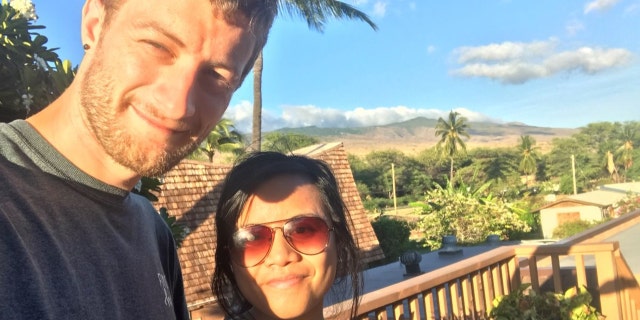 "I fell in love with [Stephen] because of his faith," Jeffanie added of her late husband. "And I know there's more than this life. And he's already living it now. He didn't suffer. So I think the legacy he would want to leave behind and share with everyone is that life is short."
After marrying in Falls Church, Va., Jeffanie and Stephen flew to Molokai, Hawaii on Sept. 9 to celebrate their honeymoon and spent a "perfect week" together, before the tragedy struck, WJLA reports.
Around 9:30 a.m. on Sept. 17, Stephen, an "experienced hiker" who previously summited 14,000 foot mountains in Colorado and served in the Navy for nearly three years, ventured to scout out a hiking trail to make sure it was safe for his bride. He never returned.
"He said if you don't hear back from me around 6 o'clock, 7 o'clock, then you should be worried," Jeffanie recalled. She received a text from him around 2:30 p.m. that read "Travel is slow but I'm on my way back," which would be the last she heard from him.
After reporting him missing that night, authorities launched an air and land search consisting of helicopter and K-9 units along with volunteers. Kramar's body was found at the bottom of a massive cliff and later identified by family members.
Though Jeffanie and their family are awaiting official autopsy results, detectives have been able to shed light on how the tragedy may have unfolded.
"He said they found him at the bottom of a 150 foot drop off a cliff. And next to him was a freshly fallen boulder," the bride told WJLA. "And the detective said it doesn't look like the boulder fell on him, because there were other rocks still crumbling from the top of the cliff. What they suspected was that he was peering over the edge, leaning on the large boulder, but the rocks underneath the boulder were unstable and they crumbled and fell."
A GoFundMe page set up to help pay for the widow has raised nearly $27,000 as of Friday morning. The couple planned to move to McLean, Va., when they returned from their two-week honeymoon.
In the wake of her husband's heartbreaking passing, Jeffanie urges others to "appreciate those who are around you" as she cherishes the happy memories she has with Stephen.
"There were so many pictures of us smiling together," she said. "It was amazing. Every moment."
FOLLOW US ON FACEBOOK FOR MORE FOX LIFESTYLE NEWS
Fox News' Louis Casiano contributed to this report.