Mom's sentimental '18th summer' post, before sons leave for college, goes viral
By Janine Puhak, ,
Published June 26, 2018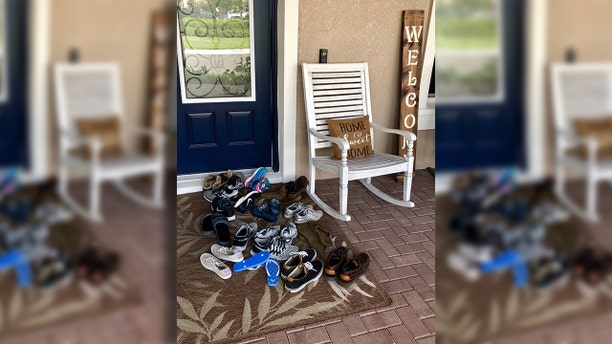 Summer flies by pretty quick for rising collegians, and often, even more so for their families.
One Florida mom recently shared a Facebook post opining the bittersweet nature of the last summer with her 18-year-old twin sons before they head off to school, and it apparently struck a chord with parents in similar situations, and has since gone viral.
Heather Duckworth of Tampa posted a photo of fifteen pairs of shoes on her front porch to her Facebook page Love, Faith & Chaos on June 20, in a post titled "The 18th Summer," which has since been embraced with over 78,000 likes and 12,000 comments.
"I came home the other day after a long afternoon of running errands and this is what my front porch looked like," Duckworth wrote. "These shoes mean that I have a house full of kids … mostly teenagers. These shoes are a sure sign that it is summer and school is out."
Duckworth also joked that the shoes mean "there is probably no food left in my house," and that her home is consequentially filled with "noise… chaos… laughter and music" as her sons and their friends are busy "lounging on my sofa, floating in my pool, playing air hockey or watching a movie somewhere."
Her post then takes a sentimental turn, as she divulges that the weight of losing the boys' "designated hang-out house" is not lost on her.
PARENTS ARE FED UP WITH KIDS' SUMMER VACATION AFTER JUST 13 DAYS, STUDY FINDS
"I paused outside of my door and felt a wave of sadness wash over me as I looked at these shoes… shoes from a group of kids that have been hanging out at my house for four years now," Duckworth says. "They say you only have 18 summers with your kids. I am on number 18 with mine. This realization tugs at my heart and makes me wonder how 18 summers went by so quickly."
"I love having these shoes all over my porch because it means that my children are home. It means that I know where they are and who they are with and that they are all safe. I am very aware that these shoes won't be here much longer. All too soon these shoes will be scattered across different college campuses and they will be taking their first steps of independence," she adds. "And I know that all of these shoes might not find their way back home next summer as life takes them on new adventures."
RECEPTIONIST SINGS 'AT LAST' OVER INTERCOM ON LAST DAY OF SCHOOL, GOES VIRAL
"But for now, I will embrace these shoes and I will be so thankful for them. I will buy all the snacks. I will welcome these kids into my home and let them crash on my couches. I will soak up the sounds of their laughter and I will make them clean up all of their messes. I will pray that everyone drives home safely and I will love having a full house," she declares.
"So I am going to treasure this summer of the shoes… Because I know that all too soon those shoes will be running off exploring the world… and my porch will be empty."
In the days since, Duckworth told ABC News that she is happy that her post has resonated with so many other parents feeling bittersweet as their children leave the nest.
FOLLOW US ON FACEBOOK FOR MORE FOX LIFESTYLE NEWS
"Just looking at their shoes that have been sitting on my porch, it made me sad that they're all going in different directions. I know some will come home next summer and some won't," Duckworth, who also has a 20-year-old son and an 11-year-old daughter, said.
"It's all good and it's all part of life."
https://www.foxnews.com/lifestyle/moms-sentimental-18th-summer-post-before-sons-leave-for-college-goes-viral