Gordon Ramsay dubs Bobby Flay worst celebrity chef during 'Late Late Show' appearance
By Kathleen Joyce, ,
Published March 01, 2018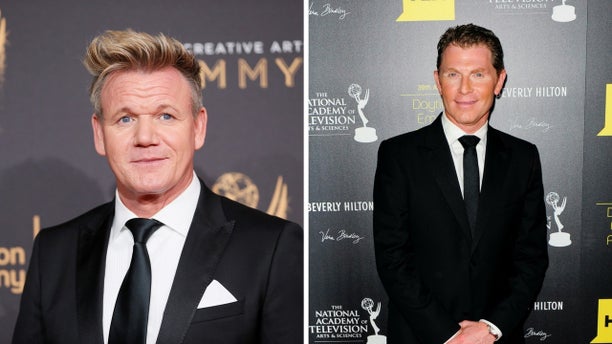 Outspoken culinary mastermind Gordon Ramsay was asked who he felt were the best and worst celebrity chefs and, in his usual fashion, the "Hell's Kitchen" star did not hold back.
Ramsay appeared on "The Late Late Show with James Corden" Tuesday night where the two Brits played "Spill Your Guts or Fill Your Guts." In the game, Corden asks guests difficult questions and the star will have to either answer or eat gross food.
GORDON RAMSAY BLASTS FAMED RESTAURATEUR WHO BANNED PHOTOGRAPHY IN DINING ROOM: HE'S AN 'OLD FART'
One of the questions Corden asked Ramsay was to rank three chefs --Bobby Flay, Jamie Oliver and Wolfgang Puck -- from best to worst.
"Best: Wolfgang Puck, guaranteed. Number 2: Jamie Oliver. And on the bottom, Bobby f---ing Flay," Ramsay said. "Shall I tell you why? For the last five years, we've been trying to do this cook-off together in Vegas for charity — and he won't sign the contract. Now, Bobby, sign the contract you limp d---."
GORDON RAMSAY ADMITS HE LOST 50 POUNDS TO SAVE HIS MARRIAGE: 'I LOOKED LIKE A SACK OF S---'
Ramsay was able to get some form of revenge after he asked Corden to rank "Peter Rabbit," "Trolls" and "The Emoji Movie" from best to worst.
Flay has not appeared to have immediately responded to Ramsay's remark.
https://www.foxnews.com/lifestyle/gordon-ramsay-dubs-bobby-flay-worst-celebrity-chef-during-late-late-show-appearance