Crispy loaded potato skins for NFL game day: Try the recipe
Crisp up in the air fryer and load with your favorite toppings
Potato skins go hand-in-hand with football season.
That's why we love this air fryer version of the NFL game-day standard from Chelsea Plummer of Maesmenu.com.
"These air fryer potato skins are a great way to enjoy a game day snack that is better for you," Plummer tells Fox News. "Adjust the toppings to suit your tastes – they're delicious garnished with everything from salsa and guacamole to shredded barbecue chicken or sliced brisket."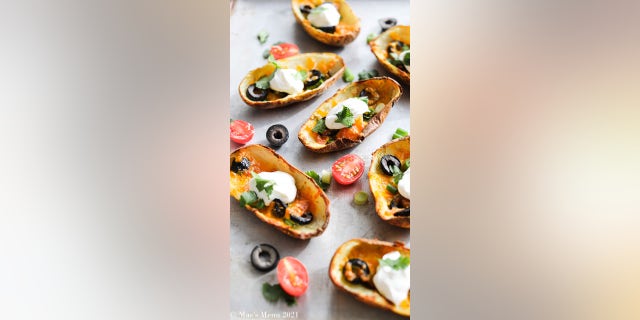 Mouth watering already? Get the recipe below.
Air Fryer Potato Skins from Maesmenu.com
Makes 8 potato skins
Prep time: 10 minutes
Bake time: 1 hour
Cook time: 10 minutes
Ingredients:
For the air fryer potato skins:
8 smaller russet potatoes, scrubbed thoroughly
non-stick cooking spray
3-4 green onions (or ⅓ cup), green and white parts sliced
⅓ cup sliced black olives
⅓ cup bacon bits (optional)
½ cup shredded sharp cheddar cheese
For the potato skin garnishes
¼ cup sour cream or 2-4% Greek yogurt
2-3 tablespoons sliced cilantro leaves
Additional garnishes (optional): salsa, shredded barbecue chicken, chopped tomatoes, etc.
Instructions:
Preheat the oven to 375 °F. Pierce each potato 2-3 times with a sharp knife.
Place the potatoes in the oven, directly on the baking rack. Bake the potatoes for 50-60 minutes, or until the potatoes are tender and cooked through.
Remove the potatoes from the oven. Very carefully slice the potatoes in half and scoop out all but ¼-inch of the potato flesh next to the skin
Spray the pulp and skin sides of the potato skin with non-stick cooking spray. With the pulp side up, sprinkle 2 teaspoons black olives, 2 teaspoons green onions, and 2 teaspoons bacon bits (if using) into each skin. Sprinkle 1 tablespoon shredded cheese over the toppings.
Preheat the air fryer fitted with a rack or spacious basket to 350 degrees for 2-3 minutes.
Add the potato skins, filling side up, to the air fryer rack or basket, leaving 1-1 ½ inches between the skins. Air fry for 5-7 minutes, or until the cheese is bubbling and turning golden.
Remove the skins from the air fryer and serve hot with sour cream, Greek yogurt, cilantro, and any of your other favorite garnishes.