Woman had left breast removed after contracting sepsis in implant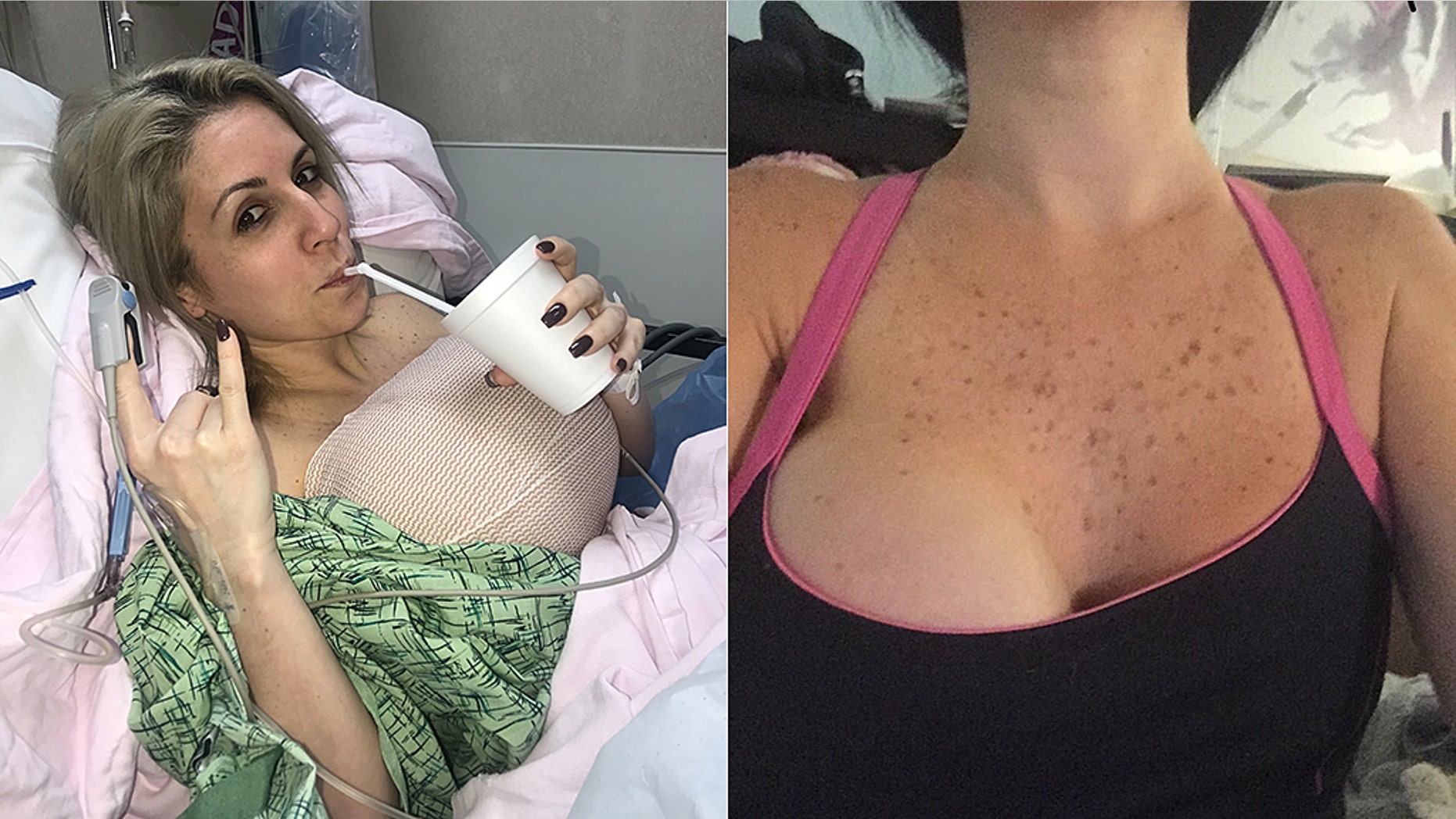 A waitress in Nevada has undergone her fourth reconstructive surgery in two years after she developed sepsis in her left breast implant and had to have it removed in order to save her life. Nikki Belza, 35, said she first woke up with tenderness in her left breast in 2016, but chalked it up to a pulled muscle.
She told MDW Features that she later collapsed at work, and her husband, CJ, who works at the same club, rushed her to the hospital where she was given painkillers for inflammation.
BOY, 6, DIAGNOSED WITH FLESH-EATING BACTERIA AFTER POSITIVE STREP TEST
"The initial visit wasn't helpful because they gave me painkillers and told me it seemed like a plastic surgery problem which they wrote off as inflammation and sent me home," she told the news outlet. "That move almost took my life."
Belza's condition continued to worsen and she developed a fever. Her surgeon reportedly returned from an out-of-town trip the following day and a blood test revealed she was in septic shock. Belza claims she was told that if she didn't remove her left breast, she had a 50 percent chance of dying from sepsis.
"We all decided that removing one implant with all the breast tissue would be the safest and quickest option, and it would keep the infection from infecting my other side as well," she told MDW Features. "So, I spent the next five days in ICU being treated."
She said that because she had no symptoms prior to feeling like she had strained a muscle there was nothing she could have done to prevent the infection. She said she was eventually diagnosed with a strep infection in her left breast pocket which had spread to her blood.
TERMINALLY ILL MOM DIES WEEK AFTER DREAM WEDDING
According to the Food and Drug Administration, infections occur in at least 1 percent of breast implant patients, which may require additional surgeries or non-surgical treatment. If the infection does not respond to antibiotics, the implant may need to be removed.
"My infection wasn't from having breast implants like some said, my sepsis originated from a strep infection which was in my entire breast pocket and spread into my blood," Belza told the news outlet. "Losing my breast temporarily may have saved me because sepsis is known to spread so rampantly in your blood. It could have infected nearby organs like my heart and lungs."
She lived for four months with one breast and underwent her fourth reconstructive surgery to repair nerve damage and scar tissue on Dec. 5.
"Sepsis has physically impacted me in the sense that I spent four months with one breast, which is very hard in the city I live in," she told MDW Features. "Vegas is all about glam and appearance. I was weak and had to stop working for a long time."
She said she's since dealt with post-sepsis issues including graying hair, shakiness, a low immune system and an inability to regulate her body temperature.