Formerly conjoined twins head home after 7 surgeries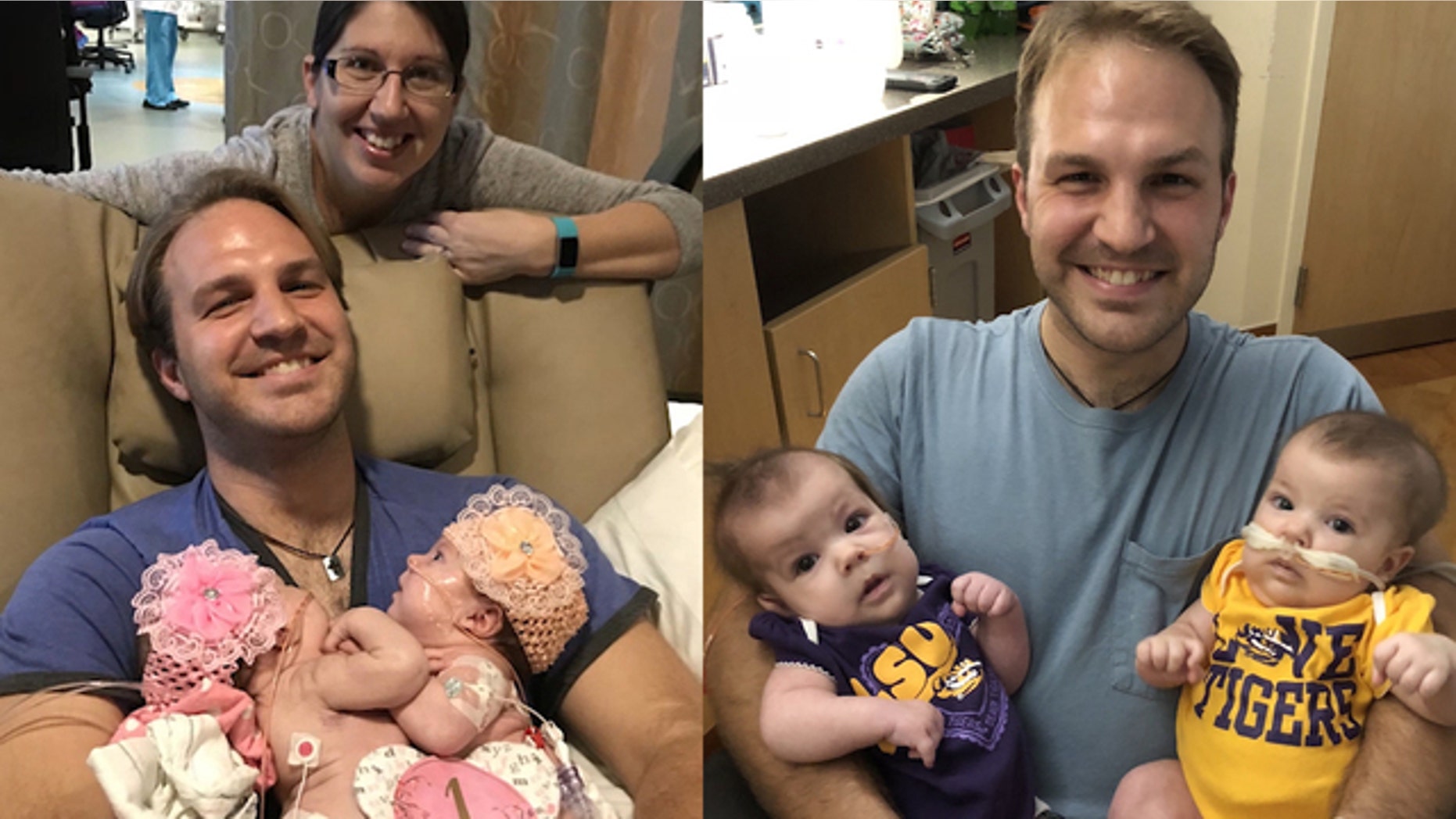 Twin sisters headed are home this weekend for the first time in separate car seats, seven months after they were born joined at the belly, with their liver and intestines fused together. Jesi and Remi Pitre, of Apopka, Fla., have undergone seven surgeries at Gainesville's UF Shands Children's Hospital since their birth.
"I'm terribly excited to have them home," Andre Pitre, the girls' father, told Fox 35 Orlando.
Pitre and his wife, Angi, both 34, discovered the girls were conjoined early into the pregnancy, but doctors couldn't fully determine the complexity of their case until after their birth.
BABY BORN USING UTERUS TRANSPLANTED FROM DECEASED DONOR IN MEDICAL FIRST
"You don't hear about the cases where the babies didn't make it," Pitre told the news outlet. "You don't hear about the 50 percent of cases that don't even make it to term."
But Angi went into labor on Mother's Day, and the girls were born with their arms wrapped around each other. Angi stayed in an apartment in Gainesville to be near the girls, while Pitre drove back and forth for work and to care for the couple's two other children. A GoFundMe page was started to help cover expenses.
TODDLER WITH RARE BLOOD TYPE SPARKS WORLDWIDE SEARCH FOR DONOR
While they face another surgery next year, their parents are thankful for the progress they've made so far.
"They're the polar opposite," Pitre told the Orlando Sentinel. "Jesi will be our philosopher and Remi will be our Hannah Montana wannabe."