Grieving mom brings strangers to tears with act of kindness at Florida Publix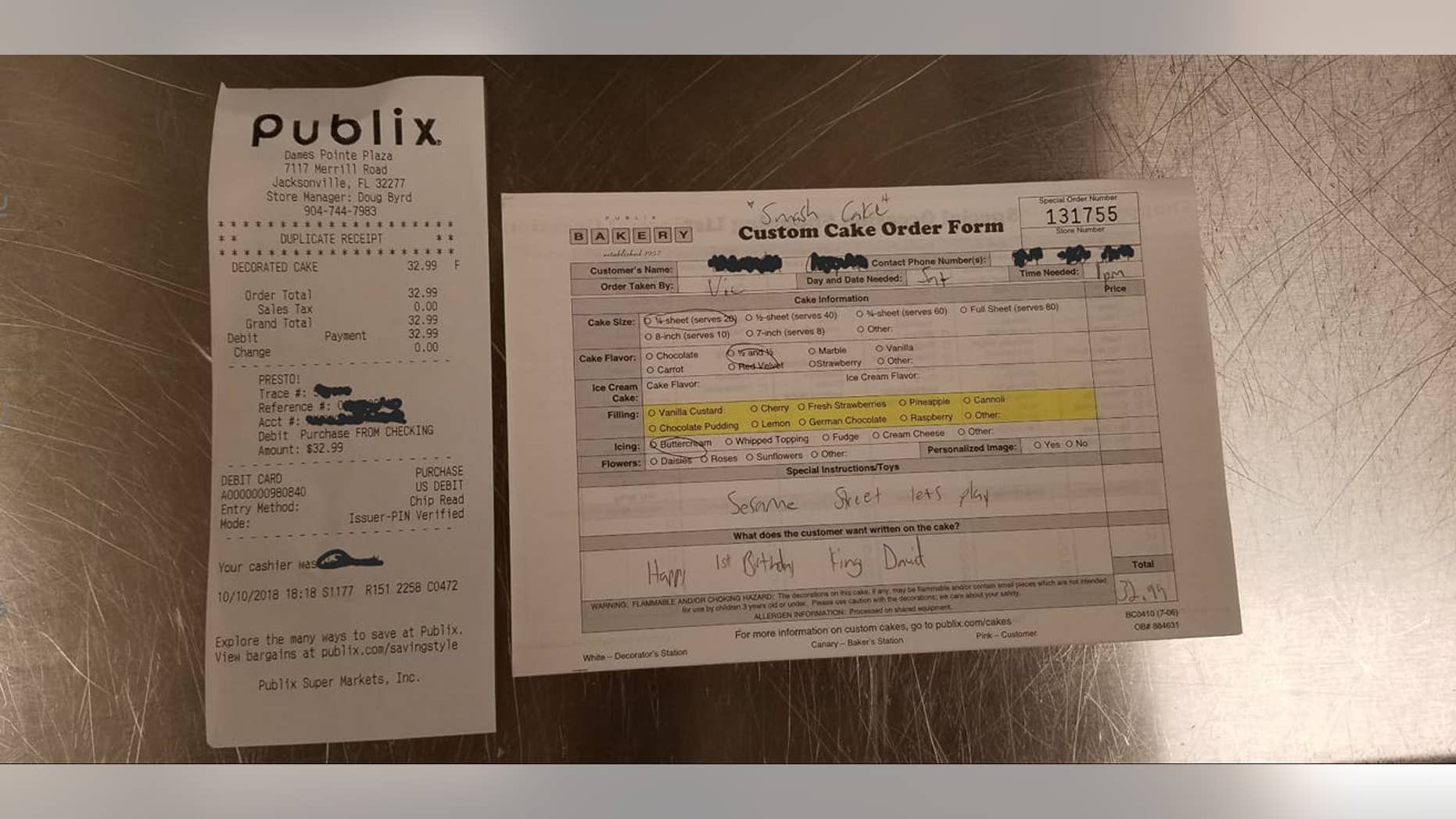 A Florida woman walked into a Publix supermarket last week and asked an unusual question at the bakery counter: She wanted to know if there were any first birthday cakes scheduled for pick-up over the weekend.
Nick DeClemente, who works at the store, was initially confused by the request. The Jacksonville resident then asked if the woman had any specific person in mind. To his surprise, she didn't.
"She said, 'No, I want to pay for one anonymously," DeClemente recalled in an Oct. 10 Facebook post, which has received hundreds of likes.
Minutes later, the woman started to break down into tears. She then explained to a confused DeClemente that she had a stillborn baby one year ago and she wanted to honor his memory by paying for another 1-year-old's birthday cake.
"I was a little lost for words just because of how in awe I was of the moment," DeClemente told Fox News.
NORTH CAROLINA MOM PRAISES OLIVE GARDEN WAITRESS FOR ACT OF KINDNESS: 'I SERIOUSLY ADMIRE YOU'
DeClemente shuffled through a pile of cake orders and picked out an order for a Sesame Street-inspired birthday cake for a 1-year-old boy named David. The buttercream topped sheet cake, which serves at least 20 people, cost $32.99. The woman gladly agreed to pay.
"She told me, 'Thank you' and appreciated that I let her do this," DeClemente said. "I hope that this lady finds peace through this tribute and that the customer receiving this gift will, if nothing else, pay it forward."
Dozens of people commented on DeClemente's Facebook post, praising the woman for her beautiful gesture and offering sympathies for her loss.
"I don't even know what to say. I have tears in my eyes... I hope she finds comfort and will be blessed with a rainbow baby soon. May the little one Rest In Peace," one woman commented.
"Perfect seeing/reading this today....October 15th is National Pregnancy & Infant Loss Remembrance Day," another noted on Monday.
"Tears! Touching tribute," one woman added.
SOUTH CAROLINA MOM BLOWN AWAY BY STUDENTS' SWEET ACT TOWARD SON AT LUNCHTIME
DeClemente agreed, telling Fox News it "really was a beautiful moment."
"I told her how much it made my day especially because I have a little boy on the way and wished her many blessings," DeClemente said, explaining he was standing by the store's front door as she was leaving.
The dad-to-be said he never got her name nor did he get a chance to explain to the customer whose cake was paid for the story behind the sweet gesture — but he hopes their paths cross again.
"I've been hoping to see her again so I can show her all the wonderful things people are saying and the strength and prayers they're offering. I think it's a beautiful testimony to the strength of so many women," he added. "It's brought about awareness and I can only hope it continues."