Dying mom gets final wish to see son graduate high school
By Alexandria Hein, ,
Published May 10, 2018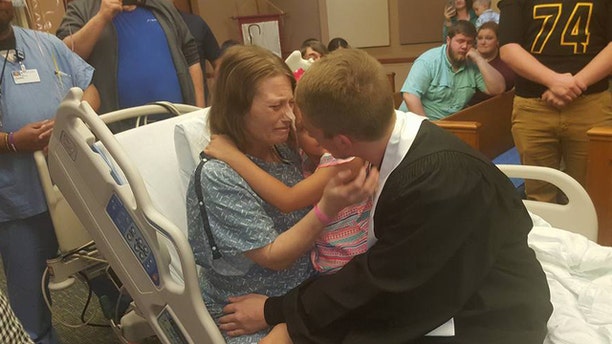 A Tennessee mother's dying wish to see her son graduate high school was granted last week, with school officials traveling nearly 400 miles to the Memphis hospital she's being treated in to conduct the special ceremony. Stephanie Northcott, who is facing terminal cancer, was joined by friends, family and members of her son's football team to watch him mark the momentous occasion.
"As you can see, this is a very special place, and this is a very special young man," Suzanne Keefe, Halls High School principal, said at the May 4 ceremony. "So by the authority given to me by the Lauderdale County Board of Education in the state of Tennessee, I pronounce Dalton Christopher Jackson a graduate of Halls High School."
Several other students in Jackson's class were present and dressed in their gowns for the graduation, and even joined him in celebration by tossing their caps. Staff at Baptist Memorial Hospital East had decorated the halls with graduation balloons and signs.
After receiving his diploma, Jackson helped his mother out of her hospital bed and shared a special dance to Rascal Flatts "I Won't Let Go."
The touching moment was captured on video by Northcott's sister, Julie, who shared it on Facebook, along with a link to a Paypal account to help the family cover medical expenses. Northcott's daughter died from the same illness several years ago, Fox 13 reported.
Julie Northcott has asked her Facebook friends to send prayers.
https://www.foxnews.com/health/dying-mom-gets-final-wish-to-see-son-graduate-high-school