Dietary intervention needed after gestational diabetes, study suggests
By Melinda Carstensen, ,
Published October 24, 2015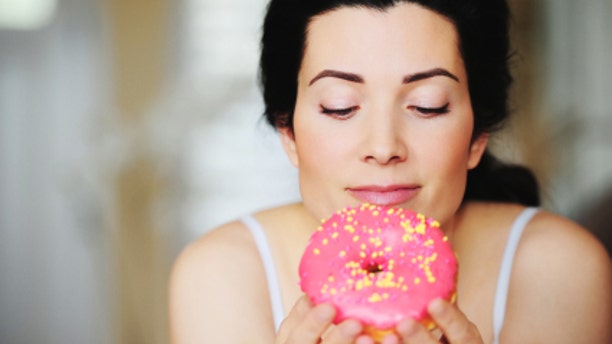 Gestational diabetes, or glucose intolerance, appears in 2 to 10 percent of pregnant women in the U.S. who were not diagnosed with diabetes before pregnancy. While glucose levels usually stabilize after a pregnancy, research shows these women remain up to seven times more likely to develop type 2 diabetes, a costly and deadly disease, in the 20 years following.
A study published Thursday in the journal Preventing Chronic Disease suggests that diet may play a major role in that increased risk. Researchers at the University of Massachusetts Medical School studied the diet and lifestyle choices of a national sample of women ages 20 to 44 years, all of who had given birth to at least one child within the past 10 years. Nearly 8 percent of these women reported being diagnosed with gestational diabetes during a pregnancy, while the remainder of the study group reported never having been diagnosed with the condition. None of the women were diagnosed with type 2 diabetes.
Study participants were drawn from the National Health and Nutrition Examination Survey, which gathered data from 2007 to 2010. Scientists asked the women to detail their diet 24 hours prior to a first, in-person survey, and again on the phone three to 10 days after the initial interview. Compared to women without a history of gestational diabetes, women diagnosed with the condition had, on average, 3.4 points lower overall diet quality, and a .9-point lower score for consumption of green vegetables and beans, which are two foods thought to reduce chronic disease risk.
"This paper gives the message that there's a need for public health and clinical attention for diet quality among this population," lead study author Rui S. Xiao, a Ph.D. candidate at the University of Massachusetts, told FoxNews.com.
Researchers used the Healthy Eating Index (HEI), a system based on dietary recommendations from the U.S. Department of Agriculture (USDA), to measure participants' diet quality and their food intake. The HEI is based on a 100-point scale, with 100 being the healthiest, and it includes 12 components, from whole fruit and vegetable intake to consumption of alcohol and refined grains.
Even after taking participants' body weight into account— and recording their ages, education and income levels, smoking status, physical activity level, and health risks for diabetes— researchers observed a poorer diet quality among the women diagnosed with gestational diabetes compared to the undiagnosed women. Researchers also adjusted for race and ethnicity. According to the Centers for Disease Control and Prevention (CDC), type 2 diabetes occurs most commonly in African American, American Indian, and Hispanic or Latino women.
Xiao pointed out that the study findings are limited because the participants weren't surveyed before or during pregnancy, and researchers didn't ask participants whether they were diagnosed with gestational diabetes in other pregnancies other than the one they reported to researchers. But she said her team's conclusions are novel because no previous study has compared the overall diets of previous gestational diabetes patients to a control group that was not diagnosed with the condition.
She added that while gestational diabetes has been shown to put mothers at an increased risk of developing type 2 diabetes, mothers' dietary choices after giving birth has the potential to affect their children's risk too.
"Improving diet in this population of women not only could improve their own health but also have the potential to impact their children's health," Xiao said. "Women's health is not only important for them but also for their children and their entire family."
Mark B. Landon, professor and chairman of the department of obstetrics and gynecology at Ohio State University's Wexner Medical Center, said that while body mass index and obesity prevalence is a greater predictor of type 2 diabetes onset than gestational diabetes, the paper points to a need for more diet intervention for at-risk populations.
"We know the frequency of gestational diabetes is rising significantly around the world and it's largely attributed to the obesity epidemic," Landon, who was not involved in the study, told FoxNews.com.
"It has been known for quite some time that gestational diabetes … has always been recognized as an effective marker for [type 2] diabetes in women," he added, "so this is a population that is at substantial risk for type 2 diabetes, and is amenable to various interventions including lifestyle and dietary changes, which can clearly impact or retard the progression of type 2 diabetes."
According to the CDC, 29.1 million people in the U.S., or 9.3 percent of the population, had diabetes in 2014. About 8.1 million people were undiagnosed.
In 2012, diabetes cost Americans $245 billion total and $176 billion in direct medical costs. Among adults, diabetes is the leading cause of blindness, kidney failure, and amputations of feet and legs unrelated to accident or injury.
https://www.foxnews.com/health/dietary-intervention-needed-after-gestational-diabetes-study-suggests