Coronavirus testing may not be needed in some cases after exposure: CDC
Update is a reversal from its original recommendation that testing was appropriate for anyone suspected of being exposed to the virus
Officials raised concerns Wednesday after the Centers for Disease Control and Prevention updated testing guidelines to say that people without COVID-19 symptoms may not need to be tested even after exposure to the virus.
According to new guidance was posted earlier this week on the CDC's website, "You do not necessarily need a test unless you are a vulnerable individual or your health care provider or state or local public health officials recommend you take one."
The agency, in its abrupt reversal of guidelines, said that if a test comes back negative, it does not mean someone will not "develop an infection from the close contact or contract an infection at a later time."
CDC DROPS 14-DAY SELF-QUARANTINE RECOMMENDATION FOR OUT-OF-STATE, INTERNATIONAL TRAVELERS
Instead, those without symptoms but have been exposed should monitor themselves for symptoms, according to the CDC, which noted that people should contact a health care provider if their symptoms become severe.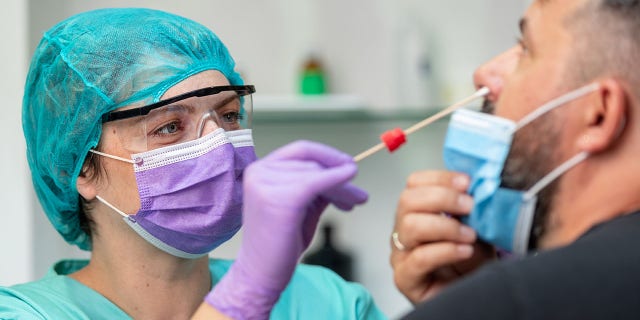 Monday's update is seen as an abrupt reversal from the CDC's previous advisory, which noted that people who have been within 6 feet of an infected person for more than 15 minutes should be tested, even if they were asymptomatic.
CDC UPDATES CORONAVIRUS GUIDELINES ON ISOLATION, TESTING
"Testing is recommended for all close contacts of persons with SARS-CoV-2 infection," the guidelines previously stated as of July 17. "Because of the potential for asymptomatic and pre-symptomatic transmission, it is important that contacts of individuals with SARS-CoV-2 infection be quickly identified and tested."
As of Monday, the CDC testing overview page has been changed to say that testing is no longer recommended for symptom-less people who were in close contact situations.
"Not everyone needs to be tested," the CDC said. For those that do, "you should self-quarantine/isolate at home pending test results and follow the advice of your health care provider or a public health professional."
CDC officials referred all questions to the agency's parent organization, the U.S. Department of Health and Human Services in Washington, D.C. That suggests that HHS ordered the change, not CDC, said Jennifer Nuzzo, a Johns Hopkins University public health researcher.
HHS officials sent an email Wednesday saying the guidance was revised "to reflect current evidence and the best public health interventions," but did not detail what the new evidence was.
The decision came out of meetings of a White House coronavirus task force, the email said.
The move bewildered public health experts and politicians alike with some saying the new recommendation "is not in accord with the science."
They noted that testing contacts of infected people is a core element of public health efforts to keep outbreaks in check, and that a large percentage of infected people — the CDC has said as many as 40% — exhibit no symptoms.
"I was taken aback and didn't know that it was under consideration," said John Auerbach, president of Trust for America's Health, a nonprofit that works to improve U.S. preparedness against disease. "The recommendation not to test asymptomatic people who likely have been exposed is not in accord with the science."
New York Gov. Andrew Cuomo also questioned the abrupt reversal.
"Why would you reverse yourself on the quarantine order? Because they don't want publicity that there is a COVID problem. Because the president's politics are, 'COVID isn't a problem We're past COVID. It's all about the economy,'" Cuomo told reporters on a conference call.
"What possible rationale is there to say 'You're in close contact with a COVID-positive person. And you don't need a test?" Cuomo said.
The principal investigator of California's contract tracing program, Dr. George Rutherford of the University of California, San Francisco, agreed with Cuomo saying, "in order to control this, especially in the context of contact tracing, you absolutely have to test people without any symptoms."
Dr. Tom Frieden, who was head of the CDC during the Obama administration, said the move follows another recent change: to no longer recommend quarantine for travelers coming from areas where infections are more common.
"Both changes are highly problematic" and need to be better explained, said Frieden, who now is president of Resolve to Save Lives, a nonprofit program that works to prevent epidemics.
The Associated Press contributed to this report.
CLICK HERE TO GET THE FOX NEWS APP