Animal rights activist going to court for tossing fisherman's catch back into lake: 'I just hope that justice is served'
An animal rights activist who confronted a Florida fisherman about his catch – and ultimately tossed it back into the water while shouting about saving the fish's life – is heading to court.
Michael Leaming stands charged of "interfering with the catching of a fish" following the July 2017 incident, which was captured on film at Crescent Lake Park in St. Petersburg, The Tampa Bay Times reports.
In the footage, which went viral last year, Leaming's son can be seen approaching two fishermen, Bob J. Hope and Hope's father, asking them to "please stop" because the hooks can hurt the fish's mouths. Leaming, alongside a small group of like-minded activists, then approaches and begins to question the men about a freshly caught tilapia flopping on the ground nearby.
FISHERMAN ACCIDENTALLY HOOKS GREAT WHITE: 'THOUGHT I HAD A HALIBUT'
"You guys are just going to let this fish die like this?" Leaming asks, prompting Hope's father to explain that someone had just gone to get a bucket for the tilapia.
"What if this was a dog, and I hooked the dog in the mouth and threw her in the water?" Leaming continues.
The men respond by saying it isn't a dog, and that they respect Leaming's beliefs, though they do not share them.
"What if this was a human child? [Fish] have the same ability and same emotions as a human child," Leaming argues, claiming that his argument contains "facts from science."
Hope tells Leaming to stop harassing them and leave, to which Leaming responds, "I'm not harassing you; you're harassing this fish right here."
Hope's mother Brenda later approaches and steps between the tilapia and the activist.
After a member of Leaming's party says she's "fixin to throw [the fish] back in the water," Leaming darts forward, grabs the fish and tosses it back into the water.
"Call the police!" he yells at the fishermen. "I just saved a fish's life! How about that?"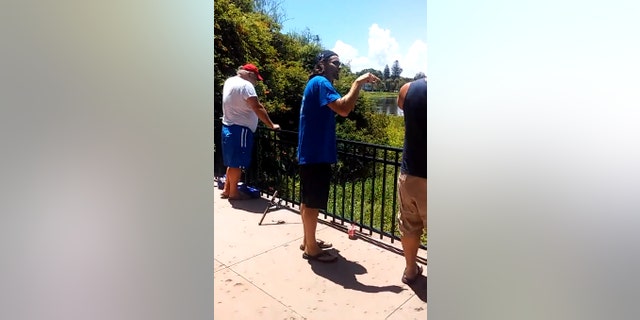 500-POUND GOLIATH GROUPER EATS SHARK AS SHOCKED FLORIDA FISHERMEN WATCH
Hope then calls the police, while another man approaches and tells the activists to stop making a scene. Soon after, the group tries drowning out the anglers' arguments by chanting, "It's not food, it's violence!"
Police arrived as the group was leaving Crescent Lake Park, but didn't make any arrests because they "didn't witness any disorderly conduct or criminal activity" at that time, WFLA reported in 2017.
After the video went viral, the Florida Fish and Wildlife Commission investigated and informed the state of its findings. Leaming was ultimately charged with interference, which carries penalties including a fine of up to $500, 60 days in jail and mandatory counseling, though the State Attorney isn't seeking jail time, and a representative said he wouldn't "know what counseling you give someone about a fish."
Leaming's non-jury trial is set to take place Friday.
Hope, meanwhile, told Fox News he only hopes "justice is served."
"You don't get to infringe on someone else's rights because of your moral ground. That is what terrorist[s] do," he said.
FOLLOW US ON FACEBOOK FOR MORE FOX LIFESTYLE NEWS
The activist group, which included Leaming's wife Kayla, was reportedly in the area following a protest of Chick-fil-A's Cow Appreciation Day, where members of Direct Action Everywhere turned up to the restaurant covered in fake blood, Huffington Post reported.
Kayla had also claimed that People for the Ethical Treatment of Animals (PETA) had leant its support and connected Leaming with a lawyer.