For centuries, brewers have made seasonal beers for winter that are fuller in body and maltier than standard styles. To best banish winter's chill, serve these beers no colder than 50 degrees Fahrenheit, which is also ideal for showcasing their delicious flavors.
1. Full Sail Brewing Company Wassail Winter Ale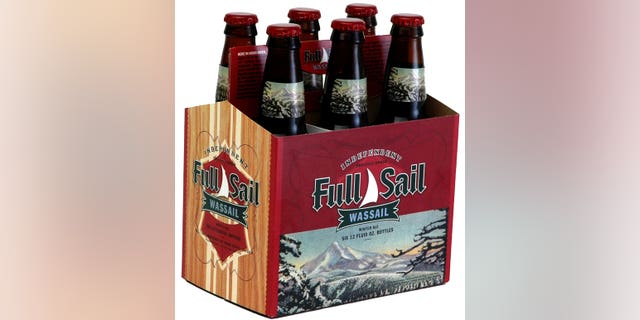 Winter Warmer – Oregon / Oct.-Dec.
7.2 percent ABV (Alcohol by Volume)
Brewed by Oregon's Full Sail Brewing Company, one of the U.S.'s first craft breweries, this multi-award-winning winter warmer has been ushering in the holiday season since 1988. The bottleneck label speaks of the brewery's environs, depicting a postcard-like view of the Hood River Valley with snow-topped pines and the majestic Mt. Hood rising in the background.
The flavor varies slightly from year to year, as the brewers carefully select a blend of malts and hops, with this year's version featuring Pacific Northwest hops and caramel and dark chocolate malts. The aroma of this dark brown ale shouts out malt, with a touch of roast. The malt continues to shine in the full-bodied flavor with chocolaty notes and a balancing background of hops in the long-lasting finish, making this a beer that will appeal to both malt and hop lovers. The 7.2 percent ABV may surprise you, as this winter delight goes down quite smoothly and is quite hard to put down.
Price: $8 for a six-pack of 12 oz.
2. Widmer Brothers Ginger Barrel-Aged Brrrbon '13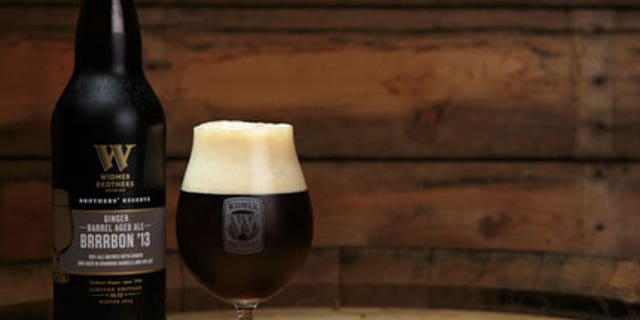 Winter Warmer – Oregon / Nov.-Jan.
10.7 percent ABV
In 2010, with barrel-aged beers gaining in popularity, Widmer Brothers Brewing joined in on the fun by barrel-aging its popular Brrr Seasonal Ale. Part of the brewery's Brothers' Reserve series, the Ginger Barrel-Aged Brrrbon '13 is ramped up to 10.7 percent ABV, features fresh ginger and is aged for several months in Kentucky bourbon barrels. Upon pouring, ginger is quite prevalent in both its aroma and ruby-red hue, which is a departure from most dark winter ales. This is due to the several malts it is brewed with, such as Carapils, pale, caramel and dark chocolate malts.
On the palate, ginger continues to dominate, complementing oak, vanilla and caramel flavors along with pronounced Bourbon notes. Influenced by the Northwest's preference for hoppy beers, Cascade, Alchemy hop blend and the robust Simcoe hops add to this beer's citrusy hop profile. Enjoy it now, but the complex oak, vanilla, caramel and hop character will continue to evolve even more when cellared.
Price: $10 for a 22 oz.
3. 21st Amendment Brewery Fireside Chat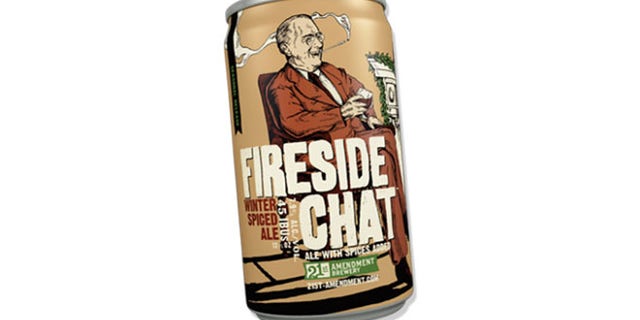 Winter Warmer – California / Oct.-Dec.
7.9 percent ABV
A picture of Franklin Delano Roosevelt sitting by a fireplace, holding a goblet while having a conversation with an elf sets the tone for this winter spiced ale. It's fitting that this beer is brewed by 21st Amendment Brewery, for the monumental amendment legalizing alcohol was passed and proclaimed by FDR in 1933 during his first term of office. The brewery opened in 2000, and is a pioneer of packaging craft beer in cans. This beer, first released in 2010, was its first seasonal release in a can. The appearance is ruby dark brown with a tan head, and its toasty, demonstrative, bold malt flavor is tempered with a blend of spices and cocoa nibs that doesn't overpower. The 7.9 percent ABV also provides warmth to your palate, allowing this winter warmer to live up to the style's name.
The flavor will vary somewhat from year to year, as co-founder/brewmaster Shaun O'Sullivan personally selects a special blend of spices based on his inspiration at that moment. Like FDR's Fireside Chat radio messages of hope and reassurance to the nation during the Great Depression, this winter warmer is sure to lift your spirits.
Price: $12 for a six-pack of 12 oz.
4. Ommegang "Abbey Ale"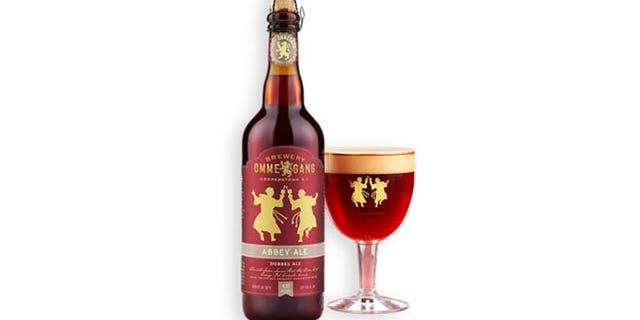 Dubbel - New York / All-Year
8.2 per cent ABV
You may know Cooperstown, NY, as the location of the National Baseball Hall of Fame and Museum, but the town has also gained some notoriety for its Belgian farmstead-style brewery, which is inspired by the centuries-old brewing practices of Belgian Trappist monks. Brewery Ommegang is located on a 135-acre former hop farm (six miles south of Cooperstown), which was the epicenter of American hop production in the nineteenth century.
Typical for the farmstead style, this flagship brew pours a dark, nearly brown, red, with prevailing aromas of dark fruits such as raisin, plums and dates. Clove, sweet malt and caramel flavors help to mask the beer's hefty 8.2 per cent ABV. Like its Belgian cousins, it boasts a generous selection of spices — in this case licorice root, star anise, orange peel, coriander and cumin. A great candidate for cellaring, this ale will develop caramel, fig and currant notes with age.
Price: $8 / 750 ml.
5. North Coast Brewing Company "PranQster"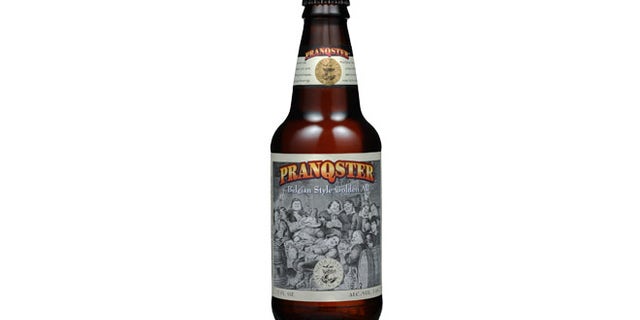 Belgian-Style Golden Ale - California / All-Year
7.6 per cent ABV
The label depicts merry revelers in garb of long ago celebrating a prank, which lends to the impression that this is an Old World beer. But its New World locale proves that American breweries have become as adept at brewing Belgian styles as those across the Atlantic. The mixed culture of antique yeast strains brings a complexity of flavors and aromas, with notes of coriander, pepper and clove and a bouquet of banana and apple peel. It's golden orange in color and its light hopping allows the malty richness to shine. This 7.6 per cent ABV golden ale is fairly easy drinking, so watch out! Its relatively thin body may sneak up on you and make a fool of you.
Price: $11 for a four-pack of 12 oz.
6. Affligem "Noël Christmas Ale"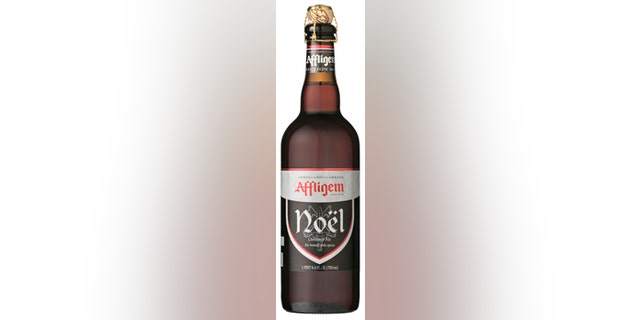 Belgian Strong Dark Ale - Opwijk, Belgium / Winter
9 per cent ABV
The winter holiday season is an optimal time to appreciate spices in our food and drink. This abbey ale (contract brewed by Heineken for the Belgian Benedictine monastery of Affligem) fits the bill, with both a moniker and medley of spices to put you in the mood for greeting the season. This reddish amber ale, spiced with sweet orange peels, aniseed and caraway, also delivers flavors of toasted malt and dark fruits such as prune and cherry. An aroma of cocoa, cinnamon and clove adds to the celebratory vibe. Note that the flavors will intensify as this beer warms, so allow it some time to warm up a bit, or enjoy the evolving flavors as you sip. As this strong ale has a Champagne-like second fermentation resulting in high carbonation, drink it from a goblet-style glass; the bulbous shape will help trap the scent and flavors while maintaining a lively head.
Price: $10 / 750 ml.
7. Stone Brewing Company 10 Barrel / Bluejacket / Stone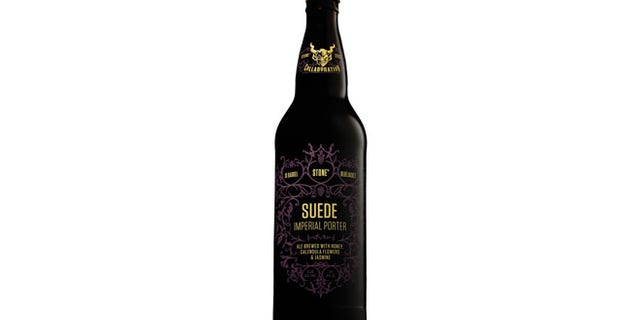 Suede Imperial Porter American Porter – California / Special Release
9.6 percent ABV
Collaboration brews are nothing new to the San Diego-based Stone Brewing Company, and this imperial porter is a three-way effort between Stone's brewmaster Mitch Steele, Tonya Cornett of 10 Barrel Brewing Company in Bend, Oregon, and Megan O'Leary Parisi of Washington D.C.'s Bluejacket Brewery. Its deep brown appearance is joined with an aroma of floral notes with suggestions of cocoa and coffee.
Ingredients indigenous to Southern California are infused into the beer, including avocado honey, dried jasmine and calendula flowers, which were sourced from Stone's farmstead, Stone Farms. The avocado honey adds a nuttiness, depth and richness, and the botanicals are woven in with the cocoa flavors that are typical of a porter. The overall flavor fits the name, as it's smooth as suede and velvety, with a rich and luscious aftertaste that allows you to enjoy this beer for several seconds after swallowing. Allow it to warm as you sip, to appreciate the richness and complexity of flavors that will intensify as it warms.
Price: $7 for 22 oz.
8. No-Li Brewhouse Winter Warmer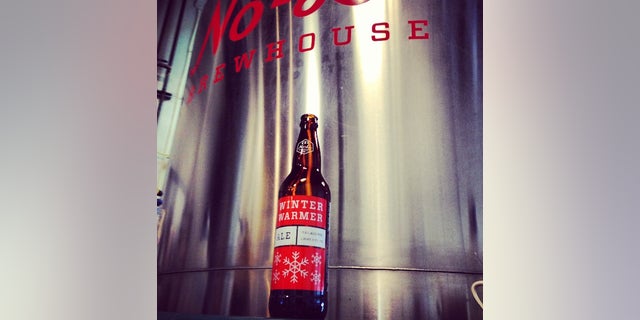 Winter Warmer – Washington / Seasonal Release
7.5 percent ABV
The oldest brewery in Spokane, originally called Northern Lights Brewing when it opened in 1993, it was rebranded No-Li Brewhouse in 2012 when an East Coast brewery began using the same name and refused to compromise. The philosophy of this venture is globally inspired and locally sourced, as is the case with this winter seasonal, brewed exclusively with locally grown inland Northwest hops and barley harvested from within 300 miles of the brewery.
The citrusy hop-heavy aroma is combined with a ruby red hue and creamy white head. The flavor of this 73 IBU winter IPA is a compelling balance of sweet malt with assertive and spicy Columbus and Chinook hops. Munich malt allows noticeable nuttiness to come through in the finish. This spicy, hoppy brew proves that IPAs are not limited to summer enjoyment.
Price: $6.50 for 22 oz.
9. Deschutes "Jubelale"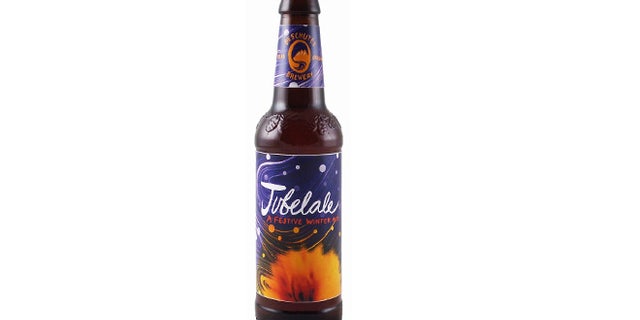 Winter Warmer Ale - Oregon / October-December
6.7 per cent ABV
This winter warmer has been helping us get through the onslaught of the coldest season for 25 years. The brewery's dedication to art is evident, as it has selected a local artist each year to illustrate the label. The 2012 version features a complex collage by Bend, Oregon, artist Kaycee Anseth Townsend, which was appropriately made entirely from pieces of Jubelale labels from the previous 24 years. Expect an earthy aroma, nut brown hue and a comingling of West Coast hops, brown sugar, candied dark fruits, baking spices and a good dose of malty flavors. The very first beer to ever be bottled by the brewery, this beer's 6.7 per cent ABV will help warm you as the nippy chill of winter approaches.
Price: $1.50 / 12 oz.
10. Unibroue "Quelque Chose"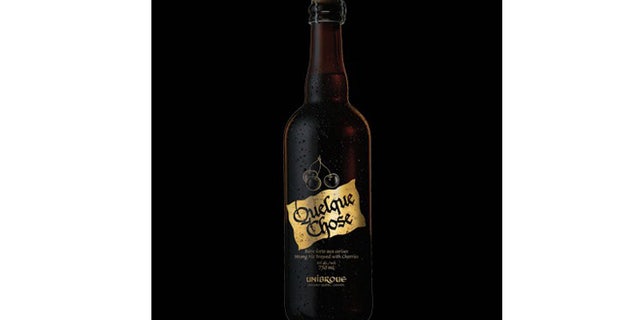 Hybrid or Fruit Beer - Canada / All-Year
8 per cent ABV
The cold of winter invites one to warm up with a hot drink. While beer usually wouldn't do the trick, this is one of the few that can and should be served like a mulled wine at 122 to 158 degrees Fahrenheit. Made by the Belgian-inspired Canadian brewery Unibroue and named after a popular French-Canadian expression that means "that's something special," this brew gets its deep ruby hue and aroma of ripe cherries from a 50/50 blend of a Belgian kriek with a brown ale. The bouquet is matched with an intense cherry flavor that's the result of having been steeped in cherries for several months. A balance of sweetness and tartness is accented by cinnamon, cloves, honey and vanilla.
Adding to its uniqueness is the fact that this beer has almost no carbonation, which gives it a syrupy and smooth mouthfeel. Another unconventional serving suggestion is to pour it over ice; the flavors you note will change with each way you drink it. With unorthodox recommended serving temperatures and its lack of carbonation, this brew will challenge your accepted notion of beer.
Price: $12 / 750 ml.
More Info and Photos of the Top 10 Winter Beers
More on Gayot.com