This spin on classic shrimp and grits is a quick, 'extra cozy' meal: Try the recipe
This recipe combines Italian flavors with the classic Southern dish of shrimp and grits
Rachael Hartley, RD, private practice dietitian and author of Gentle Nutrition, was inspired to create this recipe from one of her favorite South Carolina Lowcountry dishes, shrimp and grits. "Using a tube of prepared polenta and SeaPak Shrimp Scampi allowed me to save time, while adding a fun Italian spin on it," she comments. "I love this recipe because it makes a satisfying dinner for cool fall nights, when you want a meal that feels extra cozy and comforting, but don't want to spend a lot of time in the kitchen."
3-INGREDIENT SAUSAGE DIP IS THE EASY, DELICIOUS APP YOU NEVER KNEW YOU NEEDED
As Hartley notes, with protein, starch, and produce, this recipe makes a nice one-dish meal, but you can feel free to add garlic bread for sopping up the sauce or a fresh leafy green side salad. "If you don't like polenta, feel free to serve the shrimp and sausage sauce tossed with pasta, or over a bed of whole grain farro for a more rustic dish," she adds. Get the recipe below.
SOUTHERN PULLED PORK RECIPE IS 'BARBECUE THE WAY IT WAS MEANT TO BE': TRY THE RECIPE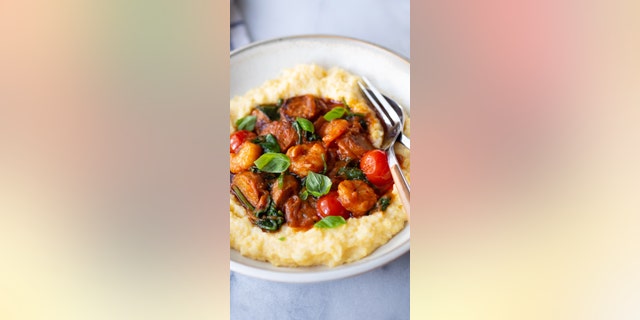 Italian-style Shrimp and Grits from Rachael Hartley, RD
Makes 3 servings
Prep time: 15 minutes
Cook time: 15 minutes
Ingredients
For Shrimp:
1 tablespoon extra-virgin olive oil
6 ounces spicy Italian chicken sausage, sliced into ½-inch thick rounds
½ large red onion, sliced
2 garlic cloves, minced
¼ teaspoon red pepper flakes
¾ cup canned tomato sauce
¾ cup cherry tomatoes
1 package SeaPak Shrimp Scampi or around 12 ounces of Shrimp Scampi recipe of choice (Shrimp cooked in olive oil with favorite Italian seasonings works, too)
2 cups baby spinach
CLICK HERE TO GET THE FOX NEWS APP
For grits:
1 18-ounce tube prepared polenta, sliced
½ cup whole milk
½ cup chicken or vegetable broth
Instructions:
Heat olive oil in a large skillet on medium-high heat. Add sausage and cook until golden, about 4-5 minutes. Transfer to a plate with a slotted spoon and set aside until ready to use.
Add red onions to the skillet along with a pinch of salt. There should be some leftover oil in the skillet, but if not, add another drizzle of extra-virgin olive oil first. Saute the onion until lightly golden, about 4 minutes. Stir in garlic and red pepper flakes and cook 1 minute more. Stir in tomato sauce and cherry tomatoes, reduce heat to medium, and simmer 5-7 minutes, stirring occasionally, until thickened.
Stir in frozen shrimp scampi and cook, stirring occasionally, until shrimp are cooked through, about 5-7 minutes. Stir in spinach and cook 1 minute more until wilted.
While the tomato-shrimp sauce is cooking, warm polenta, milk and broth in a pot on medium heat, breaking apart the polenta slices with a wooden spoon until fully combined and smooth.
Spoon grits into a bowl, making a well in the middle. Top with shrimp and sausage mixture and serve.
CLICK HERE TO SIGN UP FOR OUR LIFESTYLE NEWSLETTER