Lamb Meatballs in Mushroom Sauce
By , , Sharon Bishop, Paleo Fondue
Published January 03, 2017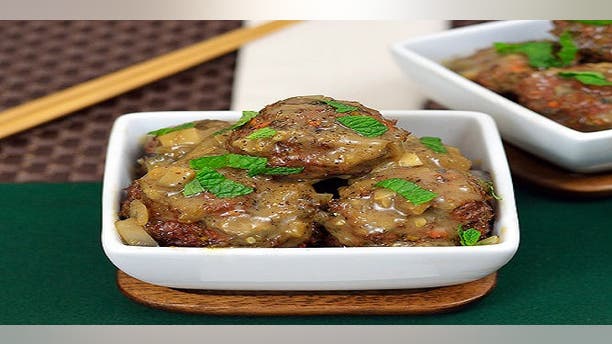 "Perfectly portioned lamballs, or lamb meatballs, smothered and creamy mushroom sauce make a beautiful appetizer," says Sharon Bishop of Paleo Fondue. "I love the rich taste of lamb and these meatballs are paired with compatible vegetables, spices, and mushrooms for an earthy yet dreamy dish."
Cook Time:30 min
Prep Time:15 min
Total Time:45 min
Servings: 4
Ingredients:
1 lb of Ground Lamb
1 Carrot, finely chopped
1 teaspoon of Cinnamon
1½ Tablespoons of Fresh Mint, finely chopped
1 Tablespoon of Oregano
1 teaspoon of Salt
1 egg
? cup of Crushed Plantain Chips
1 Tablespoon of Butter or Ghee
2 Shallots, minced
3 Garlic Cloves, minced
2 Portabello Mushroom Caps
8 ounces of White Mushrooms
1 cup of Beef Broth
1 can of Full Fat Coconut Milk
2 Tablespoons of Worcestershire Sauce
(optional) 1 Tablespoons of Tapioca Starch
Preparation:
Preheat oven to 375F. Generously apply cooking fat to a roasting mesh rack.
Mix together meatball ingredients. Try not to overmix.
Roll into 1 Tablespoon size balls and place on the greased rack. Set a cookie sheet under the rack to catch the drippings.
Bake at 375 F for 15-18 minutes and set aside.
Heat the butter/ghee in a saucepan to medium.
Add the shallots and garlic and cook until barely translucent. About 1-2 minutes.
Add the rest of the ingredients and cook until mushrooms are soft.
Whisk in the tapioca starch to thicken the sauce if so desired.
Drown the meatballs in the delicious sauce and enjoy!
https://www.foxnews.com/food-drink/lamb-meatballs-in-mushroom-sauce