Jack Daniel's in legal fight with small distiller
By ,
Published March 11, 2016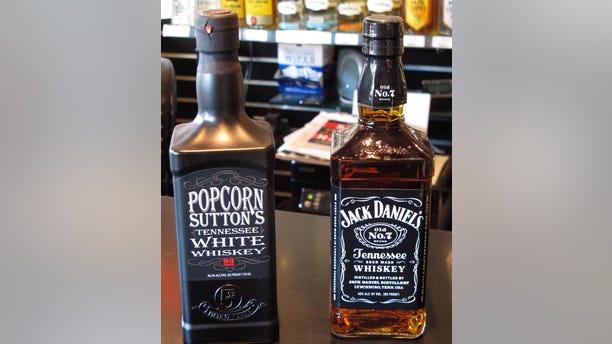 A white whiskey named for a famed Appalachian moonshiner started out being sold in Mason jars, to honor its roguish roots, but switched to square-shaped bottling. That new look has the upstart distiller embroiled in a trademark infringement fight with Jack Daniel's Tennessee whiskey.
The legal feuding pits an industry blue blood against a tiny distiller that proudly claims to carry on the tradition of moonshiner Marvin "Popcorn" Sutton. The irascible Sutton wrote a paperback called "Me and My Likker" and recorded videos on how to make moonshine.
Sutton, known for his long gray beard and faded overalls, took his own life in 2009 rather than go to prison for making white lightning.
Now, the whiskey maker he inspired is facing its own legal problems.
The owner of the Jack Daniel's trademark sued the Nashville, Tenn.-based distiller of Popcorn Sutton's Tennessee White Whiskey. The lawsuit claims the bottling and labeling for the Popcorn Sutton product is "confusingly similar" to the ubiquitous packaging for Jack Daniel's.
The suit filed in Nashville wants the Popcorn Sutton bottle removed from the market. It says the new packaging hit the shelves in either late 2012 or early 2013.
"Defendants' use of the new Popcorn Sutton's trade dress in connection with their Tennessee white whiskey is likely to cause purchasers and prospective purchasers of the product to believe mistakenly that it is a new Tennessee white whiskey product in the Jack Daniel's line," the lawsuit said.
The suit was filed by California-based Jack Daniel's Properties Inc., a subsidiary of Brown-Forman Corp.
Jack Daniel's is the flagship brand of Louisville-based Brown-Forman, which sold 11 million cases of Jack Daniel's Black Label Tennessee Whiskey in the fiscal year that ended this past April 30. Jack Daniel's whiskey is produced in Lynchburg, Tenn.
Named as defendants are J&M Concepts LLC and Popcorn Sutton Distilling LLC, which operate in Nashville.
The defendants did not respond to phone calls and emails seeking comment Friday.
The small distillery's website says Popcorn Sutton's white whiskey is currently available in Tennessee, Kentucky, Arkansas and Georgia.
The suit notes what it said are the similarities between the packing for Jack Daniel's and the Popcorn Sutton spirit. Both bottles are square shaped with angled shoulders and beveled corners, with white-on-black labeling color schemes, the suit said. Even the font style of the Popcorn Sutton labeling is reminiscent of the Jack Daniel's label, it said.
Except for minor tweaks, the Jack Daniel's packaging has been "a consistent commercial impression" for decades, the suit said. That packaging is part of "one of the oldest, longest-selling and most iconic consumer products" in U.S. history, it said.
The suit said the defendants' master distiller, Jamey Grosser, cited Sutton for inspiring the makeover for his brand's look. Grosser noted that Sutton wanted to sell his moonshine in eye-catching packaging once he could afford to do so. The old moonshiner would say: "My whiskey is too good to be in a damn jar," the suit said.
Nick Reifsteck, manager of Old Town Wine and Spirits in Louisville, said the Popcorn Sutton's whiskey seemed more popular in its simpler bottle.
"When it was in the Mason jars, it was a better seller, more of a curiosity," he said Friday.
Jack Daniel's last year released its own white spirit -- an unaged rye. So far, the company has produced about 100,000 bottles for sale in the U.S., Brown-Forman said.
The lawsuit seeks an injunction to stop the defendants from using their current bottle. It also asks for unspecified damages.
For Jack Daniel's, it's the latest round of legal fighting in its vigilance to protect its trademark, its parent company said.
"We've taken action against many individuals and companies all over the world for infringing in the Jack Daniel's trademark," Brown-Forman spokesman Phil Lynch said Friday. "We are vigorous in our defense of all our trademarks, and especially Jack Daniel's."
https://www.foxnews.com/food-drink/jack-daniels-in-legal-fight-with-small-distiller