In-N-Out Burger confirms 'Here Soon' banner in Tulsa is a prank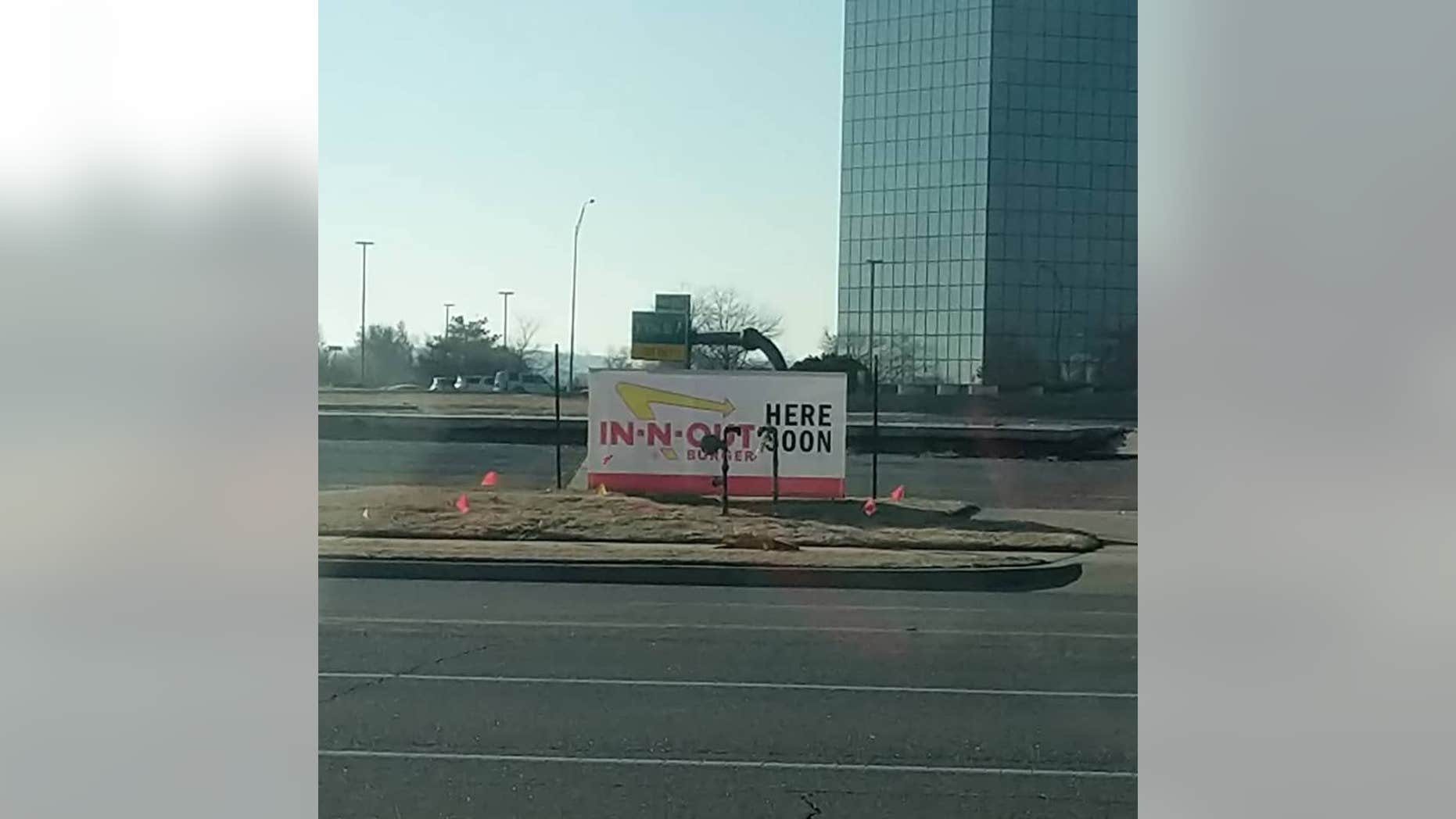 In-N-Out has not given the OK to Oklahoma.
IN-N-OUT WON'T EXPAND EAST OF TEXAS, OWNER SAYS
A banner popped up in a vacant lot in Tulsa advertising for the cult fast-food chain of the west this month — but it appears to just be a hoax.
A spokesperson for In-N-Out said the burger restaurant has no plans to make it out to the Sooner State.
"We just became aware of the rumors about In-N-Out Burger coming to Tulsa and unfortunately they are not true," said Carl Arena, vice president of real estate and development for the chain, in a statement to Tulsa World. "We grow pretty slowly here at In-N-Out and, while we are always looking for new opportunities and potential locations, we are not currently pursuing anything in Tulsa."
CALIFORNIA DEMOCRATS CALL FOR IN-N-OUT BOYCOTT AFTER BURGER CHAIN DONATES $25G TO GOP
The banner, which read "In-N-Out Burger Here Soon," was posted in a vacant lot of a Whataburger that was damaged in August 2017 from a tornado. Nothing has gone up in the area since.
Several who work in the area were excited to see the sign, believing it was real.
"I was like, 'Great, it's right here; I work here. I'll just go there and get me some In-N-Out,'" Valerie Taylor said to KTUL.
FOLLOW US ON FACEBOOK FOR MORE FOX LIFESTYLE NEWS
"It's happening," one person wrote on Twitter of the banner.
While disappointed to learn the burger chain was not making its way that far east, Tulsa is not the first city to be duped by an In-N-Out prank. New York was tricked last year by an event on Facebook, advertising that an In-N-Out Popup would be setting up shop in NYC. However, it turned out to be fake.