Happy ending for Grumpy Cat: $710K awarded in suit
By , Jenn Gidman
Published January 24, 2018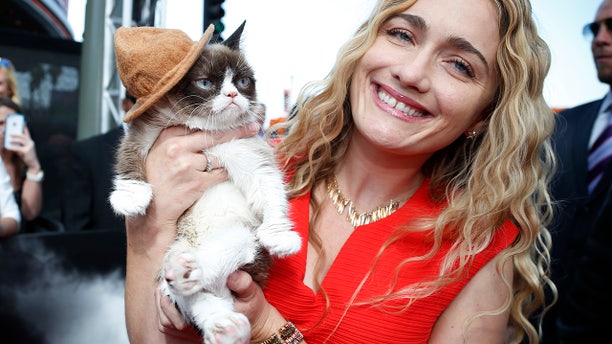 Taking on Starbucks and its mermaid logo: an iced coffee drink featuring Grumpy Cat. That was the plan, anyway, per the owners of a beverage company who say they teamed up with the famous feline's owners to start the brand, then say they were let down by the Grumpy Cat team's efforts to promote it. But Courthouse News reports those tied to the frowning feline (real name: Tardar Sauce) pushed back on the accusations and ultimately prevailed, with a jury awarding the cat's owners $710,000 for copyright and trademark infringement and a token $1 for breach of contract. On the other side: Nick and Paul Sandford, owners of Grenade Beverage, who'd originally worked up a licensing deal with Grumpy Cat Limited to create an iced coffee line called "Grumpy Cat Grumppuccino," but who then engaged in "despicable misconduct," per a GCL complaint, cited by the Washington Post.
Among those allegedly unseemly acts, per Grumpy Cat Limited: launching an additional, unauthorized ground coffee attached to Grumpy Cat's likeness, selling Grumpy Cat T-shirts without permission, and not paying out the proper percentage of profits. A Grenade countersuit claims, among other things, that the Grumpy Cat team didn't post enough about the iced coffee on social media, didn't say an agreed-upon slogan during a TV appearance, and misrepresented that the cat would gain further brand prominence by starring in a movie with Will Ferrell and Jack Black (a movie that never came to be). The eight-member jury sided with Grumpy Cat, who was apparently home sulking when the verdict was read. The cat's lawyer, however, noted that "Grumpy Cat feels vindicated and feels the jury reached a just verdict." (Grumpy Cat was once rumored to make more money than Nicole Kidman.)
This article originally appeared on Newser.
https://www.foxnews.com/food-drink/happy-ending-for-grumpy-cat-710k-awarded-in-suit