'Halloween Ice Cream Cups' are easy and fun to make: Get the recipe
Debi Morgan of 'Quiche My Grits' shared her recipe with Fox News ahead of Halloween and National Dessert Day
Halloween is a great opportunity to have ice cream before the weather gets too cold.
This recipe provides a festive way to celebrate the season. Served in small cups, it's also a convenient dessert to hand to guests at Halloween parties – thanks to its creator Debi Morgan of QuicheMyGrits.com.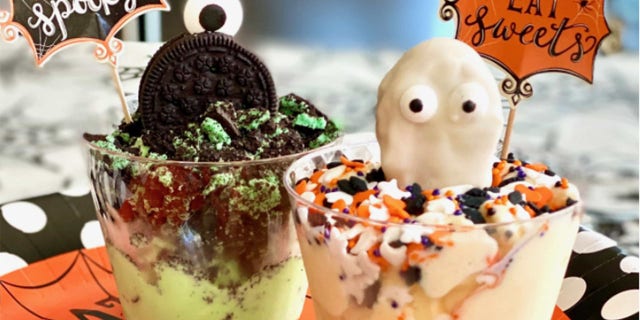 Morgan shares on her blog, "these adorable ice cream treats are easy to make and even more fun to eat."
CLICK HERE TO SIGN UP FOR OUR LIFESTYLE NEWSLETTER
INGREDIENTS
12 plastic crystal cups (9 oz. size)
1 pkg. white candy coating
1 pkg. Nutter Butter cookies
1 pkg. chocolate mint creme cookies
1 pkg. assorted candy eyes
1 tube black decorating gel
½ gallon vanilla ice cream
½ gallon chocolate mint ice cream
1 tube Halloween sprinkles
2 cups chocolate mint cookie crumbles (smashed from leftover cookies)
Halloween picks (optional)
INSTRUCTIONS
CLICK HERE TO GET THE FOX NEWS APP
Melt 3 cubes of white candy coating in 30 second intervals until melted completely.  Stir frequently.
Dip 6 Nutter Butter cookies halfway into vanilla candy coating. Cool upright on wire racks. After coating sets slightly, place 2 small eyes onto each cookie.  Allow ghosts to cool completely.
Dab black decorating gel on top of 6 chocolate mint creme cookies and insert large candy eye on top. Allow monsters to set on wire rack.
Scoop large scoops of vanilla ice cream into 6 plastic cups. Insert ghosts into top of ice cream until bottom half is covered. Decorate ice cream cups with Halloween sprinkles.
Scoop large scoops of chocolate mint ice cream into 6 plastic cups. Insert monsters into top of ice cream. Decorate ice cream cups with crumbled chocolate mint cookies.
Insert Halloween picks into cups if desired.  Place in muffin tins for easy transport and freeze until ready to serve.