Coolest Cooler in hot water with Oregon's Department of Justice
By ,
Published November 27, 2016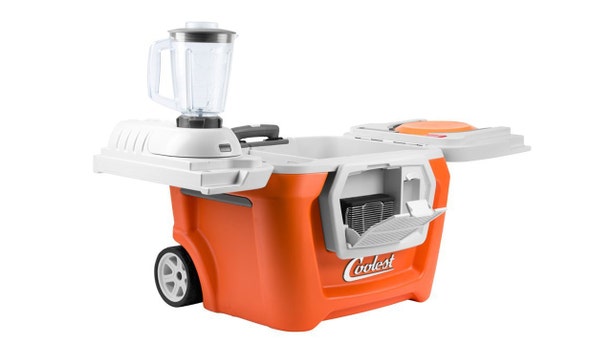 The hot-selling Coolest Cooler is a red-hot topic in Portland, Ore.
But the company behind the multi-purpose party accessory is anything but cool, say legions of Kickstarter backers.
Thousands of the 49,000 backers who paid roughly $200 each two years ago to invest in a Kickstarter campaign to fund the state-of-the-art ice chest are hot under the collar, because the summer is over and they still haven't received their coolers. In 2014, the company raised over $13 million, becoming the second-most funded Kickstarted campaign in history.
Now, the Coolest Cooler's creator, Ryan Grepper, may be in hot water with the Oregon Department of Justice, which is now investigating hundreds of complaints about delivery delays. To make bad matters worse, Grepper says complaints filed with the department have slowed production, because his Portland company was forced to pay legal fees and employee hours with money that could have gone to shipping coolers, according to OregonLive.
Grepper is telling his impatient backers to chill out. His company is sending out the coolers-- which were supposed to be delivered to original backers by the spring 2015-- as quickly as it can.
While the backers wait for their coolers to arrive, hopefully before the first snowfall, those of us who didn't invest in the crowdsourcing campaign can go to Amazon right now and have one delivered in a couple of days. And Amazon is selling the Coolest Cooler for only $225, which is barely more than the Kickstarter funders paid two years ago and $174 less than the $399 you'll pay if you buy a cooler directly from the manufacturer.
Grepper says Amazon broke its promise not to sell the cooler for less than $399. In an email he sent to backers on Saturday, he called the price cut "disastrous."
While $250 (or even $225) might seem like a lot of cold hard cash to shell out for a cooler, the Coolest Cooler is no ordinary ice chest. Does your cooler have a built-in ice-crushing blender? A loud, splash-proof Bluetooth speaker? A built-in USB charger? An LED lid light? A built in bottle opener?
All of these promised features are impressive but backers who haven't seen their cooler aren't pleased with the continued delivery delays.
Amanda Kaberline, of Roanoke, Va., kicked in $200 to back the startup two years ago as a wedding gift for her husband. Two years later, the couple and their son are still waiting for their cooler.
"We are trying to stay optimistic that the cooler will come at some point, but it's getting more and more difficult," Kaberline told OregonLive.
Colleen Knight, who was one of the earliest backers and says she was told she'd be one of the first to receive a cooler, has had enough and just wants her money back.
But whether the St. Simons Island, Ga., resident will get one remains to be seen. Knight told OregonLive that Coolest has refused refunds to backers until two weeks before their coolers are set to ship.
In 2014, Kickstarter's terms required successful campaigns to refund backers who don't receive their reward – but it specified no timeline for the refund.
https://www.foxnews.com/food-drink/coolest-cooler-in-hot-water-with-oregons-department-of-justice