Angelina Jolie and Brad Pitt are victims of wine fraud
By ,
Published November 25, 2016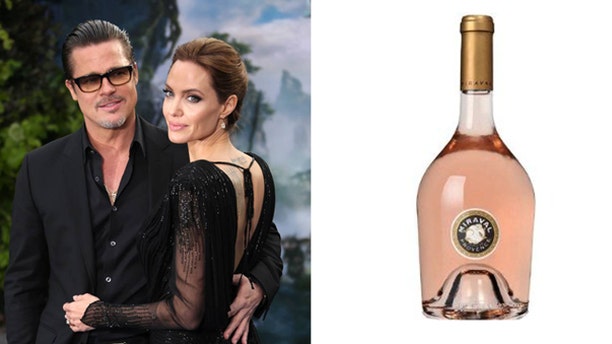 It's almost rosé season—but are you drinking the real deal?
Fake bottles of Brangelina's best selling Miraval Rosé are reportedly being sold by Chinese counterfeiters overseas.
According to the Independent, the Perrin family-- Brad Pitt and Angelina Jolie's wine producing partners-- recently discovered evidence of fake bottles of the limited edition wine being advertised in China.
"We are already seeing evidence of faked bottles being produced and distributed in China, so we have moved swiftly to counter it," winemaker Marc Perrin told Decanter.com. The scale of the fraud still remains unknown.
In 2014, Miraval Rosé retailed for about $21 in the U.S. but this year's harvest—an organic blend of Grenache, Carignan, Syrah and Rolle grapes—sells for about $27. To prevent further wine fraud, new bottles are being engraved with a signature hallmark set into the bottom of the glass bottle to further distinguish it from counterfeit editions.
Other factors to look for on the authentic bottle include a "discreet" black, white and gold circular label. The wine is a light salmon pink color and the back label should read "Bottled by Jolie-Pitt et Perrin."
Since its introduction in 2012, Miraval has sold out of stores around the globe. Some liquor markets even have waiting lists as newer vintages become available. In 2012, it was the highest ranking rosé on Wine Spectator's annual Top 100 wines list. Brangelina also produce a white wine called Lady Jane and another rosé called Pink Floyd—a nod to the band that recorded part of their album "The Wall" at the Miraval Chateau the couple purchased in 2008.
The Jolie-Pitts are not alone, however, with the Independent reporting that fraudulent activity has affected all aspects of the wine industry in recent years.
https://www.foxnews.com/food-drink/angelina-jolie-and-brad-pitt-are-victims-of-wine-fraud