American beef consumption up as meat prices decline
By ,
Published November 27, 2016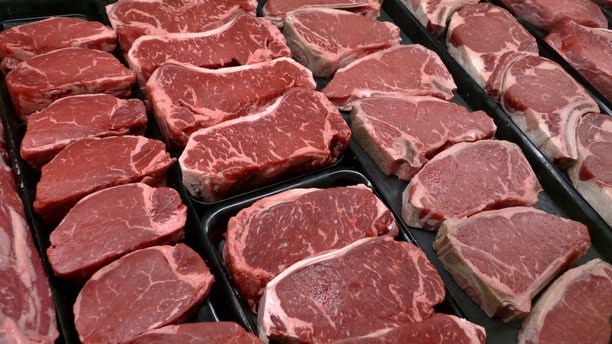 After nearly a decade of decline, American consumption of beef is on the rise.
According to data from the U.S. Department of Agriculture, Americans will eat about 54.3 pounds of red meat this year, up half a pound more person than last year.
Skyrocketing red meat prices combined with changing consumer tastes that favored leaner meats like chicken and turkey for years contributed to declining meat consumption rates in the past.
But as farmers have let their cows grow fatter, the surplus of meat is equating to cheaper consumer prices for the first time in several years.
Last month, a pound of uncooked ground beef retailed for $4.38, about 7 percent below the Feb. 2015 price, according to data from the Bureau of Labor Statistics.
After a surge in chicken promotions, fast food chains like Wendy's and Burger King have already been advertising competitively cheap burger deals, reflecting the lowered beef cost. Fast casual chain Chili's is also offering less-expensive beef with a new line of steak meals as part of its "2-for-$20 dinners."
Cheaper prices may sway some diners from chicken to beef, but high-end red meat consumption has also been fueled by the Paleo diet trend.
"Certainly there's been a big push towards eating more meat and more meat proteins," Altin Kalo, an analyst at economic and commodity-trading advisory Steiner Consulting Group, told Bloomberg.
Despite increased supply, beef still has a long way to go before it catches up to America's favorite animal protein: chicken. In 1976, people in the U.S. ate over 94 pounds of beef annually. The number has steadily decreased over the years, with chicken overtaking beef in the early 1990s. Today, the average American eats almost 92 pounds of chicken each year.
https://www.foxnews.com/food-drink/american-beef-consumption-up-as-meat-prices-decline