Zoe Saldana Finally Confirms Her Not-So-Secret Marriage To Marco Perego
By ,
Published December 27, 2016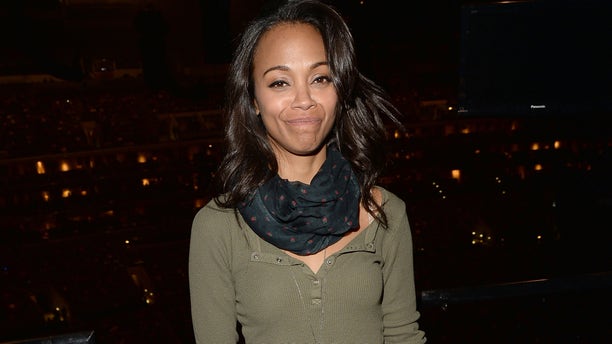 "Avatar" actress Zoe Saldaña has learned how to keep her private life – well, private. But during an appearance on Jimmy Kimmel Live! on Tuesday, she took a baby step out of her comfort zone and acknowledged, after months remaining tight-lipped,that she was, in fact, married to Marco Perego.
The 35-year-old actress married Perego, an Italian artist, in a ceremony in the U.K. in June 2013. While Saldaña didn't reveal any new information regarding her nuptials, she confirmed that it happened for the first time.
"Congratulations! You got married since the last time I saw you," host Jimmy Kimmel said, referring to her previous appearance on the show on May 8, four days before she was spotted kissing Perego at a "Star Trek Into Darkness" after-party in Hollywood.
"I did," Saldaña answered. "And congratulations to you, too. You got married."
"Thank you," said Kimmel, who is married to Molly McNearney. "It's not a competition, though. We don't need to just go around getting married."
The actress asked the late-night host where he got married, which prompted him to throw the question back at her.
The "Guardians of the Galaxy" star shrugged and made a funny face before saying, "I got married in England. I did it in England. Can you top that?"
After Kimmel replied "no," she shot back, "So it is a competition!"
Saldaña's acknowledgement of her nuptials comes shortly after she sold her her 1955 contemporary-style home in Los Feliz for $1.149 million, according to the LA Times.
During her appearance on Kimmel, the actress also spoke about her time in the Dominican Republic and her mother's "bohemian" lifestyle that including oatmeal and egg facials and using rum to bleach her hair.
"Our neighbor came to visit, I guess to check up on us because my mother was working, and she calls up my mom and said 'Listen to me, I went to check up on the girls and Zoe smelled like alcohol," Saldaña recollects. "So, my mom is calling me and saying... 'Were you drinking it or putting it on?'"
"So you walked around smelling like a daiquiri all the time," Kimmel joked.
Follow us on twitter.com/foxnewslatino
Like us at facebook.com/foxnewslatino
https://www.foxnews.com/entertainment/zoe-saldana-finally-confirms-her-not-so-secret-marriage-to-marco-perego