XXXTentacion left out of Grammys 'In Memoriam' segment, leaves fans upset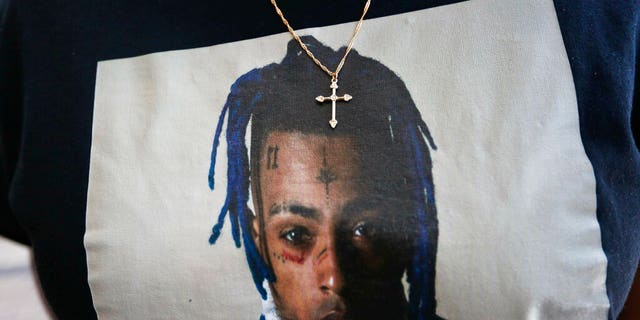 XXXTentacion was noticeably left out of the 2019 Grammy Awards "In Memoriam" segment Sunday night, leaving the rapper's fans upset.
The Recording Academy honored several artists — including Avicii, Mac Miller and Aretha Franklin — in its tribute, but didn't include the 20-year-old rapper, who was shot and killed last June during an attempted robbery in Miami.
The show reportedly made the decision to leave out XXXTentacion from the tribute because of his history with domestic violence, Variety reported. A source told the magazine the late rapper's representatives repeatedly requested XXXTentacion to be added to the segment.
GRAMMYS 2019 BEST NEW ARTIST DUA LIPA TALKS ARIANA GRANDE MISSING THE SHOW, 21 SAVAGE BEING ARRESTED BY ICE
Recording Academy president Neil Portnow told Rolling Stone in December that they were still discussing whether to include the rapper, whose real name was Jahseh Onfroy.
"We don't have pre-obits prepared like in journalism but we do leave time every year for an in memoriam and we will be planning that now," Portnow told Rolling Stone at the time.
Some of the late rapper's fans took to Twitter to criticize the music awards show for the snub.
"Everyone's talking about [Drake's] mic getting cut off during his speech but nobody saying ANYTHING about @xxxtentacion NOT being in the Annual Memoriam Tribute," one person wrote, white another user said the Recording Academy was "real messed up" for not including the artist.
"The fact that @xxxtentacion wasn't remembered this year at the Grammys says a lot about them," another person wrote.
XXXTentacion's name was included in a longer list of artists that passed away that was posted on the Grammy website.
CLICK HERE TO GET THE FOX NEWS APP
Prior to his death, XXXTentacion was facing a slew of charges including aggravated battery of a pregnant victim, domestic battery by strangulation, false imprisonment and witness tampering. He appeared to admit to beating his girlfriend and stabbing people in a secret recording that was released after his death.