Southern Living Thanksgiving recipes
By ,
Published April 04, 2018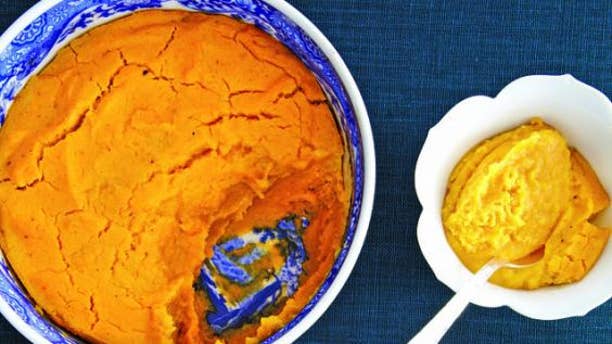 Buttermilk Biscuits
This versatile biscuit recipe, beloved across the South, only requires three ingredients. The keys are Southern staples: self-rising soft wheat flour (such as White Lily or Martha White brands), good butter and good buttermilk. For a flavor kick, try one of the four recipe variations.
Makes 2 dozen   
Hands-On Time 22 min. Total Time 45 min.
1⁄2 cup cold butter
2 1⁄4 cups self-rising soft wheat flour
1 1⁄4 cups buttermilk
Self-rising soft wheat flour
2 Tbsp. melted butter
1. Cut cold butter with a sharp knife or pastry blender into 1⁄4-inch-thick slices. Sprinkle butter slices over flour in a large bowl. Toss butter with flour, and then cut butter into flour with a pastry blender until crumbly and mixture resembles small peas. Cover and chill 10 minutes. Add buttermilk, stirring just until dry ingredients are moistened.
2. Preheat oven to 450°. Turn dough out onto a lightly floured surface; knead 3 or 4 times, gradually adding additional flour as needed. With floured hands, press or pat dough into a 3⁄4-inch-thick rectangle (about 9 x 5 inches). Sprinkle top of dough with additional flour. Fold dough over onto itself in 3 sections, starting with 1 short end; fold dough rectangle as if folding a letter-size piece of paper). Repeat entire process 2 more times, beginning with pressing into a 3⁄4-inch-thick dough rectangle (about 9 x 5 inches).
3. Press or pat dough to 1⁄2-inch thickness on a lightly floured  surface; cut with a 2-inch round cutter. Place biscuits, side by  side, on a parchment paper-lined or lightly greased jelly-roll pan (biscuits should touch).
4. Bake at 450° for 13 to 15 minutes or until lightly browned.  Remove from oven; brush with 2 Tbsp. melted butter.
For Pimiento Cheese Biscuits: Combine 1 cup (4 oz.) shredded sharp Cheddar cheese with flour in a large bowl. Reduce buttermilk to 1 cup. Stir together buttermilk and 1 (4-oz.) jar diced pimiento, undrained. Proceed with recipe as directed. Makes 2 1⁄2 dozen.
Brown Butter Cauliflower Mash
Makes about 6 servings (3 1⁄2 cups)   
Hands-On Time 15 min. Total Time 30 min.
1  medium head cauliflower (about 2 lb.), chopped
1⁄2  cup sour cream
3⁄4 tsp. table salt
1⁄2  tsp. black pepper
1⁄4  cup grated Parmesan cheese
1  Tbsp. chopped fresh chives
2  Tbsp. butter
1. Fill a large Dutch oven with water to depth of 1⁄4 inch. Arrange cauliflower in Dutch oven. Cook, covered, over medium-high heat 7 to 10 minutes or until tender. Drain.
2. Process cauliflower, sour cream, salt, and pepper in a food processor  30 seconds to 1 minute or until smooth, stopping to scrape down sides as needed. Stir in Parmesan cheese and chives. Place in a bowl.
3. If desired, microwave mixture at HIGH 1 to 2 minutes or until thoroughly heated, stirring at 1-minute intervals.
4. Cook butter in a small heavy saucepan over medium heat, stirring  constantly, 4 to 5 minutes or until butter begins to turn golden brown.  Remove from heat, and immediately drizzle butter over cauliflower mixture. Serve immediately.
Butternut Squash Bake (pictured)
Each fall, people across the South decorate their homes with pretty gourds and their tables with delicious squash dishes. This scrumptious side, perfect for a holiday dinner with roasted turkey or pork, has a soufflé-like quality.
Makes 4 to 6 servings    
Hands-On Time 25 min. Total Time 1 hour, 30 min
Roasted Winter Squash, coarsely chopped
3⁄4 cup egg substitute
2  Tbsp. butter, melted
2  Tbsp. frozen orange juice concentrate, thawed
2  Tbsp. honey
1⁄8  tsp. table salt
Dash of ground nutmeg
1. Preheat oven to 350°. Toss together chopped roasted squash and remaining ingredients in a large bowl. Process mixture, in batches, in a blender or food processor until smooth, stopping to scrape down sides. Pour mixture into a lightly greased 11⁄2-qt. baking dish.
2. Bake at 350° for 35 to 40 minutes or until mixture is set.
Home-style Green Bean Casserole
Fresh veggies and a lightened sauce enliven this essential Southern casserole.
Makes 8 servings
Hands-On Time 25 min. Total Time 55 min.
1 1⁄2  lb. fresh green beans, trimmed
2  Tbsp. butter
1⁄4  cup all-purpose flour
1 1⁄2  cups 2% reduced-fat milk
1⁄2  cup nonfat buttermilk
1  Tbsp. Ranch dressing mix
2  tsp. chopped fresh thyme
1⁄4  tsp. table salt
1⁄4  tsp. black pepper
1  tsp. butter
1  (8-oz.) package sliced fresh mushrooms
Vegetable cooking spray
1  cup French-fried onions, crushed
1⁄2  cup panko (Japanese breadcrumbs)
2  plum tomatoes, seeded and chopped
1. Preheat oven to 350°. Cook green beans in boiling salted water to cover in a Dutch oven 4 to 6 minutes or to desired degree of doneness; drain. Plunge into ice water to stop the cooking process; drain and pat dry.
2. Melt 2 Tbsp. butter in Dutch oven over medium heat; whisk in flour until smooth. Cook, whisking constantly, 1 minute. Gradually whisk in milk; cook, whisking constantly, 3 to 4 minutes or until sauce is thickened and bubbly. Remove from heat, and whisk in  buttermilk and next 4 ingredients.
3. Melt 1 tsp. butter in a medium skillet over medium-high heat; add mushrooms, and sauté 6 to 8 minutes or until lightly browned. Remove from heat; let stand 5 minutes. Gently toss mushrooms and green beans in buttermilk sauce. Place in a 13- x 9-inch or 3-qt.  baking dish coated with cooking spray.
4. Combine French-fried onions and next 2 ingredients; sprinkle over green bean mixture. Bake at 350° for 25 to 30 minutes or until golden brown and bubbly. Serve immediately.
Polly's Deviled Eggs
These eggs get their special zing from drops of the hot pepper vinegar, Mom's (now-not-so-secret) secret ingredient.
Makes 12 servings   
Hands-On Time 15 min. Total Time 15 min.
1  dozen hard-cooked eggs, peeled
1⁄3  cup mayonnaise
1  Tbsp. prepared yellow mustard
1⁄2  cup sweet pickle relish, drained and squeezed in paper towels to remove excess liquid
1  tsp. Worcestershire sauce
6  drops liquid from hot peppers in vinegar, or to taste
1⁄2  tsp. table salt
1⁄4  tsp. ground white pepper
Paprika
1. Cut the eggs in half lengthwise with a long thin knife. Remove the yolks, and place them in a medium bowl; set the whites aside. Mash the yolks with a fork. Add the remaining ingredients except the  paprika, and stir until the consistency of mashed potatoes. If the filling is too thick, add a little more pickle juice or mayonnaise. Spoon filling into the hollowed-out whites; sprinkle with paprika. Serve immediately, or refrigerate in an airtight container for up to 1 day.
White House Pecan Pie
When Cecily Brownstone, veteran food reporter for The Associated Press, visited the Johnson White House in 1964, she came back with this recipe. The pecan pie Lady Bird shared was from the Johnson family's longtime cook, Zephyr Wright, whose comfort food was legendary. "Small portions of this pie are in order," advised Brownstone, "even if you have as much energy as our admirably zestful and gracious First Lady."
Makes 8 servings    
Hands-On Time 10 min. Total Time 5 hours, 50 min.
1⁄2 cup butter
1  cup sugar
1  cup dark corn syrup
1⁄2  tsp. table salt
1 1⁄2  tsp. vanilla extract
3   large eggs
2 cups coarsely chopped pecans
1 (9-inch) unbaked piecrust shell
Unsweetened whipped cream (optional)
1. Preheat oven to 375°. Allow the butter to stand in a covered medium mixing bowl at room temperature until it is extremely soft. Add sugar, corn syrup, salt, and vanilla; with a mixing spoon, beat until thoroughly blended. Add the eggs, and beat gently until just blended. Fold in the pecans. Pour into piecrust shell.
2. Place in oven on the rack directly below the center rack, and bake at 375° for 40 to 50 minutes or until top is toasted brown and filling is set in center when pie is gently shaken.  Pastry edge should be browned and pastry bottom a pale gold. If top of pie gets very dark toward end of baking time, place a tent of foil over it. Cool completely on wire rack (about 5 hours). If desired, serve with unsweetened whipped cream.
Coconut-Almond Cream Cake
If the tops of the layers are a little rounded, level them with a serrated knife. This is a tall cake, and it needs to be level if you want your friends to admire your work before they devour it, as they absolutely will.
Makes 12 servings   
Hands-On Time 30 min. Total Time 2 hours, 30 min.
2 cups sweetened flaked coconut
1⁄2 cup sliced almonds
Parchment paper
3 1⁄2 cups all-purpose flour
1 Tbsp. baking powder
1⁄2 tsp. table salt
1 1⁄2 cups unsalted butter, at room temperature
1 1⁄4  cups granulated sugar
1 cup firmly packed light brown sugar
5 large eggs
1 cup whipping cream
1⁄3 cup coconut milk
1 Tbsp. vanilla extract
1 Tbsp. almond extract
Coconut-Almond Filling
Coconut-Cream Cheese Frosting
1. Preheat oven to 325°. Bake coconut in a single layer in a shallow pan 6 minutes. Place almonds in a single layer in another shallow pan; bake, with coconut, 7 to 9 minutes or until almonds are  fragrant and coconut is lightly browned, stirring occasionally.
2. Line 3 (9-inch) round cake pans with parchment paper. Grease and flour paper. Sift together flour, baking powder, and salt in a very large bowl.
3. Beat butter at medium speed with a heavy-duty electric stand mixer until creamy; gradually add sugars, beating until blended. Beat 8 minutes or until very fluffy, scraping bottom and sides of bowl as needed. Add eggs, 1 at a time, beating well after each  addition (about 30 seconds per egg). Stir in whipping cream and next 3 ingredients.
4. Gently fold butter mixture into flour mixture, in batches, just until combined. Pour batter into prepared pans. Bake at 325° for 30 to 32 minutes or until a wooden pick inserted in center comes out clean. Cool in pans on wire racks 10 minutes; remove from pans to wire racks, and cool completely (about 1 hour).
5. Place 1 cake layer on a serving plate. Spread half of chilled Coconut-Almond Filling over cake layer. Top with 1 layer, pressing down gently. Repeat procedure with remaining half of Coconut-Almond Filling and remaining cake layer. Gently spread Coconut-Cream Cheese Frosting on top and sides of cake. Press toasted coconut onto sides of cake; sprinkle toasted almonds on top.
Coconut-Almond Filling
This filling is the glue that holds the layers together. It works best when chilled, so be sure not to skip that step.
Makes 3 cups   
Hands-On Time 10 min. Total Time 8 hours, 15 min.
2 Tbsp. cornstarch
1 tsp. almond extract
1 1⁄4 cups whipping cream
1⁄2 cup firmly packed light brown sugar
1⁄2 cup unsalted butter
2 1⁄4 cups loosely packed sweetened flaked coconut
1⁄4 cup sour cream
1. Stir together cornstarch, almond extract, and 2 Tbsp. water in a small bowl.
2. Bring whipping cream, brown sugar, and butter to a boil in a saucepan over medium heat. Remove from heat, and immediately whisk in cornstarch mixture. Stir in coconut and sour cream. Cover and chill 8 hours.
Coconut-Cream Cheese Frosting
Makes about 3 cups   
Hands-On Time 10 min. Total Time 10 min.
2 (8-oz.) packages cream cheese, softened
1⁄2 cup unsalted butter, softened
2 cups powdered sugar
1 Tbsp. cream of coconut
1 tsp. vanilla extract
1. Beat cream cheese and butter at medium speed with an electric mixer until creamy. Gradually add powdered sugar, beating at low speed until blended. Increase speed to medium, and beat in cream of coconut and vanilla until smooth.
https://www.foxnews.com/entertainment/southern-living-thanksgiving-recipes