Sarah Hyland, Amy Schumer, Ricky Martin and other stars who met significant others online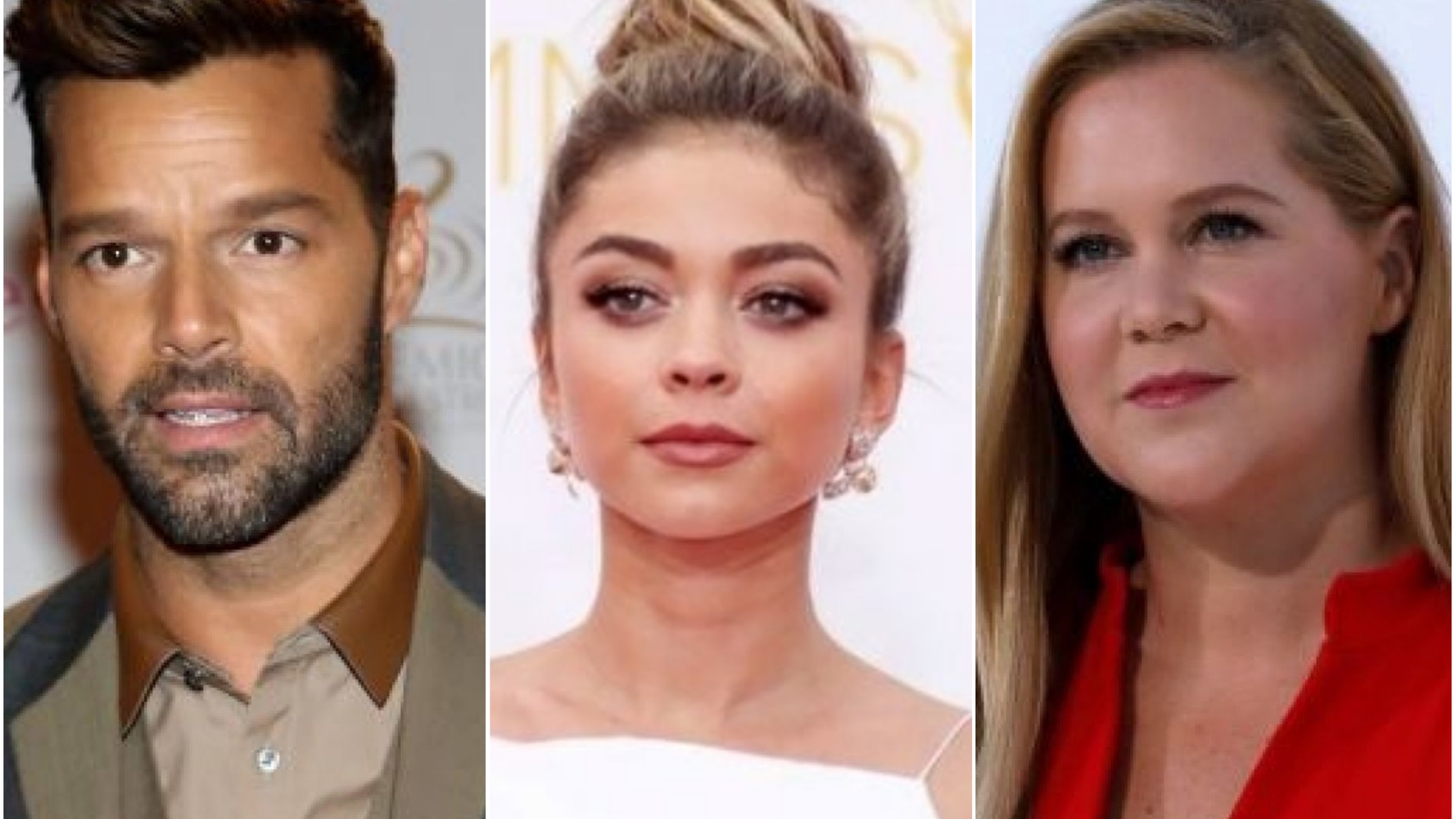 Sometimes sparks fly in unexpected places — like the internet. And occasionally stars, like us, are lucky enough to find love online.
Some celebrities may meet their future spouse or significant other while filming a movie or television show others perhaps on the set of a music video, but a handful of stars have admitted they've found the most success online (social media, in particular).
For some, all it takes is one swipe, comment or "like" to find your perfect man or woman.
CHANNING TATUM, JESSIE J ARE GOING PUBLIC: A TIMELINE OF THEIR BLOSSOMING RELATIONSHIP
Here's a list of celebrities who have found love online through the years.
Sarah Hyland and Wells Adams
Former "Bachelor" contestant Wells Adams credits social media for connecting him with his soulmate, "Modern Family" actress Sarah Hyland.
"The internet — it's amazing," he told People last November. "I'm amazed how smart the internet is."
SARAH HYLAND'S BOYFRIEND WELLS ADAMS COMES TO HER DEFENSE
Hyland flirtatiously tweeted about Wells while watching "Bachelor in Paradise: Men Tell All" in July 2016.
A year later, she once again eyed Wells as he played bartender during "Bachelor in Paradise" in August 2017.
Hyland later revealed on "Jimmy Kimmel Live" that Wells "slid into her DMs" after they exchanged tweets.
"We had like tweeted each other because I thought he was funny and he was a fan of the show ["Modern Family"]," she told late-night host Jimmy Kimmel in January 2018, admitting he asked her out for drinks and tacos. "I saw him as the bartender ... and I was single, obviously, and was like this is really awesome."
Amy Schumer and Ben Hanisch
Amy Schumer is now a married woman, but before she met hubby Chris Fischer, the comedian was dating Ben Hanisch.
During an interview with Howard Stern, Schumer revealed she met Hanisch on the dating app Raya in late 2015.
"He was my first match," she explained, according to E! News. "The picture was him dancing with his grandma at like a wedding. It was really cute."
AMY SCHUMER SHOCKS WITH SURPRISE WEDDING TO NEW BEAU CHRIS FISCHER
In July 2016, she confirmed to Marie Claire that she was in love with Hanisch, though admitted it's "the scariest thing in the world."
"Every time we say goodbye, I think, 'This will have been a nice last week together.' Or I tell myself nothing is real and he's going to leave me and tell me he never loved me," she told the magazine. "I feel so bad for him. How exhausting it must be dating me," she told the magazine.
Ricky Martin and Jwan Yosef
Ricky Martin says he met his husband, artist Jwan Yosef, on Instagram. It was fate.
Martin told Andy Cohen during an interview for SiriusXM in February 2017 that he spotted one of Yosef's pieces of art on the social media platform. He saw a "beautiful piece of art," clicked into Yosef's profile and continued to admire his work. Afterward, he messaged him.
"I contacted him, and we talked for six months. We were just sending messages, talking about life and existential issues. Nothing sexy, nothing sexual. It's not that he was sending me sexy pictures and vice versa, I swear. But when I first saw him, I said, 'I am going to marry this guy.' And apparently, he said exactly the same thing," the singer told Attitude in March 2018. "Obviously, he only told me this, later on, you have to keep it to yourself at first! But I lost my breath when I saw him. Six months' build-up and it was very romantic."
The pair got engaged in November 2016 after about a year of dating and officially got married in January 2016.
Colton Underwood and Aly Raisman
Former Oakland Raiders tight end Colton Underwood asked out Olympian Aly Raisman in a video he shared on Twitter in August 2016. Raisman called the video "sweet" and said she looked forward to meeting him.
The meeting happened quicker than she thought.
"We happened to both be in Denver at the same time," she told People in December 2016, confirming they had been dating for a few months. "I was there for less than 12 hours, he was flying in for just a few days. It just ended up working perfectly."
The pair eventually split. Underwood participated in the latest season of "The Bachelorette" with Becca Kufrin, though he didn't end up taking home the final rose.
Jake T. Austin and Danielle Ceasar
Sometimes being a superfan works out. Jake T. Austin met his girlfriend, Danielle Ceasar, on social media.
Ceasar, apparently a big fan of the former Disney star and "The Fosters" actor, tweeted at Austin for several years, according to the New York Daily News. Eventually, Austin took notice.
"We're young and having fun just getting to know each other. It doesn't matter how you meet someone- on set, in a coffee shop, at school, or in the business," he confirmed to the Daily News in January 2016. "Sometimes you connect with people at the right moment & you just click."
"I'm crazy for her," he captioned a steamy Instagram picture a month prior.