'Roseanne' ratings put pressure on networks to revive conservative show 'Last Man Standing'
By Sasha Savitsky, ,
Published March 29, 2018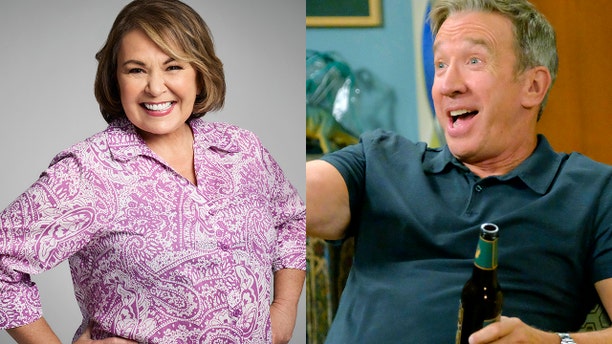 The highly anticipated reboot of "Roseanne" premiered on Tuesday night to stellar ratings and, since the show focuses on a typical middle-class family with conservative-leaning views, some TV watchers are wondering if the successful reception will pave the way for the return of another show that highlights a conservative lead character: Tim Allen's "Last Man Standing."
"Last Man Standing" was memorably scraped from the TV schedule by ABC despite high ratings, with the network claiming there was no room in the schedule for the comedy. Allen, like his character on the show, is a Republican, and many speculated the cancellation had something to do with the views expressed on-screen.
Following the success of the "Roseanne" reboot debut, viewers took to Twitter to ask ABC ‒ or any network ‒ to revive "Last Man Standing."
When the news first broke that the reboot of "Roseanne" would feature a pro-Trump character, fans also called upon ABC to bring back the show.
Allen told Fox News at the time he was overwhelmed by the support of his fans.
"The support from all the fans to bring back 'Last Man Standing' is truly overwhelming to me and so appreciated," Allen told Fox News exclusively in August. "I, along with the talented writers, wonderful crew and terrific actors, would definitely entertain the idea of bringing the show back as there is so much gas left in the tank, more to be said, and laughs to be had."
ABC has vehemently denied it gave the show the boot over its politics but Allen tweeted at the time the show was cancelled he was "stunned and blindsided by the network I called home for the last six years."
The former "Home Improvement" star has been open about his conservative-leaning politics in the past. Allen told Jimmy Kimmel in March that living in Hollywood right now is akin to Nazi Germany.
"You gotta be real careful around here," Allen noted. "You get beat up if you don't believe what everybody else believes. This is like '30s Germany."
https://www.foxnews.com/entertainment/roseanne-ratings-put-pressure-on-networks-to-revive-conservative-show-last-man-standing