Ricki Lake Leads Again, Nancy Grace in the Bottom on 'Dancing With the Stars'
By ,
Published April 08, 2016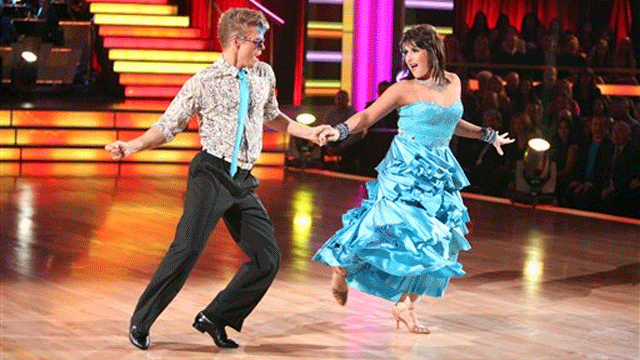 Ricki Lake again claimed the top spot on "Dancing With the Stars," her fifth first-place finish so far this season.
Nancy Grace landed in last place on Monday's Halloween-themed episode.
Another celebrity will be dismissed during Tuesday's installment of the hit ABC show.
Each of the six contestants performed two dances Monday: One with their professional partners, and a team dance with two other couples. The team-dance score was applied to each couple in the group.
Despite a rib injury, Lake wowed with both routines. She performed two paso dobles: One with partner Derek Hough and another with her team that included soccer champ Hope Solo and reality star Rob Kardashian.
Judge Bruno Tonioli described the group routine as "powerful, moving, and dramatic" and called Lake's dance with her partner "another incredible performance." She earned 27 points for her dance with Hough and 26 points for the team routine for a total of 53 out of 60.
Kardashian finished in second place with 51 points, turning in a tango to the "Addams Family" theme song that one judge called "your best dance so far." After the show, he said his thoughts are with his sister Kim, who filed for divorce Monday after 10 weeks of marriage to basketball player Kris Humphries.
"We're here to support her, whatever she does," Kardashian said.
Solo earned 50 points in all, good for third place.
Actor and Iraq veteran J.R. Martinez, who has tied Lake for first place in previous weeks and held the top spot when she hasn't, performed two tangos Monday. He earned 25 points for his routine with professional partner Karina Smirnoff, and another 23 points for his group dance with Grace and actor David Arquette.
Judge Len Goodman called Martinez's first tango "substandard" and criticized the group routine.
"Each one of the individual performances was a disaster," he said.
Martinez finished with 48 points, one better than Arquette.
Grace, who wore a red wig, red eyelashes and a flirty, fringed dress, failed to ignite with her jive.
"This wasn't a good dance for you," Goodman said. "It was a disappointment for me."
Moments later, the TV personality defended her routine, saying, "I don't think our jive was that bad." She earned 21 points for it, giving her 44 out of 60 for the night.
Judges' scores are combined with viewer votes to determine which celebrity contestant is ousted each week. Chaz Bono, Carson Kressley, Chynna Phillips, Kristin Cavallari, Elisabetta Canalis and Metta World Peace, formerly known as Ron Artest, have already been eliminated this season.
Tuesday's results show is also set to include a performance by Justin Bieber.
https://www.foxnews.com/entertainment/ricki-lake-leads-again-nancy-grace-in-the-bottom-on-dancing-with-the-stars