'Octomoms' Nadya Suleman and Kate Gosselin in Financial Straits
By Jo Piazza, ,
Published April 08, 2016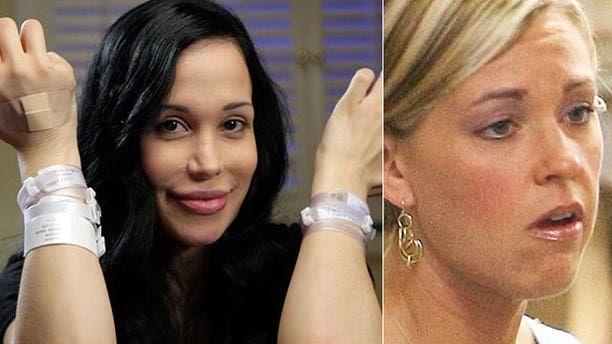 The celebrity gravy train has stopped short for octomoms Kate Gosselin and Nadia Suleman, both of whom are finding themselves in dire financial straits now that the spotlight has gone dark.
It's quite the dilemma, indeed. Having eight children made these women rich and famous, but now those eight mouths need food, clothes, and a very big roof over their head.
Nadya Suleman was getting some major checks back when she shared her multiple pregnancy with the world in 2009, and achieved a reported net worth of $1 million.
Today, she has next to nothing left.
"I'm in a situation now where we are literally broke," Suleman told she told Dr. Drew Pinsky on his 'Lifechangers' show. "Every single thing I do... is just me surviving."
Suleman has six more children in addition to the eight from her multiple birth. She told Dr. Drew that she can't meet her monthly expenses of $12,000 for her 14 kids, which includes private school and a $3,000 mortgage. It has gotten so bad, she can't afford to fix her bathroom faucet and bathing her kids in the kitchen sink.
Kate Gosselin's cash went out as quickly as it came in when when she spent big bucks on personal makeup artists, hairdressers, bodyguards and plastic surgery. Now Gosselin can't seem to land another reality show, so she has turned to something most American moms know how to do all too well to make ends meet—coupon clipping. Gosselin has a new gig blogging about how she stretches her coupons for CouponCabin.com. The blog officially kicks off later this month.
"Kate Gosselin was at one time worth reportedly $5 million. Between the estimated $250,000 she banked for each episode of 'Kate Plus 8,' the $500,000 she made for her involvement with 'Dancing With the Stars,' book deals and sales, speaking engagements and more, that money rolled in pretty easily," Dorothy Cascerceri, Senior Editor In Touch Weekly, told Fox411. "But now, the reality star is scrambling to find a way to pay her bills. At the height of her fame, this money meant nothing to her, but perhaps she should have been saving for a rainy day and her children's futures, instead of focusing so much on her appearance."
Kate does receive some child support from her ex husband Jon Gosselin who, now working as a computer support engineer, warned his ex in September that she needed to get back to basics.
"Reality television is not a career. Get back to a normal life, simple life, provide for your family and go from there," Jon told RumorFix.com.
Personal finance experts say both women need to get their financial houses in order.
"What these octomoms are experiencing is a larger than life version of what so many of the rest of us Americans are struggling with - a resetting of expectations. What I see in both of these situations is a real opportunity," personal finance expert and author of "On My Own Two Feet: A Modern Girl's Guide to Personal Finance" Manisha Thakor told Fox411. "Whether it's starting off with a weekly food or entertainment budget, have a family caucus and decide together whether the money will get spent all at once, or saved up for more of a splurge at month end. At the end of the day the only way for anyone - octomom or the rest of us - to get back into financial balance is to earn more or spend less."
Unlike most mothers, however, Suleman won't need to face reality right away. Dr. Drew is giving her a bailout which includes a six month online class to get certified as a personal trainer, cleaning services and nannying services.
Handouts aside, both these ladies will have a tough time teaching their massive broods personal financial responsibility down the road.
"These moms will likely be hard pressed to teach their children financial responsibility and will have a devil of a time trying to explain where all the money went, especially since their children themselves worked and sacrificed a portion of their healthy 'natural childhood,' which it could be argued is essential to their future mental health," said parenting expert Ellen Rittberg, author of "35 Things Your Teen Won't Tell You So I Will." "If their children buy in to the concept that instant celebrity/instant wealth is a good thing, they too will be drawn to look-at-me quick-fixes. Maybe if these moms learn from their experience, they can try to say, 'don't do what I did,' a negative lesson, at best."
https://www.foxnews.com/entertainment/octomoms-nadya-suleman-and-kate-gosselin-in-financial-straits