MSNBC is OK with Joy Reid's homophobic blog posts but not Sam Seder's bad jokes
By Brian Flood, ,
Published December 07, 2017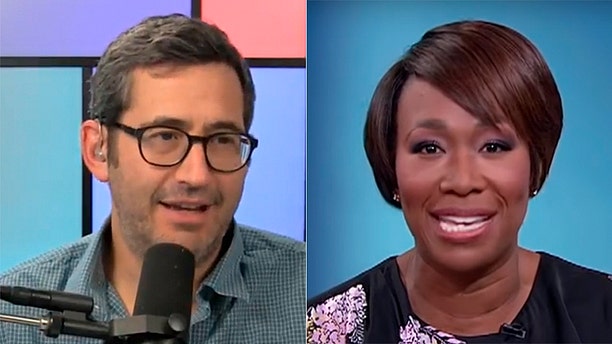 MSNBC reportedly decided not to renew its contract with contributor Sam Seder because he made a joke in poor taste back in 2009. But the same network refuses to even comment on whether or not host Joy Reid will be disciplined for homophobic remarks unearthed over the weekend.
Seder is reportedly being sidelined by MSNBC for a now-deleted tweet from 2009 in which he made a satirical comment about Roman Polanski raping his daughter. The tweet was unearthed by political rivals in what Seder is calling a smear campaign.
"Don't care re Polanski, but I hope if my daughter is ever raped it is by an older truly talented man w/a great sense of mise en scene," Seder tweeted eight years ago in what he claims was an attempt to mock Hollywood's obsession with Polanski.
Media Research Center Vice President Dan Gainor thinks liberal MSNBC's hypocrisy is "bizarre" and feels Seder's argument that his tweet was satire appears to be true, while Reid clearly had cruel intentions with her homophobic blog posts.
"Joy Reid, on the other hand, was actively bashing someone for being gay -- just because he was a different political party. It looks like MSNBC figures it can't stand up to the pressure for Seder and just let him go, but already got the signals from the LGBT community that they'll give Reid a pass. The left alleges Republicans are gay all the time and uses it as a slur, but they get away with it because the media let them," Gainor told Fox News. "Overall, MSNBC doesn't have a policy on old comments. That's pragmatism masquerading as a policy."
Seder's contract ends in February and he has no scheduled appearances between now and then, a spokesperson for MSNBC told TheWrap.
MSNBC declined to confirm the news to Fox News.
The decision to bench Seder sets a clear precedent that old rhetoric can land MSNBC employees in hot water, as The Wrap reported that "a person familiar with the situation" said the decision to sever ties with Seder "was directly related to the Polanski" tweet.
Reid wrote a dozen blog posts from 2007-2009 containing remarks that are highly offensive to the LGBTQ community. MSNBC prides itself on being progressive, and Reid's decade-old comments directly contradict the network's typical direction.
"MSNBC overreacted to Seder's tweet, which was a very distasteful joke, but it was still a joke. Meanwhile, the network didn't lift a finger on Reid's homophobic blog posts that were far more shocking and offensive."
The old blog posts — unearthed by a Twitter user and reported by Mediaite — targeted former Florida Gov. Charlie Crist, who Reid mocked as "Miss Charlie" for being gay and closeted, even though there was never any proof that he was.
"MSNBC overreacted to Seder's tweet, which was a very distasteful joke, but it was still a joke. Meanwhile, the network didn't lift a finger on Reid's homophobic blog posts that were far more shocking and offensive than Seder's Polanski tweet," Mediaite columnist Joey Wulfsohn told Fox News.
Washington Examiner media reporter Eddie Scarry called the decision to dismiss Seder but remain quiet on Reid a "double standard" and noted that Reid is a "star" for MSNBC while Seder was a simply a "peripheral" contributor.
"In Seder's case it looks like MSNBC was already looking for a reason to get rid of him, which probably means he wasn't well liked in the company, whereas Joy Reid is," Scarry told Fox News.
News that Seder would lose his gig over an old joke didn't sit well with members of the media on both sides of the political aisle.
"Give me a break. Seder's comment was meant to shame liberals rehabilitating Polanski," CNN's Andrew Kacynski wrote.
"MSNBC has severed its ties with Sam Seder for making a sarcastic rape joke about Roman Polanski. They're more offended by jokes than they are of actual rapists," Ian Miles Cheong wrote, while Washington Post reporter Jeff Stein added, "One amazing thing about this Sam Seder story is that Bret Stephens is still a paid MSNBC contributor. This April, Stephens told me that campus rape stories must be exaggerated because women still go to college."
The Nation's Joshua Holland called the move "completely ridiculous" and added, "Shame on MSNBC."
Even the super liberal HuffPost reporter Ashley Feinberg, who recently joked that John McCain's family would benefit from the estate tax, implying that the senator is about to die, called the decision "absurd" and "deeply embarrassing" for MSNBC.
MSNBC declined to comment.
EDITOR'S NOTE: Two days after this article ran, MSNBC reversed course and decided instead to keep Seder onboard. Network president Phil Griffin said in a statement: "Sometimes you just get one wrong - and that's what happened here. We made our initial decision for the right reasons - because we don't consider rape to be a funny topic to be joked about. But we've heard the feedback, and we understand the point Sam was trying to make in that tweet was actually in line with our values, even though the language was not. Sam will be welcome on our air going forward."
https://www.foxnews.com/entertainment/msnbc-is-ok-with-joy-reids-homophobic-blog-posts-but-not-sam-seders-bad-jokes