Miss Oklahoma Has 'No Regrets'About Her Controversial Arizona Immigration Response
By Hollie McKay, ,
Published December 18, 2016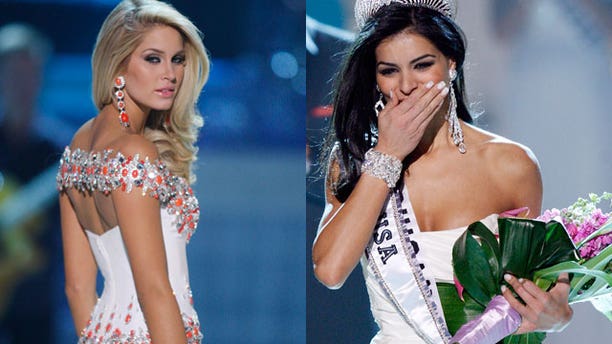 Miss Oklahoma Morgan Elizabeth Woolard placed first runner-up behind winner Miss Michigan Rima Fakih in the Miss USA pageant on Sunday night after voicing her support of Arizona's controversial immigration law, which requires police to verify a person's immigration status if there's "reasonable suspicion" that the person is in the country illegally.
So does she regret her answer?
"I was absolutely ready for the question and truthfully for me, it wasn't tough. I believe if you know who you are and what you believe and why you believe it, then no question can stump you," Woolard told Pop Tarts. "I was confident in my answer, there was no hesitation, and I just spoke from my heart and I believe what I said was well said and I feel strongly about that and I'm proud of my answer."
FACE 2 FACE: Exclusive Sit-Down With Miss Oklahoma Morgan Woolard.
And even though recent polls indicate that the majority of Americans agree with 21-year-old Woolard's thoughts on the issue, it turns out her response may have cost her the crown.
According to the scores shown during the live telecast, the Oklahoma representative was far ahead of eventual winner Fakih in both the swimsuit and evening gown portions of the competition.
FOX411: Miss USA's Pole Dancing Scandal.
After the swimsuit section, Michigan actually placed lowest of the top 10 (she was given an 8.325 while Oklahoma was at 9.098) and in the proceeding evening gown section Michigan scored 8.845 and Oklahoma 9.188. Those combined scores averaged, Oklahoma stood at 9.143 and Michigan was at the bottom of the top five with 8.585. At that point the front-runner was Miss Colorado, Jessica Hartman, who won in both categories with an average of 9.248 but ended up in fourth position after stumbling while answering Johnny Weir's question of government regulation and the Internet.
However, Paula Shugart, the President of Miss Universe Organization, said that the scores are not cumulative and are wiped after each elimination. The Top 15 are selected in the preliminary rounds before the telecast to compete in the swimsuit section during the show. The 10 women with the highest scores in that section then progress to evening gown, the previous scores are discarded and they all have a clean slate.
Based on the evening gown section, the top five point scorers then move into the final interview round, and again evening gown points are wiped. After hearing all their responses, judges give the girls a ranking from 1-5 based on their answers and the overall impression they left in the prior sections. While the points earned in swimsuit and evening gown don't count toward the final outcome (they are used simply to decide who will progress through to the next round), these sections are an opportunity for the contestants to make a good overall impression.
Judges are not allowed to publicly reveal what ranking they gave each contestant. However, Woolard has "no regrets whatsoever" about the answer she gave and is unsure whether it cost her the crown.
DAILY 411: The Latest on Miss Oklahoma, Megan Fox, and Charlie Sheen.
"That's a mystery," she told Pop Tarts
And Woolard isn't too distressed that she won't be joining Miss Universe and Miss Teen USA in a luxurious Trump-owned Manhattan apartment for a year of travel, red carpets, photo shoots and charity-related initiatives.
"It's amazing just to make it to Miss USA in itself and I'm very proud of first runner up and I know that I will be successful in life regardless because I am an intelligent young women and I have a lot going for me and I know life has good things in store," she added. "I have many opportunities. The exposure is hard to fathom. Millions and millions of people watch this pageant and I know that I'll have many other opportunities after this." 
SLIDESHOW: Controversial Miss USA Lingerie Shoot.
And her state pageant director, John Vannatta, said she isn't upset by the question or final outcome either.
"It was a fair question, they've been told to expect current and controversial issue questions. She's worked very hard to be prepared for those and I think she gave a good answer and she answered it truthfully," Vannatta said. "It was a consistent answer with where she stands and what she believes in her heart and I don't think that giving any different answer would have ended up with any different result."
However one pageant publicist begs to differ.
"After seeing all the gaffes Miss Michigan made, tripping on her dress and not answering her question consistently, I absolutely think Miss Oklahoma's answer cost her the crown – it wasn't what the judges from the liberal entertainment industry wanted to hear," said Hollywood publicist Angie Meyer, who has worked closely with Miss USA contestants and the organization in past years. "It's almost like the contestants are baited and set up to construct a left-of-center response and if they don't, they lose out. To be asked that question by a Hispanic man (Oscar Nunez) is unfair and puts the girls in a very awkward position, a lot of girls might have been too intimidated to speak their mind. The pageant has become very one-sided."
After last year's Carrie Prejean debacle, Pop Tarts was told that questions from all the judges are submitted and approved by officials prior to the pageant, and drawn randomly for each contestant. And it seems the organization's current focus on politically-driven questions in an attempt to paint their contestants as being more than just pretty faces and world peace activists has come a long way over the past decade.
Back in 2000, only the top three had to speak and were all asked the same question: "Monica Lewinsky is back in the news, making tons of money for a diet company and the people were upset because of the way she became famous. How do you feel about that?" The following year Miss Missouri was asked by Daniel Baldwin if the media's need for controversy was bad for sports and what female athlete she admired the most (yet she couldn't come up with an answer for either question) and in 2002 all the top five were asked "what do you find most mind boggling about the opposite sex?"
However the newly-crowned Miss USA Rima Fakih hasn't exactly had the best start to her reign and came under fire the morning after her big victory when photographs emerged showing her competing in a "Stripper 101" contest in conjunction with Detroit radio show Mojo In The Morning three years ago. Show producers revealed that pageant representatives contacted them and requested more information and photographs, but declined to answer whether Fakih's sash is safe and sound.
"They aren't really stripper photos and Miss USA is not commenting on them," a pageant rep told us.
- Additional reporting by Deidre Behar.
https://www.foxnews.com/entertainment/miss-oklahoma-has-no-regretsabout-her-controversial-arizona-immigration-response