Miley Cyrus wears a diaper for totally crazy 'BB Talk' music video
By ,
Published April 04, 2016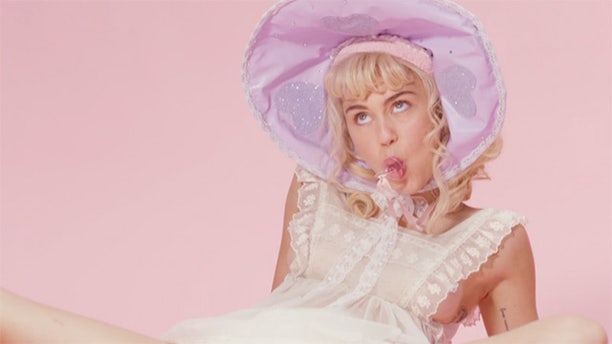 Miley Cyrus' latest music video is for a song called "BB Talk," so really, we should have seen this coming.
The singer went "full baby" for her latest video with her new outfit, Miley Cyrus and Her Dead Petz, donning a diaper, bonnet, and blonde pigtails as she waxes poetic about an old love in the truly bizarre clip.
PICS: NSFW! Miley Cyrus Gets Naked - Kind Of - On Stage for First 'Dead Petz' Performance
"You know what, in the beginning it was like we were f***ing homies and s*** and then all of a sudden you started with some f***ing baby goo-goo tongue down my f***ing throat," she sing-speaks. "I mean, even in front of your mom."
Click here to subscribe to FOX411's YouTube channel
Miley actually speaks most of the verses, detailing the "f***ed up" relationship while rolling around on the floor with a giant pacifier and taking hits from a bong shaped like a baby bottle.
https://www.foxnews.com/entertainment/miley-cyrus-wears-a-diaper-for-totally-crazy-bb-talk-music-video