Dolly Parton's goddaughter Miley Cyrus shares the number one thing the music icon has taught her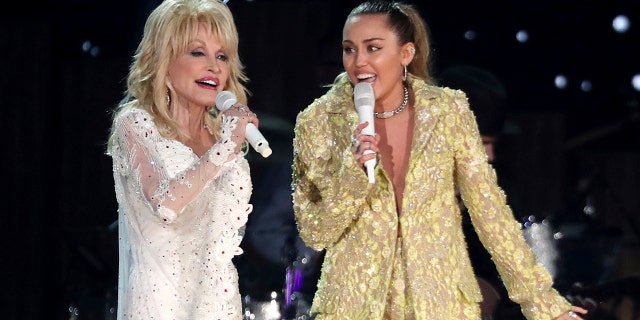 Miley Cyrus honored Dolly Parton over the weekend, and seized the opportunity to gush over her godmother and longtime friend. She was also not shy about sharing her thoughts on how her looks are just as important as her talent.
Parton was honored as the 2019 MusiCares Person of the Year prior to the Grammys on Sunday. And Cyrus was on hand to share her thoughts on her longtime family' friend and her contribution to her life.
"She doesn't really let me call her a godmother. She likes fairy godmother much better," Cyrus told ET Online at the event."[She deserves this honor], No. 1, [because of] her kindness."
Cyrus and Parton grew close when the famed "9 to 5" singer appeared on Cyrus former show, "Hannah Montana." The 26-year-old star says thanks to that and her father, she's been friends with the 73-year-old for most of her life. In that time, she's learned a lot from the famed music icon. However, Cyrus got a little bit blue when discussing her main takeaway from the honored star.
"I'm blowing my punchline of my speech tonight, but I'm saying she teaches people not to judge a book by its cover, or its huge boobs and its big hair," Cyrus joked.
Parton was honored at the 2019 Grammy Awards as well, with several performers taking the stage to pay tribute to Parton's songwriting after the country music legend was celebrated for her musical achievements and philanthropic work as MusiCares Person of the Year on Friday night.
Cyrus has had a big year thanks in large part to the fact that she finally tied the knot with fellow actor Liam Hemsworth.