Mike Tyson's Tattoo Artist Settles 'Hangover 2' Lawsuit
By ,
Published April 08, 2016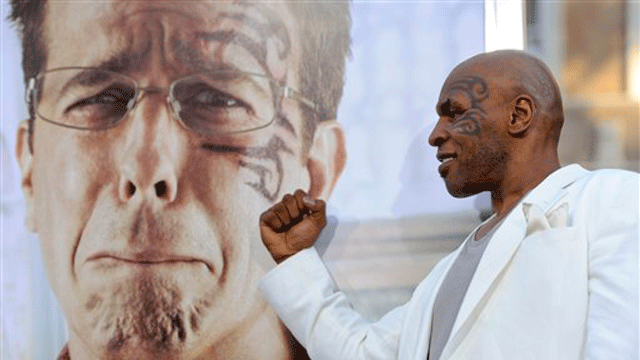 The Mike Tyson-inspired tattoo from "The Hangover Part II" will not be digitally altered for the film's DVD release, after the tattooist struck a settlement with the film's producers.
The film's production company, Warner Bros., announced that it "amicably resolved" its dispute with tattoo artist S. Victor Whitmill, who created the original design for Tyson.
Whitmill sued Warner Bros. in April, saying that he did not give permission for the company to mimic the motif for actor Ed Helms' character "Stu" in the movie. He claimed the filmmakers copied the design that he tattooed on Tyson in 2003 in Las Vegas.
HOT SHOTS: The Hangover Part II
The raunchy comedy had already hit theaters despite the lawsuit, but Warner hoped it could avoid a trial by modifying the design for the DVD.
Warner Bros. spokesman Paul McGuire told FOX News Channel, "Warner Brothers and Mr. Whitmill have amicably resolved their dispute. No other information will be provided."
In late May, US District Court judge Catherine D. Perry ruled that the movie could still be released despite the lawsuit but added that she thought Whitmill had a good chance of ultimately winning his copyright infringement case.
Court documents filed at the time stated, "Warner Bros. does not intend to make any use of the allegedly infringing tattoo after the film ends its run in the theaters because Warner Bros. will digitally alter the film to substitute a different tattoo on Ed Helms's face."
However, Helms' face tattoo will now continue to appear since the agreement -- the terms of which were confidential -- has been reached.
Former world heavyweight boxing champion Tyson appeared in both "Hangover" films.
https://www.foxnews.com/entertainment/mike-tysons-tattoo-artist-settles-hangover-2-lawsuit