'Married at First Sight' couple in love 1 year after tying the knot as strangers
By Leora Arnowitz, ,
Published May 02, 2016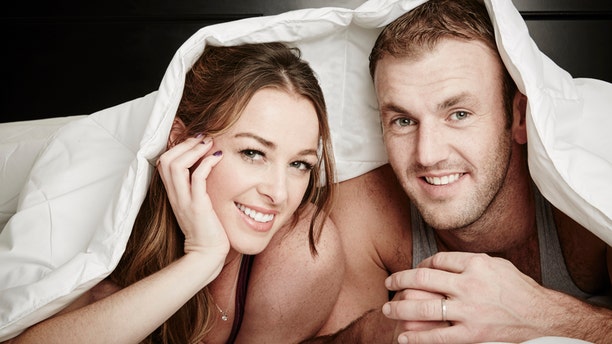 Could marrying someone you don't know at all actually be the way to go? Maybe. More than a year after they tied the knot as total strangers, things have been going great for "Married at First Sight" couple Doug Hehner and Jamie Otis.
It's hard to believe but at A&E networks recent upfront presentation in New York City, Hehner and Otis were all smiles and hugs, packing on the PDA as they gushed to reporters about their rock-solid relationship.
The pair opted to appear on FYI's "Married at First Sight," which had them walk down the aisle and legally marry each other, though they'd never met. At the end of the show's first season, the series gave the participants the option to get divorced. Otis and Hehner decided to give the social experiment some more time and they stayed married.
"You hope that it's going to be successful," Otis said of the show's setup, "and then at the wedding I was like 'oh no, this isn't working out, this is not going to be successful. I thought it was the worst decision."
But a year later, they are married, in love, and happy, they told FOX411.
Otis said the two got to know each other, and they took their time moving through the stages of a regular relationship—like having sex and saying "I love you."
"Afterwards when we decided to stay together, we [decided] we didn't need to rush these things," Hehner said.
Though Otis recalled she tried to push herself to fall in love with her unfamiliar husband quickly.
"I remember literally like bawling, crying," she said. "It was right after the experiment and we decided to stay together, but I wasn't in love with him and he knew it, and we didn't like say it to his family—that we're not in love—but… we had a great weekend with his family and it was obvious they thought we were in love… And I had this guilt because I was like 'I am not in love with you.'
Hehner said he calmed his frantic wife by telling her, "Jamie, I'm not totally in love with you either."
Otis said her husband won her over by being so accepting.
"When I went to him and I had an issue, he would never judge me, and I think truly, that's what made me fall in love with him and feel comfortable around him."
She added that it was very important to her that he didn't push her to have sex with him too soon.
"He was so patient and he didn't push me. He didn't push me to fall in love or have sex— he waited two months," the former "Bachelor" contestant said. "If there is a guy in New York who is that patient and respectful, I never found him."
Hehner added that though he never planned to get married to a stranger, his experience with the experiment has given him a new perspective.
He reflected, "It taught me to be open."
The pair said they are happy and have just celebrated their one-year anniversary.
Otis and Hehner appear on FYI's "Married at First Sight: The First Year."
https://www.foxnews.com/entertainment/married-at-first-sight-couple-in-love-1-year-after-tying-the-knot-as-strangers