'Lost Boys' star Jami Gertz discusses how she went from acting to NBA team owner
"Lost Boys" star Jami Gertz opened up about how she went from being the go-to star in many 1980s flicks to co-owning an NBA team with her husband.
Gertz, 52, spoke to The Hollywood Reporter about her latest accomplishments. She joked she was aware her story isn't like others.
"I get it," Gertz said. "It's not your everyday Hollywood actress tale."
The "Facts of Life" star described how she met her husband, Tony Ressler, and squashed any speculation that it was a "girl-meets-billionaire" tale.
KEVIN COSTNER'S 'YELLOWSTONE' ACCUSED BY PETA OF MUTILATING ANIMAL CARCASSES
"Everyone thinks I married a rich guy," she said. "But I made more money – way more money – than Tony when I met him. I paid for our first house. I paid for our first vacation. I married him because I fell in love with him."
The actress said she met Ressler in 1986 as she was coming off "The Lost Boys" fame. She said her publicist introduced her to Ressler at the time. They married two years later.
Ressler made much of his fortune after he launched Ares Management, an investment firm. His net worth is estimated to be $2.1 billion, according to Forbes.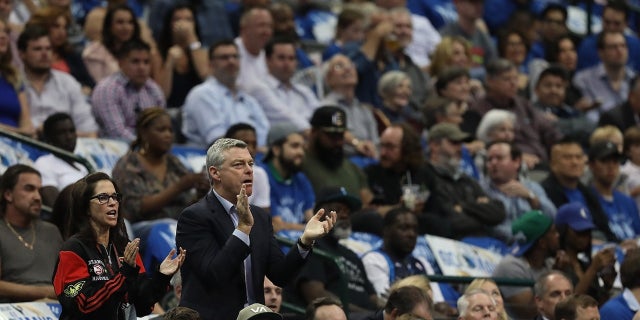 Gertz recalled the day her husband and NBA legend Grant Hill purchased the struggling Atlanta Hawks. The two made a bid after Bruce Levenson, the team's former owner, sold his controlling share of the Hawks after he wrote an "inappropriate and offensive" email in 2012.
RONDA ROUSEY CALLS OUT 'UNTRUSTWORTHY' BELLA TWINS, SAYS SHE'S READY FOR HER REVENGE
"He has a little tiny desk in there, and he was taking calls in the closet," Gertz recalled on the day Ressler put in a bid for the team in June 2015. "I was walking in and out of the closet. And he looked at me, and I looked at him, and he's like, 'Jami, are we going to do this?' I'm like, 'I don't know. I'm so scared.' And he's like, 'It would be so much fun.' And then we were jumping and screaming, 'Oh my God — we just bought a basketball team!'"
Ressler told The Hollywood Reporter that Gertz has taken charge and is now the face of the team. The star made her first appearance as the face of the team during the NBA Draft Lottery in 2018, shocking many fans, the media outlet reported.
The "Twister" star said she has taken a back seat from acting after she moved to Atlanta to be near the team.
"It just seemed like a natural moment for me to take a break from acting," she said. "It's hard to even say it out loud because I love what I do. It's given me so many beautiful things in my life, taught me so many things about myself and the world around me."